Natural fibers are widely used in textile industries since ages. Wool, hemp, and flax derived from vegetable & plants are the oldest fibers used in textile. Initially, these fibers were discovered in South East Asia and Egypt. With improved communication and transportation, skills related to textile manufacturing spread across the globe and were adapted according to the capabilities and needs of the various nations. During the industrial revolution, the machines used for processing natural fibers were encouraged, resulting in the upsurge in fiber production.
Plant and animal based fibers are the major sources for driving natural cellulose fibers. The plants or vegetable derived cellulose fibers are cotton, flax, and jute, whilethe animal-derived fibers include mohair, wool, and silk. These fibers are further divided into man-made and synthetic fibers. Synthetic fibers are petroleum-based and have various disadvantages.
Asia Pacific Cellulose fiber market revenue, by application, 2015 (USD Million)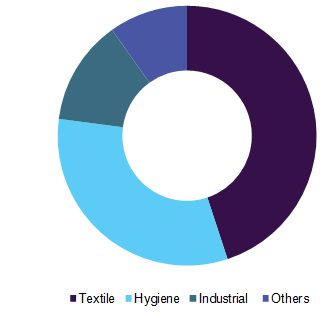 Plant-based cellulose fibers are eco-friendly and are also used to produce man-made cellulose fibers. These man-made cellulose fibers are processed into pulp and then extruded in the same ways as other synthetic fibers. Originally, these fibers were produced to minimize the use of expensive natural fibers such as cotton and jute. However, today, majority of manufactured cellulose fibers are engineered specifically to have properties that natural fibers don't possess. Most common plant-based fibers are flax, cotton, hemp, and viscose. Fibers for instance banana, cotton, flax, ramie and hemp are extracted directly from the plant,whereas fibers such as bamboo and viscose are regenerated. They are broken down from the plant-derived cellulose and fiber is produced from them. They are often referred to as 'semi-synthetic' fibers.
Asia Pacific is the largest market for cellulose fibers closely followed by Europe. Fibers manufactured, consumed, and exported by countries present in the Asia Pacifichave been established in the upper-quality segment of the world of textile fibers. China, India, Japan, South Korea, Pakistan, Taiwan, and Indonesia are the major market in the region. These countries are involved in manufacturing and trade of fibers, which are used across various end-use industries. Vietnam and Bangladesh are the potential future market for the product. Population growth and rise in the per-capita income in the Asian markets are the major factors for the growth in the region.Textile & industrial sector was the largest segment for the cellulose fibers globally.
The natural origin cellulose fibers have outstanding properties for instance,moisture managementand absorbency. The production process for these man-made fibers provides them purity and, uniform quality. In addition, they are cost-effective, have low density, eco-friendly, and biodegradable. Demand in the textile industry and rising prosperity will drive the growth of the cellulosefiber industry.

In-depth report on global cellulose fiber market by Grand View Research:
http://www.grandviewresearch.com/industry-analysis/cellulose-fibers-market