Siri, Cortana, Alexa, Watson, Bixby, Viv, M, Google Assistant and the list goes on and on…….
Along with all the above personal assistants in the real world, one of the most famous personal assistants of 21st century is the one and only 'Jarvis' from the movie 'Iron man' & 'Avengers', big ticket projects from the Marvel Cinematic Universe. The sheer concept of a personal assistant facilitated by technology is groundbreaking and similar is the stature of breakthrough technology which has been leveraged to accomplish it, which goes by the name of, Cognitive Computing.
Cognitive Computing was used for the very first time by IBM. It developed Watson, a unique response-capable computing system, which was built to compete against humans on the popular game show called, Jeopardy. This helped cognitive computing generate 'hype' and it was able to attract large number of investments from major companies.
Cognitive Computing has helped make several major breakthroughs in the world of technology. It has been leveraged to achieve greater efficiency and hyper-personalization when it comes to customer satisfaction. The necessity for the major industries to analyze large volume of data optimally on a real-time basis has led to the pervasive growth of the market. The recent development of data storage capabilities, such as integrated cloud storage facilities, and the evolvement of customized cloud solutions, such as private cloud and public cloud, have ensured the security of sensitive data, thus accelerating the growth momentum. So much so that, Cognitive Computing Market is expected to reach USD 49.36 billion by 2025, according to a research report of Grand View Research, Inc.
Comprehending The Meaning & Utility Of Cognitive Computing
Cognitive computing, a term 1st coined by IBM, is a technology platform based on the scientific premises of signal processing and artificial intelligence. It uses a blend of artificial intelligence, neural networks, machine learning, natural language processing, sentiment analysis and contextual awareness to solve day-to-day problems just like humans.
Cognitive Computing has several benefits, that makes it extremely important to solve advanced set of problems in technology as well as in business arena. It boosts stagnated efficiency of the organizations by accelerating decision making capability; collects real-world knowledge and improves the quality of decisions taken. Apart from this, it also proves to be monumental in rectifying the error-prone businesses by helping them with reforming their business strategies and making them profitable.
The Banking, Financial Services, and Insurance (BFSI) sector is expected to be benefitted the most due to the emergence of the cognitive solution. Cognitive systems enable banks and other financial institutions to structure unstructured data (industry reports, investment advisory reports, and financial news) by leveraging an in-depth text, image, and video understanding. It offers personalized engagement between banks (and other financial institutions) and their customers by dealing each client with a unique fashion according to their requirement.
Assessing The Segmentation…
Primary segmentation of the market is based on technology types which are absorbed by cognitive computing. Natural Language Processing (NLP) is the most prominent technology used in the cognitive system, owing to its inherent capacity to process natural language interactions with about 40% of the overall market share in 2015. It enabled the human to machine interaction by analyzing large spoken and written languages and comprehending the patterns accordingly The extended usage of automated reasoning, big data, and machine learning technology, along with artificial intelligence and probabilistic logic, has paved the way for a greater development of data science. The recent evolution of Internet of Things (IoT) has also accelerated the growth momentum of the cognitive computing market with its diverse applications in the development of the interactive software platform.
The crystal-clear depiction of the information about the segmentation based on technology, is depicted in the pie chart below. It also highlights the large share of cognitive computing market influenced by Natural Learning Processing.
U.S. cognitive computing market, by technology, 2015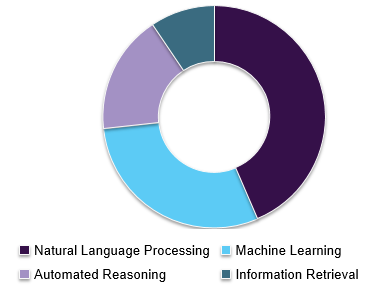 Factors Galore
Quite many factors prove to be a boon as well as a bane for the cognitive computing market. Looking forward, we can say that these following factors push growth, therefore are boon for the market.
Advent of Artificial Intelligence & Internet of Things (IoT) is one of the major factors which provides fresh impetus to the demand in the cognitive computing market.

Cloud Computing has taken the tech-savvy world by storm and has made it feasible to securely store a large amount of data by taking into account a number of challenges, such as live migration of data, fault tolerance, and quality of service. This drives up the demand for cognitive computing.

Data proliferation and its importance in making the right decisions, has made data analysis one of the most important process before indulging into decision-making. Cognitive computing provides capability to assess large amount of data in short time and boosts the efficiency in decision making ability, leading to the higher demand from error-prone businesses.
Factor that doesn't bode well for the market:
Constant rise in cyberthreats makes the technology vulnerable to attacks, providing an impeding factor to the growth of the market.
Gauging the pros & cons, it is safer to say that pros of the budding technology overcompensate for the cons associated with it. Also, availability of tighter regulations, expertise and assistance plays a significant role in alleviating the problem caused by cyberthreats, making the cyberworld a safer place to thrive in.
Technological Advancement Shifts Into High Gear
New technology's success is rated according to the number of diverse sectors that it can be applied to and make its mark. It is a no-brainer to say that cognitive computing's ability to touch diverse sector is immense. Finance, Sports & Entertainment, Healthcare… you name it; cognitive computing has shown its ability to push efficiency in large number of sectors. Following examples are the proofs.
VantagePoint AI software makes it easier for the investors to bet their investments on a better option with 86% of accuracy. According to Vantagepoint's website, its patented Neural Network processes predict changes in market trend direction up to three days in advance, enabling traders to get in and out of trades at optimal times with confidence.

Concierge by Welltok, is a cognitive-powered tool, that can assess large volumes of data to make personalized health related recommendations. It is an AI-powered chatbot, built with the help of IBM Watson Health, able to provide on-demand answers to questions related to benefits and healthcare costs.

Edge Up Sports is the cognitive-powered app to help fantasy football players, by providing on-demand information about their selected player or teams. Apart from this, it has also moved on to leverage the technology to reduce sports injuries and help players & coaches become efficient.

In-depth report on global cognitive computing market by Grand View Research:
https://www.grandviewresearch.com/industry-analysis/cognitive-computing-markett