Cognitive computing is a technology platform based on the scientific premises of signal processing and artificial intelligence. The necessity for the major industries to analyze a large volume of data optimally on a real-time basis has led to the pervasive growth of the market over the forecast period. The recent development of data storage capabilities, such as integrated cloud storage facilities, and the evolvement of customized cloud solutions, such as private cloud and public cloud, have ensured the security of sensitive data, thus accelerating the growth momentum. The advent of Artificial Intelligence (AI) is also critical to the widespread adoption of cognitive solutions across diverse industry verticals.
U.S. cognitive computing market, by technology, 2015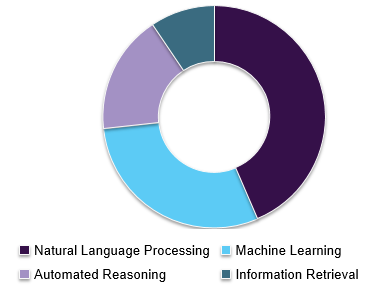 The report primarily segregates the cognitive computing market by technology, deployment, application, and region. Natural Language Processing (NLP) is the most prominent technology used in the cognitive system, owing to its inherent capacity to process natural language interactions with about 40% of the overall market share in 2015. It enabled the human to machine interaction by analyzing large spoken and written languages and comprehending the patterns accordingly The extended usage of automated reasoning, big data, and machine learning technology, along with artificial intelligence and probabilistic logic, has paved the way for a greater development of data science. The recent evolution of Internet of Things (IoT) has also accelerated the growth momentum of the cognitive computing market with its diverse applications in the development of the interactive software platform.
The evolution of cloud environments has made it feasible to securely store a large amount of data by taking into account a number of challenges, such as live migration of data, fault tolerance, and quality of service. Cloud computing has placed itself in the trajectory of gradual development along with the most recent evolution of Web 2.0 and invasion of the Internet with over 70% of market share in 2015. Moreover, large players in the market are investing significant resources for continuous product developments in order to keep up with the market dynamics.
The Banking, Financial Services, and Insurance (BFSI) sector is expected to be benefitted the most due to the emergence of the cognitive solution. Cognitive systems enable banks and other financial institutions to structure unstructured data (industry reports, investment advisory reports, and financial news) by leveraging an in-depth text, image, and video understanding. It offers personalized engagement between banks (and other financial institutions) and their customers by dealing each client with a unique fashion according to their requirement.
North America accounts for the highest adoption of cognitive computing applications and holds the largest revenue share in the global market, followed by Europe. High personal disposable income, along with greater purchasing power capabilities of an individual customer, offset the effect of higher cost implementing advanced technologies in the business system. The booming banking and insurance sector in the U.S. also raises the necessity for analyzing a large number of data to measure the risk associated to estimate any business venture.

In-depth report on global cognitive computing market by Grand View Research:
http://www.grandviewresearch.com/industry-analysis/cognitive-computing-markett