The presence of DRMS is a win-win situation for everybody - for the utility, for the customer, and most importantly for the environment. Let's have a deeper look into this system and its market….
Picture this: it's a very hot summer day, and the sweltering heat is taking its toll on office goers and residents alike. Worry not though, you have the utility companies to count on, when they provide a steady, continuous supply of energy to power the cooling of the building. Same would be the case for a cold winter day, when the utility companies provide energy to power the heating equipment, so that you are warm and cozy inside the buildings. However, such extreme weather would definitely place a heavy load on the utility systems, and if the supply source gets depleted, then you will have to sweat it out in the summer, or hope against hope for some warmth in the cold. There needs to be a system which can manage energy supply of the utility companies in a better way, doesn't it?
A Way Out….
Turns out, thankfully, there is. It comes in the form of Demand Response Management System (DRMS). Simply put, you can reduce your energy demand during peak demand periods, or when the supply is not enough, in return for money. Some common examples include turning up the thermostat temperature for reducing the air conditioning load, switching off lights when not in use, and shifting usage of certain energy-consuming devices out of the peak demand period so that the load is reduced significantly. Demand response management system comes under the concept of smart energy demand, besides energy efficiency, distributed renewable resources, EV charging, and home & building energy management.
ADR Is Receiving A Great Deal Of Attention From The Utility Sector!
Smart grids have become a very crucial component in almost every known environment. Airports, broadband, dams, hospitals, ports, roads, telecommunication - you name it, and there it is! The smart grid infrastructure comprises the deployment of Advanced Metering Infrastructure (AMI) for Automated Demand Response (ADR), which provides two-way communication in real time between the consumers and service providers. ADR has had a huge role to play in the growth of the demand response management system market. With electric utilities transitioning toward grid modernization, their business model has shifted from solely fulfilling energy requirement, to playing a larger and more proactive role in the integration of distributed energy resources, managing energy demand, and optimizing electricity generation.
AMI is an integrated demand response management system, consisting of hardware, software, and services, which forms a network between the customers participating in the Demand Response (DR) program and power utility by transferring consumption data of the user to the meter data management software at the utility. The system collects, measures, collates, and analyzes consumption data of many customers at a given point of time and sends DR signals to the smart meters or load control switches at the user's end to adjust or shift their usage from peak to non-peak hours. Participation in the program requires a functional Home Area Network (HAN) and installation of smart meters, smart thermostats, and load control switches.
U.S. Demand Response Management System Market, By Component, 2015 (%)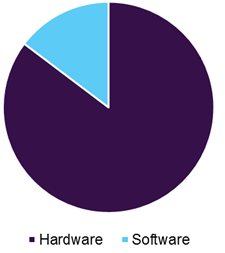 Demand Response Management System Requires The Support Of Its Customers
Customer participation depends on the type of building they are enrolling:
Behavioral demand response - Involves manual customer participation, and is suited for large industrial or commercial facilities that have a substantial and flexible energy load. Also requires on-site staff to heed to utility requests.

Automated demand response - Suited to every building type, small or large. Customers can work with an aggregator or partner for automated participation, with the partner looking after enrollment, strategy development, event execution, and reporting.
Customer participation is central to the success of Demand Response Management System (DRMS). The program is not forcible on electricity users but requires them to participate and reduce energy consumption. Utilities motivate participants for reducing their electricity consumption during pre-defined hours by providing incentive-based and price-based benefits. The program equally requires efforts from the service providers to manage peak load crisis and optimize the distribution system.
How Is The Market 'Utilizing' This System?
There is lower applicability of Demand Response Management System in the residential sector as compared to the industrial and commercial sectors. Primarily, aggregators are responsible for the application of DRMS in the residential sector. They contact the households individually through phone calls, messages, or e-mails. The OpenADR 2.0 uses AMI, which has access to data from a large number of endpoints at the same time. The DR interaction is based on a Common Information Model (CIM), which uses the standard IP communication. DR signals are sent to the customers' control system to reduce consumption.
Recent trends in the demand response management systems market highlight the growing participation of companies in ADR. Companies such as Enel X and Comverge have an early market entry advantage and account for a considerable revenue share of the industry. Owing to a strong market presence and customer relationship, large integrated companies such as Siemens AG and Honeywell International Inc. have been quick to catch up with their DR technology.
By 2025, the hardware component is anticipated to account for more than 50% of the revenue share of the DRMS market. The U.S. is expected to lead the demand response management system market owing to the growing adoption of the smart grid technology. Pilot operations for ADR have been implemented in many countries where the technology has not been implemented yet.
In The Spotlight…
Some of the major companies involved in the demand response management system industry include Enel X (formerly EnerNoc Inc.), Comverge (acquired by Itron), CPower, Honeywell International Inc., Schneider Electric, Siemens AG, and ABB, all of which are the founding pillars of the OpenADR alliance that was established in 2010. The DR program also includes Johnson Controls, Eaton Corporation Plc, Ecobee, EnergyHub Inc., General Electric, Nest Labs, Opower (acquired by Oracle in 2016), and ThinkEco Inc.
Some of the recent developments that the demand response management system market has seen include:
Enel X (formerly EnerNoc) partnered with a leading European infrastructural investor 'Infracapital' in January 2020, to expand their distributed generation and energy efficiency joint venture called 'Cogenio', throughout Spain through the creation of a new company.

Honeywell has expanded on its DemandSites energy asset management platform, which can now be deployed as a modular solution that grants more granular control to utilities over their IT/OT environments. New modular additions include Virtual Power Plant (VPP), DR over AMI, Fast Frequency Response (FFR), Transactive Energy (TE), and EdgeControl Node (ECN).

Itron entered into an agreement with Xcel Energy which would allow for improvements in customer experience and utility operations by making use of the distributed intelligence capabilities of Itron's IoT solution. Another objective of Xcel through this partnership is to improve customer control with the ability to effectively optimize demand response and dynamic pricing programs.

Leap, a California-based company that provides a universal distributed energy exchange along with allowing automated trading on energy markets in real-time, partnered with Google Nest in 2019 on a program that provides flexible, automated demand capacity to CAISO (California Independent System Operator), which oversees the electric power system operations in the state.

In-depth report on global demand response management systems (DRMS) market by Grand View Research:
https://www.grandviewresearch.com/industry-analysis/demand-response-management-systems-drms-market