Dietary fibers, found in plants, are an essential component of the human diet. These are one of the essential nutrients to the human body. Their major benefits include normalizing the bowel movements and maintaining bowel health, thus decreasing chances of constipation. Besides, soluble fibers found in oats, beans, and oat bran help in lowering blood cholesterol levels.
Another major advantage of fiber intake includes controlling blood sugar levels. Soluble fiber, in particular, slows down sugar absorption in diabetic people, improving blood sugar levels. Dietary fiber intake has been proven to result in lowering the risk of heart diseases by over 40%. They are also known to improve skin health by helping smooth excretion of unwanted materials from the skin, thus, preventing acne or rashes.
According to the Institute of Medicine, U.S., the average dietary fiber intake for men under the age of 50 should be around 38 grams per day, while for those above 50, the intake should be around 30 grams per day.
Global dietary fibers market, by region, 2015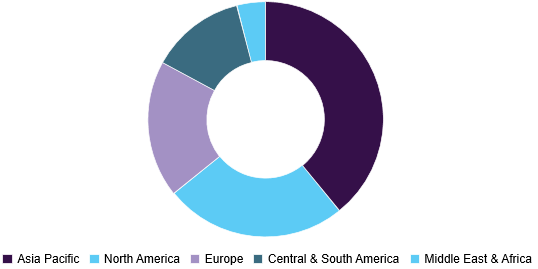 From the above figure, we can infer that the Asia Pacific region was the largest market for dietary fibers in 2015. This region is characterized by growing demand for functional foods and beverages from emerging countries. Besides, growing awareness about the importance of fibrous foods such as whole grain products and fruits & vegetables has also played a key role in the growth of the market here.
North America held the second largest share in terms of revenue, in 2015. This region was dominated by an increase in demand for fibrous foods from the U.S., which accounted for over 70% of the market here. This region has some of the major dietary fiber players in the world, however, most of their manufacturing takes place in countries with cheap labor such as China and Brazil.
Growing functional food industry is expected to be the most important factor propelling the growth of this market. Foods known for having health benefits beyond basic nutrition are functional foods. These foods contain a high amount of active plant chemicals that boost health. These foods also contain antioxidants. Growing awareness about the health benefits of these constituents has boosted the functional food industry over the years.
Archer Daniels Midland Company, with a revenue of USD 67.70 billion in 2015, is one of the major players in this market. Its fibrous products are sold under the brand name, 'Fibersol'. The company has invested heavily in R&D activities in the last three years, as a part of its development strategy. It invested USD 122 million, USD 79 million, and USD 59 million on R&D in 2015, 2014, and 2013 respectively.

In-depth report on global dietary fibers market by Grand View Research:
https://www.grandviewresearch.com/industry-analysis/dietary-fibers-market