Population growth, developing living standards and growing consumer awareness regarding health disorders is expected to drive the demand for nutritional products, and dietary supplements. The abovementioned factors are expected to drive the application of digestive enzyme supplements over the upcoming years. In addition, increasing number of sports events, such as La Liga, Big Bash League, English Premier League, Indian Premier League and tennis tournaments, are likely to promote digestive enzyme supplements market growth.
Digestive enzymes are catalysts that break down food into nutrients which human body can be utilized for growth, energy, and cellular repair. These enzymes are produced by the human body, but the shortage of these catalysts can lead to digestion difficulties. Moreover, aging also impacts the formation of these enzymes, and thus supplements are required to cure deficiencies.
Digestive enzyme supplements are products based on these enzymes that help in digestion while providing proteins and essential nutrients. These products are expected to witness significant growth over the upcoming years owing to increasing consumer health awareness coupled with digestive problems among youth due to improper consumption of food and diet. Furthermore, rising demand for sports nutrition products in light of rising number of sports events will stimulate market growth over the forecast period.
Germany digestive enzyme supplements market volume share, by origin, 2015 (%)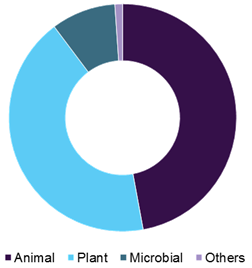 Rising awareness towards the adoption of herbal ingredients in the medical nutrition industry in Germany on account of technological advancements is expected to create new opportunities for the market. The increasing importance of e-commerce platforms as a medium for selling supplements is likely to have a positive impact on the industry.
Asia Pacific digestive enzyme supplement market is expected to be driven by the poor dietary habits of consumers in countries including India, China, and Japan. Various factors such as long working hours and busy work schedules among individuals working in the information technology sector have led consumers toward processed and packaged food products.
Regular intake of packaged food often leads to digestion problems which is likely to propel product demand. In addition, rising expenditure on health enhancing supplements on account of physical fitness requirements and increasing sports activities in the region is expected to drive product demand over the forecast period.
The Middle East & Africa region is anticipated to witness considerable rise owing to rapid urbanization and rising disposable income in countries such as South Africa, UAE, Qatar, and Saudi Arabia. Furthermore, inclination towards self-medication along with easy availability and affordability of these products are anticipated to drive the industry growth over the upcoming years.
The market is competitive in nature as product differentiation among competitors is very less. Major participants include Klaire Labs, National Enzyme Company, ProteoZymes, Metagenics, Douglas Labs, Integrative Therapeutics, and Amway. In April 2016, Amway launched a new sports nutrition line and continued its expansion into the sports and performance nutrition market.

In-depth report on global digestive enzyme supplements market by Grand View Research:
https://www.grandviewresearch.com/industry-analysis/digestive-enzyme-supplements-market