Fiber optic connectors are used for terminating the end of an optical fiber, which as we all know, are an important telecommunication medium, while also being a necessity for computer networking. For this reason, they have witnessed significant deployment in the high bandwidth communication technology, and other associated network broadcast & telecom technologies that drive modern day media & connectivity segment. When compared to splicing, optical fiber connectors offer quicker connection and disconnection. The demand for fiber optic connectors is a subsequent result of growing adoption of fiber optic technology.
A Brief History & Description
Starting out from the Deutsch 1000, which is thought to be the first fiber optic connector that was commercially successful, to the advent of ceramic ferrule in the mid-1980s in Japan, they have come a long way. Fiber optic connectors have a multitude of applications. They are used in telephone exchanges and outside plant applications for connecting cables and equipment. Signal losses due to presence of air gaps between the joined fibers is also absent in these connectors, as they are spring-loaded, and therefore the fiber faces press together on mating the connectors. If the connectors are used for outside plant applications, protective enclosures need to be used, which fall into 2 categories: hermetic and free-breathing.
The fiber optic connector market products can be segmented into SC connector, LC connector, FC Connector, ST Connector, MTP/MPO connector, and others.
ST Connector (or BFOC) - Has a ferrule diameter of 2.5 mm. Most ferrules are ceramic, but some are metal or plastic. They are spring-loaded. Their usage has declined for the past many years, but they are still seen in infrastructures that were built at the turn of the 21st century.

SC Connector - Was developed by the Nippon Telegraph and Telephone (NTT) in the mid-1980s. Like ST connector, it also has a 2.5 mm ferrule diameter. It is used widely owing to its excellent performance; however, it is twice as expensive as an ST.

LC Connector - Has a 1.25 mm ferrule diameter, and is highly favored for single-mode fibers, offering good performance. It has half the footprint of SC fiber optic connector which has made it very popular in datacom applications.

FC Connector - Uses a 2.5 mm ferrule, with earlier versions using ceramic inside stainless steel ferrules. Was in use a lot earlier, but has been replaced by SCs and LCs.

MTP/MPO connector - Mainly used for indoor cabling and device interconnections. It is a 12 fiber connector for ribbon cable; the connector ferrule is plastic and has 12 or 16 fibers in a row. MTP is the commercial name for the MPO connector.
Besides these fiber optic connectors, there are several others such as the EC, LX-5, MIC, MU, SMC and V-PIN, all of which find varied uses in the telecom sector. Also, new ones such as the Senko CS and SN connectors have been introduced recently. A good connector should display properties such as low insertion loss, high return loss, ease of installation, low cost, reliability, ease of use and low environmental sensitivity.
Some of the fiber optic connectors that have become obsolete include Deutsche 1000, SMA, the Biconic, NEC D4, AMP Optimate, the MT-RJ, and Volition by 3M, among others.
How Are They Tested?
Testing generally falls into 2 categories: field testing and factory testing. The factory testing may use a profiling system to ensure the correctness of the overall polished shape of the fiber optic connectors, while a good quality optical microscope is used to observe blemishes. Field testing involves the use of a special hand-held optical microscope for checking dirt and blemishes, as well as certain other tests to determine various parameters.
Growing In Every Aspect!
The fiber optics technology is witnessing significant growth at present, and this has presented the fiber optic connector market an opportunity to leave a lasting impression. Some of the driving market factors include:
The growing penetration of telecommunication infrastructure in developing economies, such as China and India, is attributable to the significant growth of the fiber optic technology in the region.

There is constant R&D for developing low-cost applications, as well as technological solutions for the commercial market. This is expected to create market attractiveness for fiber optic connectors in the near future.

The military & aerospace and railway application segments are poised to witness significant growth rates, owing to the increasing adoption of Multi-mode and Plastic Optical Fiber (POF) across these application segments.

The military forces use the optical connector technology for a wide variety of ground, sea, air, and space solicitations, such as in avionics testing equipment modules and ground support systems in fighter planes.

Healthcare sector has emerged as a major opportunity for driving market growth of fiber optic connectors.

A continued rise in global demand from the burgeoning IT industry regarding the availability of power-efficient, cost-effective and high-level network infrastructure is also a prime driving factor for the market.
Fiber Optic Connector Market by Applications, 2016 (%)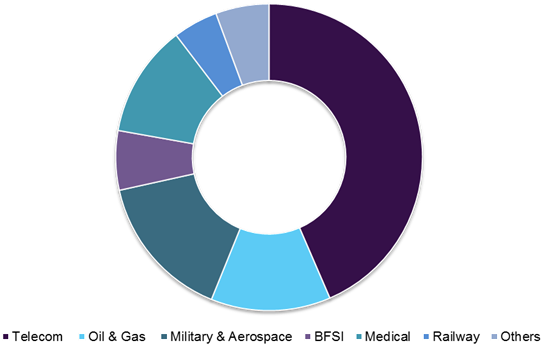 Industrial Developments
The presence of key industry participants globally, such as Corning, Inc., Optical Cable Corporation, Sterlite Technologies Limited, 3M, and OFS Fitel, LLC, have resulted in an increased demand for fiber optic connectors. These market players are making huge investments in R&D activities, as well as mergers and acquisitions to undermine the competition.
Some of the major developments that the fiber optic connectors industry has seen in recent years include:
In January 2020, Sterlite Technologies Limited was awarded the T-Fiber project to create a high speed rural broadband network in Telangana in India that would benefit 6 million citizens in the region. The project involves the designing and building of an end-to-end network spanning 11 districts and 300 regional gram panchayats.

In June 2019, OFS added the EZ-Terminator to its FITEL Connectivity Solutions portfolio. The product features include one-touch operations and pre-installed programs, three LED lights that are bright enough to work in low-light conditions, and a detachable V-groove for easy field cleaning and optimal maintenance.

In March 2019, 3M launched the '3M™ Expanded Beam Optical Connector System', which has been designed as a high performance, affordable and scalable single-mode and multimode interconnect system for data center applications, which can accommodate anywhere from 12 to 192 fibers. 3M also has announced a collaboration with EXFO and Sumix, leading inspection tool providers, for this system.

US Conec, an equity venture of Corning Optical Communications, Fujikura and NTT-AT, launched the MDC connector in February 2019. This is a two fiber connector that has been manufactured using 1.25 mm ferrule technology. It has been designed for optimal stability in carrier or data center applications.

In-depth report on global fiber optic connector market by Grand View Research:
https://www.grandviewresearch.com/industry-analysis/fiber-optic-connectors-foc-industry