The fiber optic connector has witnessed significant deployment in the high bandwidth communication technology, and other associated network broadcast & telecom technologies that drive modern day media & connectivity segment. The demand for fiber optic connectors is a subsequent result of growing adoption of fiber optic technology. Furthermore, emerging technologies in healthcare sector are anticipated to fuel the fiber optic technology market along with the fiber optic connectors market.
The fiber optic connector market products can be segmented into SC connector, LC connector, FC Connector, ST Connector , MTP/MPO connector, and others. The LC connector segment is anticipated to be the largest segment, in terms of revenue, and is anticipated to dominate the fiber optic technology arena, in terms of size, by 2025. The FC connector segment is anticipated to dominate the connectors market in terms of growth from 2014 to 2025.
The market has been segmented in terms of applications into telecom, oil & gas, military & aerospace, BFSI, medical, railway, and other applications. The telecom application segment is anticipated to be the largest segment (in terms of revenue) and dominate the fiber optic connector application arena, in terms of size, by 2025. Medical applications segment would witness swift progression in terms of CAGR in comparison to its other solicitation counterparts.
Fiber Optic Connector Market by Applications, 2016 (%)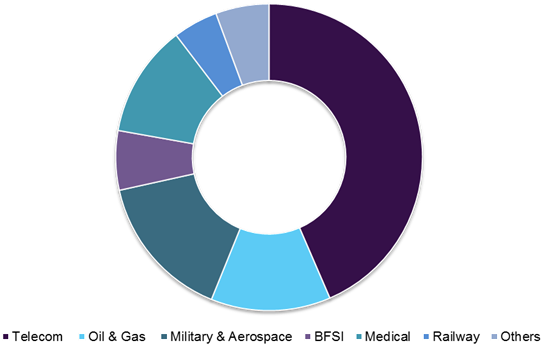 The growing penetration of telecommunication infrastructure in developing economies, such as China and India, is attributable to the significant growth of the fiber optic technology in the region. Network broadcasting and data services account for the major shares of the telecommunication application arena. The military & aerospace and railway application segments are poised to witness significant growth rates, owing to the increasing adoption of Multi-mode and Plastic Optical Fiber (POF) across these application segments.The military forces optical connector technology for a wide variety of ground, sea, air, and space solicitations, such as in avionics testing equipment modules and ground support systems in fighter planes.
The presence of key industry participants globally, such as Corning, Inc., Optical Cable Corporation, Sterlite Technologies Limited, 3M, and OFS Fitel, LLC,have resulted in an increased demand.

In-depth report on global fiber optic connector market by Grand View Research:
https://www.grandviewresearch.com/industry-analysis/fiber-optic-connectors-foc-industry