Flavonoids are plant chemicals that are found in almost all vegetables and fruits. They are also known as phytonutrients and are responsible for imparting colors to vegetables and fruits. Besides, flavonoids have anti-cancer and anti-diabetic properties, which have increased their importance in the pharmaceuticals industry.
Flavonoids increase energy levels, reduce blood pressure, and help stop the deterioration of motor nerves in the human body. These are also found to decrease symptoms of Parkinson's disease in many cases. Thus, growing pharmaceutical industry is expected to drive the market over the forecast period.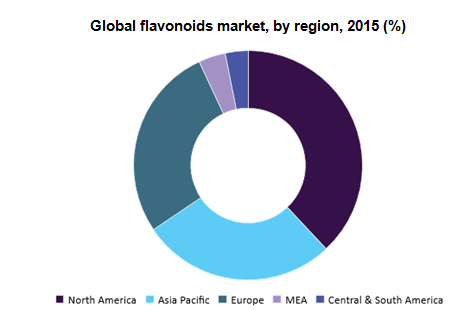 Functional beverages, functional food, and dietary supplements are some of the common application areas of flavonoids. Functional beverages include energy drinks, sports drinks, and nutraceutical drinks among others. Functional food includes cereals, baked food, and dry food which have a positive impact on human health while the dietary supplements include food supplements, nutritional supplements, and specialty nutrition. Growing food & beverage industry is expected to have a positive impact on the demand of flavonoids over the forecast period.
Anthocyanins, the leading type of flavonoids, were widely used as coloring agents in functional food & beverage industries. Besides, anti-microbial properties possessed by them are expected to result in increased demand from other industries such as pharmaceuticals and personal care.
As seen above, North America held the largest share in the market in 2015. This region, dominated by the U.S., is characterized by the presence of a large number of market players coupled with technological advancement. These factors are expected to propel growth over the forecast period.
Asia Pacific is projected to witness the highest CAGR over the forecast period. Growing awareness about health and hygiene is expected to be the major driver of the market in this region over the next nine years. Besides, the establishment of standards and regulations from governing bodies such as Japan Health & Nutrition Food Association and State Food and Drug Administration in China have resulted in ensuring high quality food and safety of consumers.
There are a few factors which could hamper the growth of the market in the future. One of them is the side effects associated with flavonoids. Some of the common side effects include blurred vision, dizziness, fluid accumulation in the knee, and headache. Overcoming these restraining factors is a major challenge faced by the manufacturers globally.
Indena S.p.A. was the biggest player in the flavonoids market in 2015. This company, based in Italy, mainly caters to the European market. However, in April, 2014 it opened a new office in Sao Paulo, Brazil. This investment helped the company expand its distribution and sales network in the emerging Central & South American region.

In-depth report on global flavonoids market by Grand View Research:
https://www.grandviewresearch.com/industry-analysis/flavonoids-market