Industry Insights
Growing demand for flavors & fragrances for use in food & beverages and rising demand for natural personal care products possessing various aroma compounds and essential oils are expected to foster the market growth.
Natural flavor & fragrance ingredients are expected to grow at a high CAGR on account of growing preference for organic ingredients in the food and personal care sector. Aroma chemicals occupied the largest share in the market due to its economical prices and high shelf-life. The easy availability of aroma chemicals is also projected to foster market growth.
Rising disposable income in developing countries such as India and China coupled with rapid population growth is anticipated to augment the demand for personal care products in the market. Busy lifestyle pattern is projected to augment demand for processed food & beverages, thereby increasing the demand for flavors in the market. New product launches, growing number of retail stores, and economic prices of convenience food and personal care products are expected to be highly influential factors contributing to the growth the flavors & fragrance market.
Flavors and Fragrances Market Share By product, 2015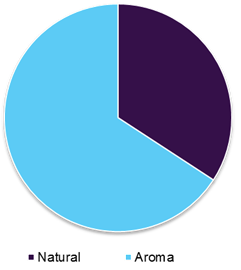 Natural flavors and fragrances have high processing cost and owing to limited resources, market participants have focused on developing cost effective synthetic substitutes. The synthetic products have the advantages of lower production costs, stable pricing and regular supply. In the past there used to exist an arrangement whereby dealers would have a multi-year contracts with dealers but such arrangement is no longer popular.
Intensive competition in the market has resulted in higher prices affecting the overall profit margins. The industry has witnessed increasing merger and acquisition activities as small market participants find it difficult to achieve economies of scale and also lack adequate resources for investing in research and development.
Industry Value Chain
The value chain of the flavors & fragrances ranges from the sourcing of raw materials to the delivery of the final product to end-use industries, which include foods & beverages and personal care industries. Methods such as pressing extraction, distillation, purification, and organic chemical reactions are used in the manufacture of natural, isolated, and synthetic aroma substances.
Flavor and fragrance formulators include companies such as Biolandes SAS, Young Living Essential Oils, Flavex Naturextrakte GmbH, Falcon Essential Oils, doTerra, Symrise AG, Frutarom Industries Ltd., and Sensient Technologies Corporation. Fragrances are processed into various forms according to its end-use applications such as oil, water-soluble liquid, emulsion, powder, or dispersion-based.
Manufacturers have integrated their production and distribution channels for better market approachability. Most of these companies are vertically integrated and produce products that cater to various applications. Manufacturers have to abide by manufacturing & labeling laws, regulations, and guidelines published by regulatory authorities such as Food & Drug Agency (FDA), U.S. Department of Agriculture (USDA), etc.
Price Trends
Erratic supply resulting in fluctuating prices of essential oils has resulted in the irreversible substitution of these oils by synthetics. This provides a real threat, especially with regard to perfumery oils. With so many essential oil products there exists a huge variance across the prices of each essential oils product. There is an increasing trend for preference of natural products, which is spurring demand for natural fragrances and flavoring.
Synthetic chemicals in artificial flavors generally cost less to produce than finding natural sources of chemicals. They are also potentially safer because they have been rigorously tested and used. The compound vanillin, for example, is responsible for the flavor and smell of vanilla. In nature, vanillin comes from an orchid native to Mexico.
Trends
The flavors market is expected to remain very country-specific and complex, with product formulations and flavors varying from region to region within countries. Processed foods, their flavors and textures, are adapted to local consumer preferences. Local or traditional foods have unique flavors evolving from the indigenous climate, land, etc. Trends in flavors industry resemble are anticipated to resemble those in the packaged food and drink market. This includes the trends toward premium quality, savory, natural and authentic, and health and wellness.
Flavors & fragrances manufacturers operate through collaborations with scientists, artists, musicians, writers, and film maker in order to tap in creative minds to expose perfumes to new and constantly evolving creative territories and approaches. Manufacturers also form creative teams that comprise fragrance evaluators, perfumers, and flavorists.
In order to enhance product offerings, companies interview thousands of consumers annually to gain insights on sensory perception and fragrance performance. They also collaborate with research institutions to broaden their product offerings. Based on this information the company evaluates potential products that could gain traction in the market.
In order to develop creative natural and synthetic molecules, companies should have
- In-depth knowledge of characteristics of flavors & fragrances
- Understand how ingredients in a consumer product interact
- Ability to formulate a controlled release and delivery system to enhance the performance of flavors & fragrances

In-depth report on global flavors and fragrances market by Grand View Research:
http://www.grandviewresearch.com/industry-analysis/flavors-fragrances-market