Globally, recent introductions & expected launch of the urate-lowering agents in the market, rising incidence of gout due to changing lifestyle, and increasing adoption of the newer agents, during the forecast period are likely to drive the market over the coming years.
Presently, gout affects about 1% of the world's population and 5% of arthritis sufferers across the globe. Several studies estimated that in 2012, prevalence of gout in the U.K. was 2.49% of total population, which had increased by approximately 63.9% as compared to 1997. Hence, increasing demand of this therapy due to rising prevalence is likely to boost the industry.
By drug class, Nonsteroidal Anti-inflammatory Agents (NSAIDs) segment accounted for the largest share of the industry. This is attributed to high demand of the NSAIDs due to lower cost, efficiency in relieving pain caused by gout, and increased awareness about the drugs. However, urate-lowering agents are likely to drive the industry during the forecast period due to recent introduction of drugs in the class, expected launches of urate-lowering drugs, and increasing investment by market players to develop the innovative drugs. The biologics has the highest demand due to its ability to produce powerful anti-inflammatory action.
By disease condition, the market of chronic gout dominated in 2015 and is expected to grow with the fastest rate during the forecast period. This is attributed to long term treatment, high cost of drugs, entry of various drugs to treat chronic gout, and increasing adoption of newer therapy due to rising healthcare expenditure.
Geographically, North America accounted for the largest share due to market entry of several drugs such as ZURAMPIC, Krystexxa, and Canakinumab along with high adoption of expensive treatments and local presence of major market players. Increasing demand of biologics drugs to treat gout is likely to propel the drug during the forecast period from 2016 to 2024.
Gout therapeutics market share, by geography, 2015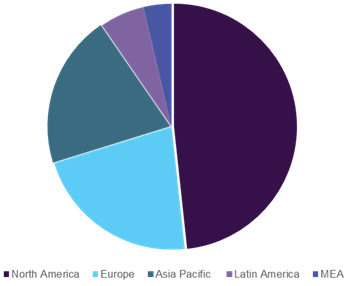 Asia Pacific is expected to be the most lucrative region of the industry. This is attributed to increasing investment by market players in the region, presence of large patient pool, growing awareness about arthritis diseases, and rising healthcare expenditure. China, Japan, India, Singapore, and South Korea are some major contributors in the market.
Some of the major companies include Takeda Pharmaceutical Company Ltd.; Novartis AG; Savient Pharmaceuticals; AstraZeneca plc; GlaxoSmithKline plc; Regeneron Pharmaceuticals; and Merck & Co., Inc. Investment in development of innovative & effective therapies and collaborations &partnerships for expanding reach of the products are the key strategies of the industry players. Presently, companies are targeting difficult-to-treat gout population by employing diverse R&D strategies. Introduction of various biologics and expected launch of drugs presently in the pipeline are likely to propel the industry over the coming years.

In-depth report on global gout therapeutics market by Grand View Research:
https://www.grandviewresearch.com/industry-analysis/gout-therapeutics-market