Marijuana belongs to a family of plants named cannabaceae. It is mainly categorized on the basis of its shape, height, smell, and color. In the ancient Chinese tradition, marijuana was used for the management of malaria, reproductive system disorders, constipation, rheumatic pain, etc. Over 70 psychoactive compounds with the chemical structure of tetrahydrocannabinol (THC) have been identified. Cannabidiol (CBD), a nonpsychoactive component, and THC, a psychoactive component, are two major compounds used for therapeutic applications. Reports suggest that tetrahydrocannabinol helps in alleviating symptoms suffered by cancer and AIDS/HIV patients.
The growing social acceptance has notably raised the revenue for the cultivators and dispensary owners, which depicts expanding business opportunities for significant players. An increasing number of states, countries, and regions legalizing marijuana has propelled the number of vendors entering the market, which is expected to grow the market over the coming years. Some of the key vendors are Canopy Growth; American Cannabis Company; Medical Marijuana, Inc., Terra Tech Corp, and mCig, Inc.
Global medical marijuana market by application, 2015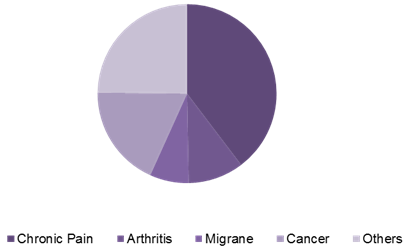 In addition, Israel's Council for Higher Education announced the inclusion of a course on medical cannabis, which indicates the growing initiatives undertaken by various academic institutes to raise awareness about the benefits of marijuana for therapeutic uses. The presence of government policies concerning cannabis cultivation for research and medicinal purposes in various countries is one of the crucial factors that is expected to boost the market over the forecast period. The rising usage of advanced agricultural technology to provide medical grade marijuana for therapeutic & research uses and increasing investment by several startup companies in this market also portrays the potential of the market to expand over the coming years.
Various clinical research and trials have proved that cannabis is beneficial in terms of pain management and appetite enhancement for cancer patients undergoing chemotherapy. The growing demand for genetically stabilized "Medical Grade" strains to reduce eye pressure amongst patients suffering from glaucoma and lessen the side effects caused by the treatment of Hepatitis C, is one of the key attributes responsible for the medical marijuana market growth.

In-depth report on global medical marijuana market by Grand View Research:
https://www.grandviewresearch.com/industry-analysis/medical-marijuana-market