If someone asks us about the characteristics and usages of polypropylene in daily lives, we would be stumped; and would find ourselves googling the term and usages, later. However, I can bet that what we find on Google will be more shocking to us. It is one of the essential materials which are used for self hygiene and safety by us, but we still know so less about it.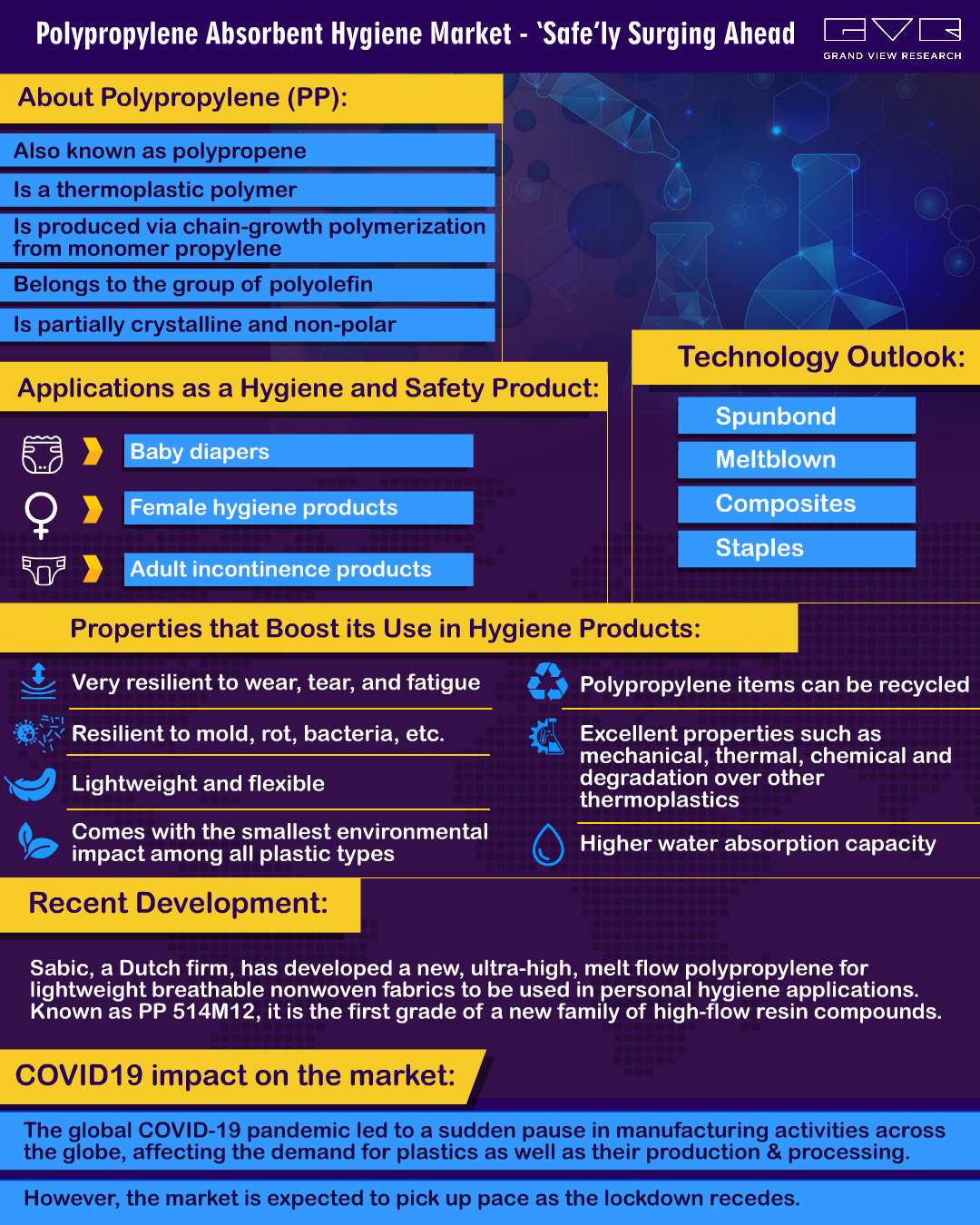 Polypropylene, Its Properties & Market Nuances
Polypropylene (PP), also known as polypropene, is a thermoplastic polymer used in a wide variety of applications. It is produced via chain-growth polymerization from the monomer propylene. Polypropylene belongs to the group of polyolefin and is partially crystalline and non-polar.
In short, it is a very useful type of plastic with numerous commercial, industrial, and fashion applications. Due to its properties, it has gained demand from hygiene and healthcare sector, along with several others, so much so that, the Global Polypropylene Market was valued over USD 9.00 billion in 2014.
Some of its properties which make it highly useful are -
It is very resilient to wear, tear, and fatigue: this makes it perfect for items that endure high levels of physical stress.

It is resilient to mold, rot, bacteria, and more - which means we can use it for extended periods in indoor and outdoor environments without risking damage.

It is lightweight and flexible - meaning we can tailor it upon our wishes and needs

It comes with the smallest environmental impact among all plastic types; we can recycle polypropylene items and parts into many applications (cases, cans, home storage, flowerpots, pallets, crates, composite lumber etc.); it produces less solid waste by weight and less CO2 equivalents by weight than PET, PS or PVC.
These properties of polypropylene make it very apt to be used in the hygiene products. Polypropylene as a hygiene and safety product is used in baby diapers, female hygiene products and adult incontinence products.
Polypropylene absorbent hygiene market share, by application, 2014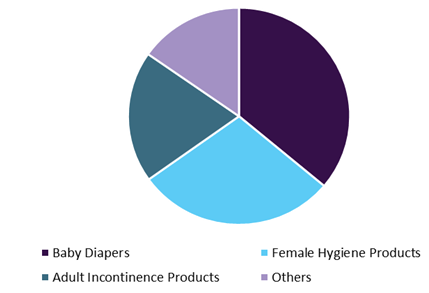 In the above diagram, baby diapers accounted for 36.1% of the global polypropylene absorbent hygiene market in 2014 followed by female hygiene products. Owing to less cost, softness and recent technological breakthrough, these products are expected to contribute increased market revenue for the manufacturers present in the industry.
Regional Insights
Asia Pacific region is leading the growth of the market with market share above 35%. Countries like India, Malaysia, Indonesia and Pakistan among others is experiencing increasing birth rates along with a predominant shift in lifestyle towards modern one. These factors along with growing per capita income is boosting the demand for hygiene products, leading to spurt in the demand for Polypropylene absorbents in the market.
Europe region has also looking at the surge in the demands due to ageing population needing adult care, which revolves around the adult incontinence and wipes products. Along with this female hygiene products are also experiencing a shot in the arm due to increasing preference for female sanitization in the general public. Female sanitization products are expected to grow at a significant pace in Europe, at a CAGR of 6.9%, till 2022.
Aggressive Competition
Handful of industry participants are dominating the global market which is intensely competed. The companies are Jofo, Polymers Group Inc., Global Nonwovens, Gulsan Holding, CNC International Co., Ltd, Mada, Pegas Nonwovens, Fibertex, Mitsui, Kimberly-Clark, SAAFÅ›, Shandong Kangjie Nonwovens and Freudenberg.
Although the international players are strongly established in the regions, they face strong competition from the local, unorganized and regional players for the larger market share.
Recent Developments
Sabic, a Dutch firm, have developed a new, ultra-high, melt flow polypropylene for lightweight breathable nonwoven fabrics for personal hygiene applications. Named as PP 514M12, this new product can serve a wide range of potential end-uses in personal hygiene applications. It is the first grade of a new family of high-flow resin compounds.

R2G, a family office based in Prague, Czech Republic which owns majority interest in PEGAS NONWOVENS A.S., and First Quality Enterprises, Inc., announced that the two companies have entered into a definitive agreement under which R2G will acquire 100% of First Quality's nonwovens operations in the United States and China. This is bound to increase the global reach of the R2G group in the world.

Fitesa has acquired 51% of spunbond nonwovens maker CNC International. The Rayong, Thailand-based Company largely serves the Southeast Asian markets. It will have its name changed to FitesaCNC. The joint-venture will focus on the hygiene market - in line with the rest of the Fitesa business.

In-depth report on global polypropylene (PP) absorbent hygiene market by Grand View Research:
https://www.grandviewresearch.com/industry-analysis/polypropylene-pp-absorbent-hygiene-market