We generally do not discuss in public or avoid the issues associated with female hygiene products. However, nowadays, it is considered as one of the most vital issues among the increasing population. Skin is the largest organ of a body, and they are highly permeable to all the potential toxins that directly contact with skin surfaces.
Chemicals in your skin can be worse than eating them. At least these enzymes when entered in one's body can break down and flush chemicals from a human being's body. Nevertheless, when contacted with skin, they have chances to be directly absorbed into the blood stream which may affect the delicate organs.
Many women use sanitary pads along with tampons and nursing pads. We are told very less about the materials or ingredients present inside female hygiene products. Conventional sanitary pads are made up of foam and a patented material named Infinicel.
As opposed to organic cotton pads, these conventional sanitary pads when burnt create solid residue and black smoke. This indicates the presence of dioxins, petrochemical additives and synthetic fibers in the pads. Such a factor is expected to negatively affect the global polypropylene absorbent hygiene market over the forecast period. As a result, consumers are increasingly shifting their preferences towards organic cotton pads that virtually leaves no sooty residue and also clean.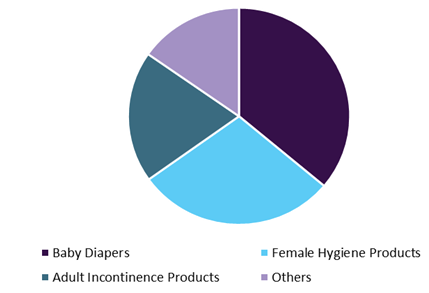 In the above diagram, baby diapers accounted for 36.1% of the global polypropylene absorbent hygiene market in 2014 followed by female hygiene products. Owing to less cost, softness and recent technological breakthrough, these products are expected to contribute increased market revenue for the manufacturers present in the industry.
Conventional sanitary pads are themselves equivalent to about four plastic bags! We all know the detrimental nature associated with synthetic chemicals and is always a matter of concern. Plastic chemicals such as BPS and BPA are reported to disrupt the embryonic development. The Food And Drug Administration reported that there are no health risks related to the usage of these tampons with dioxins.
Growing awareness among the consumers through advertisements and news channels about these products has resulted in the innovation of alternative feminine hygiene products that are considered comparatively less harmful.
The FDA has regulations for tampon absorbency, and all the tampons marketed must meet with all the absorption guideline positively. There have been discoveries of organic cotton sanitary products such as Natracare, Diva Cup, Glad Rags Organic Pads, Seventh Generation Chlorine Free Organic Cotton Tampons and Organyc 100% Organic Cotton Tampons.

In-depth report on global polypropylene (PP) absorbent hygiene market by Grand View Research:
http://www.grandviewresearch.com/industry-analysis/polypropylene-pp-absorbent-hygiene-market