Prior to clinical studies for any new molecule, well-established preclinical studies must be performed to allow the FDA to provide the Investigational New Drug (IND) approval. This growing attention toward preclinical analysis is expected to support growth of rat model market.
Mice and rat are predominantly used for preclinical evaluation and are together expected to hold above 70.0% of the share. Until two decades ago, rats dominated the preclinical market; however, mice became the preferred model owing to the development of better genetic modification tools for them. However, this scenario is expected to change over the forecast period.
According to data published by the Human Genome Project, the rat genome is similar in size to that of human i.e., about 2.75 billion bases. Of these about 25,000 genes are comparable to those present in humans, thus making them a suitable experimental animal.
As of 2016, the laboratory rat has contributed in the research of various fields such as neural regeneration, diabetes, cardiovascular medication, gastrointestinal disorders, and transplantation. However, difference in olfactory proteins and immune system lead to distinctions in studies conducted for these aspects.
Global rat model market, by region, 2016 (%)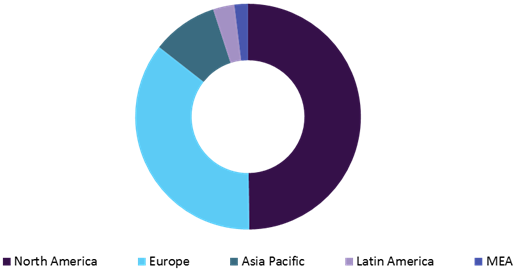 Furthermore, the FDA grants IND approvals and promotes clinical trials for molecules that display positive results in rats in terms of safety and efficacy easily. Recent studies conducted using this model was for cardiac ischemia in the Stanford University of California.
These models find huge application for evaluation of indications such as:
- Diabetes (particularly type 2)
Analysis for the insulin tolerance, resistance, hyperinsulinemia, and other conditions is performed. The commonly used rat strain is BB. Furthermore, a genetically modified type (RIP-HAT) is also predominantly used for diabetes-based preclinical analysis
- Oncology (particularly breast cancer)
The hormonal responses and premalignant stages in rat models closely resemble those of human beings and hence find good application for oncology research
- Neurology
In case of neurology, these models are identified to possess superior characteristics owing to their higher intelligence and brain size. Analysis of cognitive function, and memory by means of conditioned and knockout rats is becoming popular
- Irritable bowel syndrome
Generally performed in particularly maternal-separated rats.
- Osteoporosis
Currently, no particular animal model exists that identically represents the stages of osteoporosis, however an ovariectomized rat depicts the closest resemblance, hence is used for the purpose of research
- Toxicology
Toxicology studies are generally conducted in at least two species of rodents in order to gain higher confidence in molecule safety to initiate clinical study. The two opted species are rats and mice. Hence, this application supports stable growth of the industry.
- Cardiovascular
Involves analysis of conditions such as hypertension, stroke, cardiac failure, myocardial infarction, and cardiac hypertrophy
Along with the aforementioned application, the models are also used in various other acute and chronic conditions depending on the type of study. This can be attributed to the huge investment made by market players in breeding and maintaining a large inventory of these animals across various age groups.

In-depth report on global rat model market by Grand View Research:
https://www.grandviewresearch.com/industry-analysis/rat-model-market