The rising disposable income, urbanization, and changing lifestyle in developing economies, including China, India, and Mexico, are expected to increase the demand for branded clothing products. Furthermore, new product launches including Levi's 505 jeans in developed markets, such as the U.S., are expected to remain as one of the favorable factors for the textiles industry over the forecast period.
Textiles are used for the construction of buildings, house structures, dams, tunnels, wall reinforcement, facades, hose wrap, concrete wraps, waterproof membranes, thermal & sound insulation, sewer, and pipe linings. The increasing infrastructure spending in China, India, and Mexico, as a result of government support is expected to play a key role in increasing the usage of home fabric products over the next nine years.
Agencies including OSHA, NIOSH, and NFPA have enforced mandate policies for all manufacturing sectors to maintain worker's safety in shop floors and commercial spaces. This trend is expected to play a crucial role in increasing the importance of personal protective clothing, which is expected to increase the market share over the forecast period.
U.S. textiles market revenue, by product, 2015(%)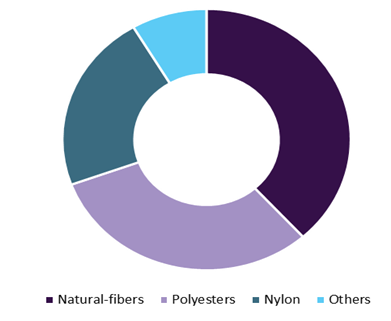 In July 2015, SIECA approved regulation of the Central American Technical Regulation - RTCA 59.01.08:12 - for the labeling of textile products. Laying regulatory pressure on the labeling requirements for textile products is expected to increase the operating expenditure of fabric manufacturers in the near future.
Over the past few years, companies including Nike and Adidas have been reportedly using the waterless dye technology in textile production as a medium to reduce effluent pollution. This environmental protection practice is expected to increase the possibility to earn carbon benefits by garment manufacturers located in developed markets including the U.S.
The rising production of shale gas and tight oil in the U.S. and Canada owing to technological advancements in hydraulic fracturing is expected to play a major role in increasing the demand for textiles in protective applications. However, sluggish growth in the manufacturing output of European countries, including Germany, France, and the UK, as a result of increasing utility expenditure, is expected to reduce the market size in technical applications.
In January 2016, the government of Egypt announced plans to increase the exports of an array of products, including leather goods and fabrics, by 10% from next year. The government of India announced the establishment of 13 integrated textile parks in September 2014, with an investment of USD 75.7 million. Favorable policies aimed at increasing the production output in the Egyptian and Indian textiles market is expected to have a positive impact over next nine years.
Major industry participants include Luthai, INVISTA, Asahi Kasei Fibers Corporation, and Paramount. In July 2014, Pringle of Scotland announced the usage of the 3D-Printed Clothing technology in Fall/Winter 2014 knitwear collection. The establishment of strategic tie-ups with apparel manufacturers that have a technical expertise is expected to open opportunities for the growth of the market over the forecast period.

In-depth report on global textiles market by Grand View Research:
http://www.grandviewresearch.com/industry-analysis/textile-market