Industry Insights
The global acetic acid market is expected to grow on account of its increasing demand for manufacturing VAM and PTA. Also, its use as a chemical reagent for manufacturing mono chloroacetic acid, camphor, diketene and photographic chemicals is also expected to be a critical factor for demand development. These intermediates are further used for producing polyester, greases, coatings, adhesives and sealants that are used in numerous end-use industries including packaging, textiles, construction, automotive and electronics.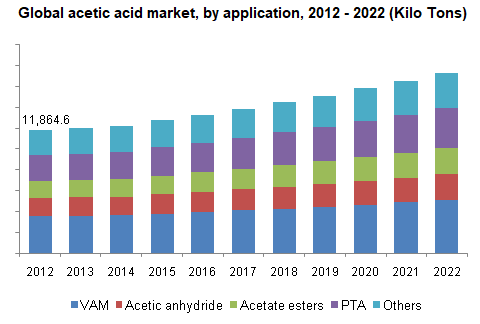 Over the past few years, there has been a rising demand for polyvinyl alcohol, polyvinyl acetate and ethyl vinyl acetate which is used for manufacturing adhesives and water-based paints. This has resulted in driving VAM demand from end-use industries including furniture, automobiles, and construction. Growing demand for PET bottles on account of their light weight and recyclability is expected to augment PTA market growth.
Vinegar, which is commonly used in cooking, has emerged as a functional food ingredient in recent times. Rise in consumer awareness regarding the health benefits of consumption of specified quantities of vinegar is expected to drive its demand soon. Acetic acid is an important raw material that is used in manufacturing numerous downstream chemicals mentioned above.
Increasing demand for these chemicals is likely to augment acetic acid industry growth over the next seven years. However, volatile prices of methanol, a key precursor for manufacturing the acid, are expected to hamper acetic acid market growth over the forecast period.
Application Insights
Vinyl acetate monomer (VAM) was the largest application segment of the market accounting for over 25% of the market volume share in 2014. Increasing demand for VAM is expected to drive global acetic acid industry over the next seven years. However, PTA is projected to witness the fastest growth due to an increasing demand for polyethylene terephthalate (PET) in bottle and textile applications. Increasing demand for PET bottles owing to their light weight, recyclability, ability to mold them into different shapes and sizes and excellent aesthetics is expected to drive PTA demand.
In addition, polyester is also being increasingly employed for manufacturing textiles owing to its lightweight, breathability and durability. Acetate esters applications are expected to witness above average growth over the forecast period. Increasing demand for low-cost solvents and diluents in food & beverage industry is expected to drive acetate esters demand.
Regional Insights
China was the largest producer of acetic acid holding a production share of over 40% in terms of volume in 2014. China acetic acid market was largest in the same year with limited exports of the organic compound from the country owing to high domestic demand. The presence of a robust manufacturing base on a large scale has resulted in high demand for the chemical. China is anticipated to dominate the global demand over the forecast period owing to rapid industrialization in the country over the next seven years. The Asia-Pacific acetic acid market is expected to witness above average growth owing to the emergence of manufacturing hubs in markets other than India and Japan such as Vietnam, Cambodia, Thailand, Laos and Indonesia is expected to result in high demand for acetic acid in the near future.
North America and Europe are expected to witness below average growth for the compound owing to the high trend among manufacturers to shift their production bases to low-cost economies of Asia Pacific. Latin America and MEA are the average growth market with numerous countries in the region primarily exporting the compound.
Competitive Insights
The global acetic acid market share is highly fragmented in nature owing to the presence of numerous manufacturers, with the regional concentration in the Eastern Hemisphere. Key manufacturers include Celanese, British Petroleum (BP), Jiangsu Sopo (Group) Co., Ltd., Eastman Chemicals, DuPont, Saudi International Petrochemicals and Wacker Chemie. The market was dominated by Celanese, BP, Sopo and Eastman Chemicals, along with the presence of numerous large and small scale manufacturers. The market is also characterized by mergers & acquisitions, resulting in impacting dynamics. For instance, in June 2011 Eastman Chemical Company acquired the acetic acid division of Sterling Chemicals. In June 2015, Saudi International Petrochemical Company announced plans to acquire equities in various companies including Ikarus Petroleum Industries Company, International Acetyl Company and International Vinyl Acetate Company.