Industry Insights
Global adhesive equipment market size was valued at USD 26.93 billion in 2014. Increasing application in packaging and DHP industries is expected to drive growth over the forecast period. Rising demand for intermittent adhesive dispensing to lower costs and product wastage is also expected to shape up the industry.
Increased regulatory pressure on companies by agencies such as the U.S. EPA and the REACH has led to the development of bio-based hot-melt adhesives. Major producers such as Dow, Henkel, and Nordson have invested in developing bio-based counterparts and dispensing equipment. These innovations are expected to present several lucrative opportunities for market growth over the forecast period.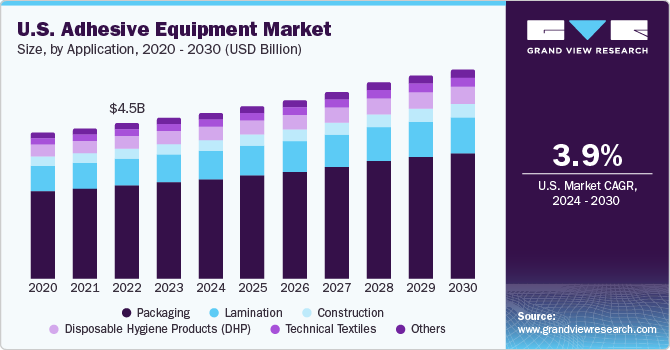 Rising raw material (crude oil) costs along with growing environmental concerns are also likely to drive the intermittent dispensing equipment market. Increasing number of R&D initiatives by companies to develop sustainable packaging, such as TetraPak, is expected to foster the demand for accurate dispensing equipment that reduces resource wastage in packaging applications.
Dispensing systems are also gaining popularity in food and beverage packaging owing to rising standards of living, consumer disposable incomes, and growing preference for packaged "fast" foods.
Nordson Corporation, a major equipment manufacturer, has successfully developed low-cost, intermittent adhesive dispensing equipment, and the company claims to reduce hot-melt usage by an average of 28% in packaging applications.
Performance characteristics such as customized patterns, dual (hot and cold) glue application, bulk hot-melt, and uninterrupted and repeated flow are projected to promote equipment demand in various end-use applications. Pattern controllers are witnessing the fastest growth in packaging, DHP, and other applications across diverse end-use industries. Technological advancements are also expected to complement the market growth of other product segments.
Product Insights
Industrial hot-melt equipment was the largest product segment accounting for USD 5,887.8 million of the overall market in 2014. Hot-melt adhesives possess several desirable properties such as versatility, water and moisture resistance, low costs, and the drying time leading to higher product demand across diverse industries.
Hot-melt equipment includes supply units, hot-melt glue stick processors, melters, and applicators. The segment is predicted to grow at 6.9% CAGR over the forecast period. Adhesive controllers are expected to emerge as the fastest-growing product segment growing at a CAGR of over 7% from 2015 to 2022.
Controllers are used to regulating patterns, viscosity, and flow contributing to an aesthetic appeal in numerous industrial applications. The segment is expected to witness high demand on account of increasing awareness regarding adhesive conservation leading to intermittent bead application.
Pneumatic adhesive applicators market was globally estimated at USD 4,948.4 million in 2014. These equipment are gaining prominence in hot melt and water-based adhesive applications primarily due to their ability to dispense different mix ratios of adhesives and provide an accurate material deposition.
Application Insights
On the basis of applications, the adhesive equipment industry is segmented into packaging, construction, lamination, DHP, and technical textiles. Packaging is expected to witness growth at CAGR of 7.5% over the forecast period. Increasing glue utilization in packaging applications for electronics, FMCG, food and beverages, pharmaceuticals, chemicals, and other products is expected to foster equipment industry growth.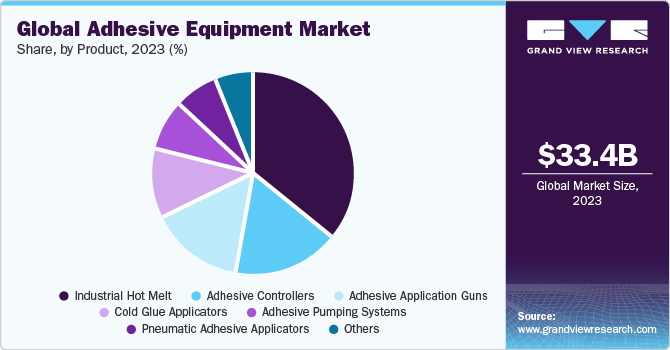 Packaging was also the largest application segment and accounted for around 31.6% of the overall market. The segment is projected to reach USD 14,162.8 million by 2022. Other applications such as DHP, where equipment is used to apply adhesives in adult incontinence products, women's sanitation products, baby diapers, and training pants are also expected to gain share rapidly.
DHP segment was worth USD 6,007.2 million and is expected to grow at a CAGR of 7.0% over the forecast period. Other end-use industries such as textiles and lamination that utilize glues to bond and seal products are also expected to gain market share rapidly.
Regional Insights
Asia Pacific led the global industry in terms of revenue with an estimated share of 42.1% in 2014. The market generated around USD 11,337.7 million in 2014. China is expected to witness the highest growth in terms of demand at an exponential CAGR of 8.7% from 2015 to 2022 owing to the rapid industrialization and the expanding end-use industries.
Europe is anticipated to be the next largest consumer due to the rising geriatric population and subsequent demand for DHP such as adult incontinence products manufactured using adhesives. Rising construction spending to refurbish and renovate existing buildings and infrastructure in the UK is anticipated to drive the increasing dispensing equipment demand.
Other regions such as North America, CSA, and MEA are also expected to witness growing equipment demand owing to increased consumer interest towards bio-based products.
Adhesive Equipment Market Share Insights
The market is highly fragmented with several regional and global manufacturers accounting for around one-third of the global adhesive equipment market share. Henkel emerged as one of the leading companies operating in the global market. Other key participants include Nordson Corporation, Graco, Valco Melton, Dymax Corporation, and Robatech.
Increasing environmental concerns are urging companies such as Henkel, Dow, Ashland, and 3M to create bio-based counterparts derived from starch and indirect food sources. The same concerns have also driven companies such as Nordson to develop intermittent "adhesive conserving" dispensers that reduce wastage and improve bond strength. These factors are expected to contribute to global industry gro