Industry Insights
Global oriented strand board (OSB) market size was estimated at USD 8.46 million in 2014. Increasing plywood substitution with the product in new residential construction, repair/remodeling, and industrial/light commercial sector is expected to augment demand over the forecast period. Rising need for renewable energy owing to harmful effects of global warming is expected to propel growth over the next seven years.
Technological advancements in India, Russia, China, and Brazil to develop new products are expected to create opportunities for growth over the next seven years. Rising need in crating, pallets, bins, furniture frames, display racks, and store fixtures will create immense potential for the industry over the forecast period.
High product consumption for both structural and non-structural applications including furniture, frames, decorative wall paneling, shelving, packaging and crating, pallet manufacture, dry storage pallets, and industrial tabletops is expected to have a positive impact on the market.
Superior properties including strength, fastener holding capacity, consistency, stability, and workability will increase demand in furniture. Rising consumption of home and office furniture will augment the market size over the next seven years. The growth of residential and commercial sector has been the key driver for growth. The product is suitable for various industrial packaging as it imparts rigidity, strength, lightness, moisture resistance grade, durability, lack of knot holes, and core-voids. Growth in this sector will have a favorable impact on the industry over the forecast period.
A key challenge for the OSB industry is volatility in raw material prices. Various factors affecting the prices are the fluctuations in raw material availability and price and growing product demand in other applications.
Ongoing development to produce new packaging material is expected to open new market opportunities over the forecast period. Increasing awareness regarding environmental sustainability coupled with the adoption of new regulatory requirements on packaging recycling in China, India, and the Middle East will open new avenues over the next seven years.
U.S. OSB market by application, 2012-2022, (million square meters)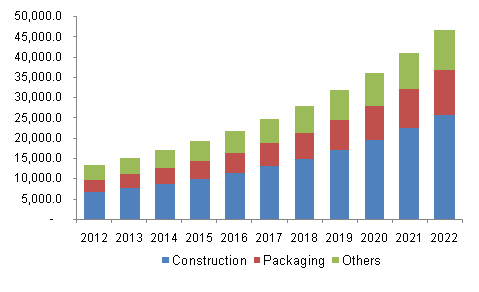 Application Insights
Construction was the largest segment accounting for over USD 4.0 million in 2014. Rising consumption in subflooring, single-layer flooring, wall and roof sheathing, sheathing ceiling/deck, structural insulated panels, webs for wood I-joists, industrial containers, and mezzanine deck will drive product demand in this sector over the next seven years.
Packaging is expected to grow at a CAGR over 29.0% in terms of revenue from 2015 to 2022. Increasing product demand for packaging as it is cheaper than wood-based materials and provides an impressive level of strength, will fuel industry size over the forecast period. Growing packaging industry in various countries including U.S., Canada, India, China, Singapore, Hong Kong, Thailand, Australia, Taiwan and the UK is expected to promote expansion over the next seven years.
Regional Insights
North America was the largest market accounting for over 55.0% of global volume share owing to strong environmental regulations and raw material availability.
Asia Pacific is expected to be the fastest growing market from 2015 to 2022 owing to increasing need for packaged food and significant expansion of the construction industry. Rapid urbanization in emerging economies is driving demand from construction industry which is expected to contribute towards industry expansion.
Competitive Insights
Louisiana-Pacific, Georgia-Pacific, Norbord, Weyerhaeuser, Huber, ARBEC, dominate the global market share. Other industry players include Ainsworth Lumber Co, RoyOMartin, and LP. In September 2015, Louisiana-Pacific Corporation's product LP TechShield Radiant Barrier Sheathing was selected by The U.S. Green Building Council (USGBC) as a home featuring material.
In April 2013, Georgia-Pacific opened a new manufacturing plant in Clarendon County for the production of various OSB products including Thermostat OSB radiant barrier sheathing. In June 2015, Norbord Inc. merged with Ainsworth Lumber Co., Ltd. to increase its mill network, thereby serving the U.S. housing sector demand. Now Ainsworth is a wholly-owned subsidiary of Norbord.