Industry Insights
The global antimicrobial packaging market was valued at USD 7.28 billion in 2015. Antimicrobial packaging is widely used in food products which are preservative free, require minimal processing and perishable. Rising awareness regarding consumer health and longer shelf life of products has resulted in increased usage of antimicrobial packaging in the recent past and is expected to witness similar trends over the forecast period.
Antimicrobials are mainly used in packaging agents to prevent the growth of microorganisms and ensure the safety of the products. These antimicrobial agents are incorporated in packaging materials for slow release in food surface or can also be used in vapor form.
U.S antimicrobial packaging market volume by base material, 2012 - 2024 (Kilo Tons)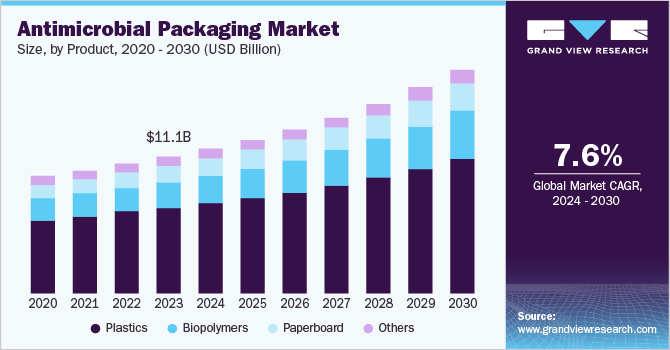 Increasing demand for baked & confectionery products among consumers in developing regions is expected to aid the market growth for antimicrobial packaging in the next eight years. Moreover, these packaging elements prevent the penetration of undesirable substances such as water vapor and pressurized liquids, which in turn helps to enhance the food quality. The oxygen requirement is very much needed when the packaging is done for food. Mainly, oxygen helps in prevention of spoilage and pathogenic organisms.
Moreover, the storage temperature also plays an important role in the antimicrobial packaging market. The storage temperature determines the growth of potential microbes. As a result, properly designed antimicrobial packaging system helps in elimination of food born diseases along with medical illnesses under moderate storage temperature and distribution systems.
Nowadays, hospitals are a common breeding ground for bacteria, algae, and fungal growth which in turn causes detrimental effects on consumers and also on plastic medical devices. As a result, antimicrobial additives are used to inhibit microbial growth and also increase the hygienic factor among patients.
Healthcare furnishing manufacturers have been developing innovative products having effective microbial resistant properties which preserves the aesthetic value of hospitals and also prevents against infectious agents in the hospitals. This factor is anticipated to drive antimicrobial packaging demand over the forecast period.
Antimicrobial packaging materials are currently produced on a large scale only by few industry participants including BASF and Dow Chemicals. Other small & medium scale manufacturers are not able to meet current economies of scale owing to underutilization of production capacities. Hence, the overall production costs tend to be generally high which may be a hindering factor for the overall market over the forecast period.
These antimicrobial packaging elements are enlisted under "generally recognized as safe" GRAS status and are used in processed cheese. Moreover, they are also approved by the U.S. Food and Drug Administration for its usage in food products such as fruits and vegetables.
R&D initiatives are being taken to introduce metal oxides such as magnesium oxide and zinc oxide as antimicrobial agents for food industry which in turn is expected to create ample opportunities for the industry participants across food & beverage applications.
Base Material Insights
Base materials commonly include plastics, paper board, bio polymer, and others. Other base materials commonly include non-woven fabrics, glass, and aluminum foil. Plastics accounted for more than 60% of the overall market and emerged as the leading segment in 2015. In recent years, low-density polyethylene has been used widely in antimicrobial packaging owing to its superior antibacterial and antifungal properties against some bacteria namely, Listeria innocua and Escherichia coli.
However, increasing environmental concerns regarding the use of synthetic base materials have led to an increased usage of biopolymers coatings which further, helps in prevention of moisture transfer into food products. Thus, these biopolymers are presumed to replace synthetics plastics in the future years.
Antimicrobial Agent Insights
Antimicrobial agents consist of organic acids, Bacteriocins, and others. Other antimicrobial agents consist of metal ions & oxidizers, essential oils, and enzymes. Organic acid accounted for more than 35% of the antimicrobial packaging market in 2015. Organic acid such as citric acid, lactic acid, and acetic acid helps in lowering the pH level of food and hence succeeds in suppression of microbial growth. Thus, these organic acids are mainly used in acidic food products. Sometimes prolonged exposure of these kinds may cause mild toxicological issues among human beings.
Technology Insights
The technology segment can be segregated into two types which are controlled release technology and active technology. Active technology held over 50% of the overall market in 2015. Active technological packaging helps in protecting the shelf life for food and also helps in enhancing the food quality. This system also helps to increase the stability & specificity of preservation by reducing the amount of chemicals used in food.
Pack Type Insights
Pack type consists of carton package, pouches, and others. Other pack types include trays, bags, cups & lids. Pouches accounted for more than 35% of the total antimicrobial packaging in 2015. These pouches are being used widely across different industries such as food, agricultural, personal care, and healthcare for various applications. Carton packages are widely used in the food & beverage industry. These carton bags are generally made of paper based packaging materials which prevents the microbes to get inside the food.
Application Insights
Major applications include food & beverage, healthcare, personal care, and others. Other application segment majorly consists of textile application. Food & beverage application accounted for over 40% of the overall market in 2015 and is expected to continue the same trend over the forecast period. Growing food borne diseases and rising health awareness among individuals has permitted the use of antimicrobial packaging in the food industry.
Regional Insights
Asia Pacific antimicrobial packaging market led the global industry and accounted for over 30% of the total market in 2015. Growing demand for food among the youths & adults coupled wing increasing prevalence of diseases has resulted in the regional market growth. Emerging nations such as India and China are expected to make the Asia Pacific region as the fastest growing market and also bring a lot of opportunities in this field over the next eight years.
 
Competitive Insights
The global antimicrobial packaging market is dominated by chemical giants. Major industry participants include BASF SE, Mondi Plc, The Dow Chemical, Polyone Corporation, Dunmore Corporation, Biocote Corporation, Linpac Senior Holdings, Olpon Pure Sciences Ltd, Microban International, and Takex Labo Co. Ltd.