Industry Insights
The global assisted reproductive technology market size was valued at USD 21.0 billion in 2014. Key driving factors include the increasing prevalence of infertility cases triggered by a growing base of lifestyle induced disorders such as obesity and stress. Growing number of smokers are also likely to make significant contributions towards the growth of the patient base.
Increase in the infertility rates has led people to opt for human reproductive technologies such as in-vitro fertilization (IVF), intracytoplasmic sperm injection (ICSI) gamete intrafallopian transfer (GIFT), zygote intrafallopian transfer (ZIFT), intrauterine insemination (IUI), and surrogacy.
U.S. assisted reproductive technology market, by procedure, 2012 - 2022 (USD Million)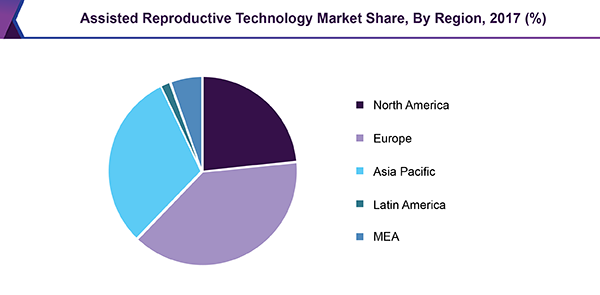 According to the WHO, fertility rate per woman has reduced from five in 1960 to 2.5 in 2012. Such decline in fertility rates has given rise to a rapid growth in demand for ART procedures. Growing stress levels is also identified as a key driving factor for the assisted reproductive technology industry. As per the Global Organization for Stress, rising work pressure leads to stress and physiological problems, and out of every ten people, six suffer from work place stress in developed economies such as the U.S. and Canada.
Procedures Insights
Key procedures encompassed in the scope include frozen non-donor, frozen donor, fresh non-donor, and fresh donor. Fresh non-donor contributed the most in terms of revenue, and was worth over USD 11.5 billion in 2014. The frozen non-donor segment on the other hand is likely to grow at the fastest CAGR of over 5.0% during the forecast period.
According to a study performed by the CDC, live birth rate through frozen and fresh cycles are almost similar. Frozen method has an advantage over fresh method as it is less expensive; recipient does not have to go through drug stimulation process and is less invasive.
Many reimbursement policies have also encouraged more people to donate or store their gametes. As compared to other centers that offer risk sharing plans and refund only for three cycles, the Advanced Fertility Center of Chicago has designed the IVF refund plan, where it allows 100% refund up to four cycles with fresh embryos.
Moreover, in October 2014, companies such as Apple and Facebook have started offering perks to women employees to store their sperms to decrease attrition rates. This would enable career-oriented women to maintain work-life balance.
The removal of the tag "experimental" from egg freezing by the American Society for Reproductive Medicine (ASRM) is projected to again accelerate segment growth. In order to increase customer convenience and to offer them a broader platform for sharing, many industry players have introduced online portals.
In-vitro fertilization is a widely used method for fertilization, which is conducted majorly by using fresh sperm/egg to improve success rates. At the advent, this method had a disadvantage that led to multiple births; therefore a new method called Intracytoplasmic Sperm Injection (ICSI) was introduced for male infertility, wherein single potent sperm is injected into the egg.
Regional Insights
The North America assisted reproductive technology market dominated global demand in 2014 with revenue estimated at USD 8.6 billion. Key growth factors include growing fertility related awareness levels, presence of favorable government support for in-vitro fertilization, and the prevalence of high infertility rates.
The introduction of technological updates offering enhanced results is also likely to drive regional growth over the forecast period. For instance, in August 2015, Ovascience's treatment named AUGMENT has been reported to have rejuvenated women's aging egg cells and provided benefits to eggs with poor quality.
Initially gametes used to be cryopreserved but this led to decreased sperm quality and chances of hampering the fragile tissue. A new preservation technique named vitrification was introduced where the gametes are directly frozen with the aid of liquid nitrogen and therefore increasing the demand for frozen eggs/sperms in the future.
Europe is expected to emerge as a leading revenue contributor by 2022, with growth supported by the growing prevalence of infertility and rising demand for medical tourism. The Barcelona summit suggested the establishment of expert groups to solve demographic issues, improve childcare facilities, and to accept parent IVF procedure for clinical trials.
The Asia Pacific assisted reproductive technology market is expected to witness lucrative growth over the next seven years due to, the increasing disposable incomes, late family planning, and women employment levels. Asia Pacific Initiative on Reproduction (ASPIRE) held on 4th April 2014, was to guide healthcare professionals on how to assist patients on various infertility treatments and increase the quality of patient care.
Flourishing medical tourism industries in the emerging economies of India and South East Asian countries is a major growth contributing factor. Infertility clinics have in recent times have advertized low prices and educated practitioners in an attempt to gain significant gains.
Competitive Insights
Some key players of the market are Cosmos Biomedical, Microm UK Ltd., Origio, IrvineScientific, Cryolab Ltd., Parallabs, Ferring Pharmaceuticals, Ovascience and others.
Continuous up gradation of technology, strategic collaborations with domestic players, and capitalizing on the favorable government initiatives and funding opportunities are some key sustainability strategies adopted by the participants.
In 2013, Parallabs launched Embryoscope, a time-lapse monitoring system. It improved the IVF system, increased pregnancy rates, and was also used by the American Society of Reproductive Medicine.