Growth in consumer and passenger automobile segment production to drive automotive collision repair industry
The increased subscriptions of automobile insurance and technological advancements are expected to drive the global collision repair market over the forecast period. The modern age vehicles have enhanced safety features installed in them that have led to lower fatalities on roads. On the contrary, vehicular damage caused by accidents & impacts has increased, directly impacting the revenue generated in the global automotive collision repair market. The industry involves several sales-valuation models. For instance, many automobile retailers sell DIY (Do-It-Yourself) kits to consumers who prefer to work on their cars by their own.
Global automotive collision market by vehicle type, (USD Billion), 2014 - 2024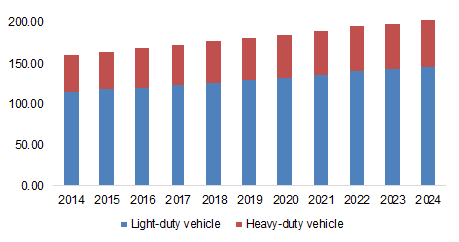 This trend is observed as seen in many suburban regions in the Latin American and Asia Pacific geographies. Some retailers sell to professional auto service and restoration shops specifically. OEMs have developed several channels of their own to distribute their branded parts to service departments. The automobile industry is witnessing an upsurge in the demand for gas and hybrid electric cars, leading to a rise in the demand for spare parts and specific tools for these specialized cars. The rise can be attributed to the increased prices of petrol and petrol engine-based automobiles.
Increase in global sales of a light-duty vehicles
The automotive collision repair market has been segmented on the basis of vehicle types into light-duty vehicles and heavy-duty vehicles. The light-duty vehicles segment comprises hatchbacks, sedans, SUVs, and crossover cars; whereas, commercial and multi-axle vehicles, such as trucks and buses, are categorized under the heavy-duty vehicles segment. The market demand for alternative transportation options and government-led initiatives to improve the fuel economy and Alternative Fuel Vehicles (AFVs) will increase the sales of a light-duty vehicle in the years to come. The sales in the industry would be primarily driven by the adoption of vehicles that entirely run on alternative fuels and vehicles with several levels of drivetrain electrification. The adoption of alternate fuel car will further increase the necessity to deliver vehicle make specific collision repair centers.
Paints & coatings to represent high growth
The automotive collision repair market analyzed and reported in the study includes paints & coatings, consumables, and spare parts. Paints & coatings and consumables include colored paints, scratch resistant coatings, refinishing materials, engine motor oil, and resin materials. Spare parts include crash parts, repair materials, supplementary mechanical parts, restoration materials, and tools used in the automobile service delivery.
The rapidly evolving paints and coatings technology in the auto industry to meet the latest protective automobile materials and aesthetic demands can be attributed as the key reason for this growth. The growing demand for carbon footprint technologies and increasing vehicle production have driven the market growth. Environmental coatings are anticipated to witness higher adoption rates in the high volume markets over the forecast period, owing to the surging environmental concerns ascribed to the use of detrimental synthetic coatings and refinishing materials.
Asia Pacific to be fastest growing region in automotive collision repair from 2016 to 2024
The increasing number of vehicle sales generates immense growth prospects in the automotive collision repair market in the Asia Pacific region. As a result of the lack of strict driving rules in many parts of the Asia Pacific region, vehicular damage as a result of accidents has witnessed an upsurge, thereby contributing to the revenue generated in Asia Pacific's automobile repairing sector. Although the market in Asia Pacific has been unstructured for a while, over the last few years, it has been showing signs of uniformity. The region is perceived as a source of components for local companies and multinationals are competing to supply low-cost components to prominent vehicle manufacturers.
The European market constitutes majority of the revenue share. The region is expected to witness a slow growth rate over the forecast period owing to the penetration of vehicles having enhanced safety features and stagnated sales. North America is also expected to witness a similar phenomenon as Europe. Furthermore, the growing penetration of gas and hybrid electric automobiles is anticipated to initiate the foundation of specific vehicle make automotive repair shops over the forecast period.
ZF Friedrichshafen AG & Faurecia to dominate automotive collision repair market
The key players offering exclusive automotive aftermarket products and supplies for automotive collision repair service centers include 3M, BASF, Continental Corporation, Bosch, DuPont, Honeywell International, Federal-Mogul Holdings, DENSO, and ZF Friedrichshafen. Federal-Mogul Motorparts hosts an all-inclusive technical education platform called "Garage Gurus" that provides online, on-demand, and on-site training and support availed to several service writers, shop owners, and technicians. The industry spectates numerous mergers and acquisitions in order to enlarge their global reach and subsequently garner an increased share in the market. 3M has a broad portfolio of tapes, compounds, cleaners & removers, seam sealers, coatings, paint spray equipment, detailing, plastic, glazes, headlight lens restoration, composite, welding tools and accessories, polishes, body filler, adhesives, fiberglass repair, paint booth protection, buffing pads, and abrasives, which essentially cover all the aspects needed for collision & reparation.