Industry Insights
Growing focus on cost triggered by the stringent regulations in the auto electronics industry is expected to drive the automotive ECU market. Increasing ECU implementation in electric vehicles, as a result of growing awareness of energy efficiency is estimated to be a major driver for the market. Automotive ECU finds application across various segments including commercial, passenger cars and utility vehicles. Increasing expenditure on R&D of automotive ECU to develop low-cost components for various electronics control systems is expected to propel market growth. Stringent government regulations for advanced safety features, facilitated by low-cost ECU development is expected to fuel automotive ECU market growth through the forecast period. Environmental trends have a tremendous impact on the powertrain domain with increasing ECU implementation in electric vehicles. Increased ECU complexity due to the high functionality required to control the increasing communication options between ECUs is expected to be a major market restraint.
Global automotive ECU market by application, 2012 - 2020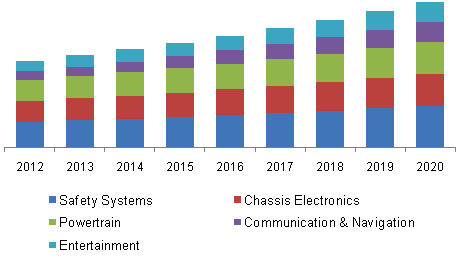 The powertrain domain for electric vehicles includes ECUs that control power electronics systems, battery and an electric motor that changes the batteries DC power to high-voltage AC power that drives the electric vehicles. Rising awareness towards green technologies such as Eco-Driver Assist Systems (EDAS) has assured a significant role in many drivers assist product and is expected to be seen as a new opportunity for the automotive ECU market players.
Application Insights
The automotive ECU market can be segmented on the basis of as application into safety and security systems, chassis electronics, powertrain electronics, communication & navigation systems and entertainment systems. Safety and security systems segment is expected to be the largest segment through the forecast period. The communication & navigation systems segment is expected to exhibit witness high growth prospects. This growth can be attributed to growing consumer demand for convenience and comfort features.
Telematics systems and connected navigation systems require a growing amount of embedded software in order to manage an increasing number of services such as better HMI technologies, communication management, and website access. Recent development in telematics systems providing electronic traction, local hot spot information and development of efficient power supplies for automotive controls with high-speed CAN interface is expected to favorably impact the automotive ECU market. The emergence of V2V and V2I connected systems may lead to autonomous driving post-2020.
Regional Insights
Exponential growth in the logistics industry apart from increasing information about drive safety is expected to boost automotive ECU growth in the European region. Growing demand for telematics and navigation systems in Europe is expected to be a major trend in the market. The proliferation of proximity sensors & gestures control units, natural language voice key to connected services and low-cost digital radio installations are some the factors expected to drive the regional market growth. Asia-Pacific is expected to witness significant growth over the forecast period. This can be attributed to rising safety installations per vehicle with standards such as China V for light-duty vehicles. Demand in the regions of North America may vary due to diminishing high adaptation to new technologies.
Competitive Insights
Focus on agreements, contracts, mergers and acquisitions with companies for their product supply are the main strategies applies by major players in the market to retain their high market share. Global automotive ECU market comprises of companies such as Continental AG, Autoliv, Delphi, Bosch, TRW Automotive, Hitachi Automotive and Denso. Continental has been the market leader followed by Bosch and Denso. Extensive quality products, industry knowledge, innovation and application expertise, has enabled Continental AG to gain large and loyal customer base.
BMW's ConnectedDrive offers several apps for download to the iDrive multimedia system. This reduces the requirement to develop new systems and hardware, hence expanding the opportunity of existing infotainment system. Embedded cellular link is expected to gain more services to connect and upgrade the vehicles' ECU software programs.