Industry Insights
The global automotive lighting market size was valued at USD 19.64 billion in 2014. Increasing production and sales of commercial vehicles across the globe are estimated to drive the demand over the forecast period. Technological advancements stimulating by rising concerns about vehicle safety and stringent government regulations are further expected to spur the demand. Additionally, a growing population and increasing the purchasing power of consumers across the developing countries are projected to offer lucrative opportunities over the forecast period.
The high cost of LEDs can act as a restraint; however, features, such as the longer life of LEDs and low energy consumption are expected to supplement its demand across the automobile sector. Thus, the introduction of compact, energy-efficient, and low-cost LED lights would emerge as a lucrative strategy for the industry participants.
Asia Pacific automotive lighting market, by technology, 2012 - 2022 (USD Million)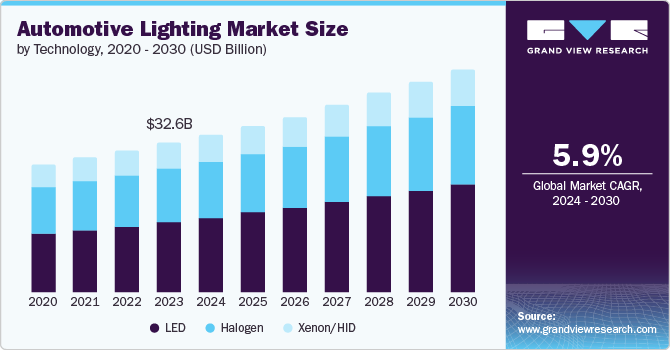 Rising adoption of OLEDs, deployment of Advanced Forward Lighting System (AFS) technology in LEDs for bend headlamps, and resource scarcity are some of the technological advancements occurring across the industry. The current headlight designs are gradually shifting towards aesthetic designs, which include the smaller size of the headlights.
The automotive aftermarket consists of the replacement of halogen lights with LEDs in newly purchased vehicles and lights that are damaged. The demand for replacement of halogen lights mainly exists in developed countries. This would share a small portion of the total aftermarket.
Technology Insights
On the basis of technology, the automotive lighting market is segregated into halogen, xenon, and LED. Halogen dominated the industry in 2014 and is expected to grow at a CAGR of over 5% from 2015 to 2022. Low purchasing & replacement cost and easy availability are few factors for the adoption of halogen technology. They are available in different dimensions and are cost-effective and easy to replace. However, excessive heat loss while light radiation has increased awareness for energy efficiency leading to the reduced usage of halogen.
LED lighting market accounted for over 15% of the overall share in 2014 and is expected to witness substantial growth over the forecast period. This is largely attributed to red LED applications such as indicators and brake lights
LEDs are increasingly being used in Daytime Running Lamps (DRLs), which are mandated for new car production in the EU from 2011 to 2012, and OEMs are also used as a competitive edge in their design. LED also aims to penetrate the headlamp sector; however, technology barriers persist in this field as LED is still very expensive for ultra-high brightness applications. Halogen and High-Intensity Discharge (HID) lamps have the advantage of being cheap.
The preference of manufacturers towards eco-friendly technologies owing to high power efficiency and reduced CO2 emissions is expected to fuel the demand. Presently, a major factor limiting its usage is the high price. However, ongoing technological advancements would result in lowering the costs in the future.
Application Insights
Application segments analyzed in the study include a front, rear, side, and interior. The headlamps segment is estimated to grow at a CAGR of over 7% from 2015 to 2022. These also include DSL/fog lights. Dynamic growth and developments have revolutionized the headlamps segment. The increasing use of LEDs in headlamps as compared to halogen and xenon lights is a prominent trend propelling growth. Adaptive headlights are an active safety feature designed to enhance the drivers' visibility in low light conditions.
Rear lights comprise brake, tail lights, indicators, and back-up lights mounted on the rear end of each vehicle. Presently, halogen lights are commonly used for rear application purposes. However, LED lights would emerge as prominent solutions in vehicles over the forecast period. Illumination products find significant application in vehicle interior systems as they give an aesthetic appearance to the interior. Numerous manufacturers are focusing on developing energy-efficient and compact solutions for interior illumination purposes.
Regional Insights
Asia Pacific automotive lighting market accounted for over 40% of the overall share in 2014. Increased automobile production across countries such as China, India, Japan, and Taiwan combined with the rising urban population, growing economies, and increasing the purchasing power of individuals is estimated to fuel the demand across this region.
Europe is anticipated to have steady growth owing to increasing adoption in the brake, reverse, interior lights, and signal indicators. Further, environmental regulations mandate the installation of LEDs across various applications. The North American regions are expected to have substantial demand for LED lights in the automotive sector, majorly supplemented by their increasing application in the interior segment.
Competitive Market Share Insights
Companies dominating the global automotive lighting market share include Osram GmbH, Hella KGaA Hueck & Co., Valeo SA, Stanley Electric, Magneti Marelli, Koito Manufacturing Co., Ltd., and General Electric (GE). Product launch, joint venture, and expansion are a few prominent strategies adopted by key vendors. Ongoing R&D on compact and comparatively cheaper LED lights is expected to result in a shift of preference from halogen and xenon to LED technologies. Thus, the introduction of compact, energy-efficient, and low-cost LED lights is anticipated to emerge as a lucrative strategy for the participants.