Industry Insights
Automotive metal stamping market size was USD 70.42 billion in 2015. Automotive metal stamping is a process of converting sheet metal into shapes & sizes based on the end-user requirements. The industry is highly influenced by metal consumption patterns in all applications segments. Automotive industry has traditionally been reliant on metals such as steel, cast iron, aluminum and titanium for manufacturing & assembling various machinery, equipment and tools.
Factors expected to drive the industry comprise of machining capabilities of manufacturers and lean manufacturing methods to reduce wastage during processes. These factors are also crucial to improve operational efficiency and thereby reduce operating costs. As a result, automotive metal stamping companies are investing significantly in research and development projects. Technological innovations including improved stamping processes have seen commercial usage over the recent past. Furthermore, regulatory policies are aimed at improving working conditions & safety standards, waste disposal, and materials usage which is expected to shape the growth & sustainability strategies of companies.
Metals and alloys are widely consumed in automotive manufacturing. Major OEMs have established manufacturing contracts with automotive metal stamping companies and are a crucial source for expanding the business for the latter. As a result, automotive production trends and policy framework intended towards the composition in automobiles has a huge influence on metal stamping industry.
Increasing production in major automotive markets such as the U.S., Germany, France, UK, Italy, and Japan is expected to support industry growth over the forecast period. In addition, with economic growth and increasing consumer disposable income in emerging markets such as China, India, Brazil and Mexico, automotive industry is expected to grow over the forecast period.
Large automotive corporations such as Ford, Volkswagen, Mercedes (Daimler AG), and Toyota have established manufacturing facilities in these high growth potential regions. This has led to technology transfer and increased scope of operations for domestic metalworking industry. This trend is crucial in determining regional competition in the metal stamping market.
Technology Insights
Major processes in automotive metal stamping industry include blanking, embossing, bending, coining and flanging. Among these processes blanking and bending dominated the global market accounting for 37.1% and 27.6% respectively in 2015 followed by embossing. Other processes include curling, hemming, ironing, drawing and stretching, which are expected to witness decline in their market share over the projected period.
Growing demand in the automotive industry is expected to bolster the market demand for these processes. Innovation in technology such as hydraulic metal stamping and laser metal stamping is expected to lower the manufacturing cost by reducing wastage which is expected to aid the market growth and foster the market demand.
Developing Asia Pacific and Latin American market are presumed to witness significant growth owing to factors such as rising disposable income and government initiatives to promote industrialization such as Make in India, etc. Emerging economies such as China, India and Brazil are expected to lead their respective regional markets over the next seven years.
Application Insights
Automotive metal stamping market is segmented on the basis of application into cars, commercial vehicles, recreational vehicles and transportation. Cars accounted for the highest market share owing to increasing demand from the end users. Cars market with respect to automotive metal stamping is expected to grow rapid at a CAGR of 5.9% over the forecast period.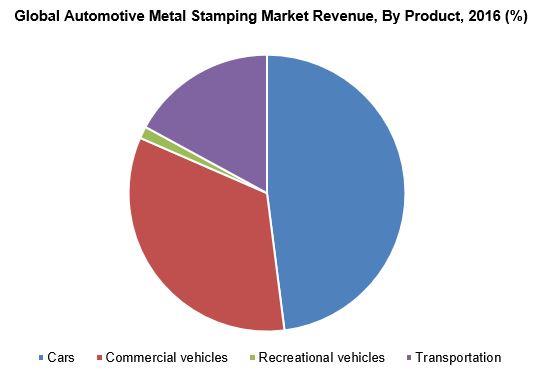 Commercial vehicles are expected to grow considerably followed by transportation and recreational vehicles. The application of metal stamped parts in recreational vehicles is limited to North America as the demand of these vehicles is concentrated in the region. However, metal parts are widely utilized in recreational vehicles and transportation as metal parts are sturdy and strong and suitable for long journeys.
Regional Insights
Asia Pacific was the largest automotive metal stamping market, accounting for 36.5% of global revenue in 2015. The region is expected to dominate the automotive metal stamping industry over the forecast period owing to the rising demand for the automobiles and related activities particularly in China and India. In addition, increasing automation coupled with rising awareness regarding fire safety is likely to propel demand for automotive metal stamping over the next eight years.
Europe accounted for 30.2% of the total market share in 2015. The presence of automotive industry leaders including Volkswagen and BMW and major automotive manufacturing facilities such as in Germany, UK, Italy and others is expected to bolster the market growth over the projected period. North American market is expected to grow substantially on account of the application of stamped metal parts in cars and recreational vehicles.
North America market for automotive metal stamping is expected to grow over the forecast period on account of growing consumer demand for private vehicles such as cars and recreational vehicles. The roads network in North America is extensive and roadways trade is done on a large scale. This is expected to drive the market growth for automotive metal stamping as the metal components assure maximum protection and stability to the vehicle. Use of metal components ensures durability to the vehicle which makes them suitable for long travels. This is expected to aid the market growth of automotive metal stamping.
Automotive Metal Stamping Market Insights
The automotive metal stamping market is highly competitive owing to the presence of a large number of established manufacturers and suppliers and new entrants in the market. Major players such as Alcoa Inc., Martinrea International, Shiloh Industries, Inc. are actively involved in the automotive metal stamping market, with numerous strategic alliances and global presence.
Other market participants include Acro Metal Stamping, Manor Tool & Manufacturing Company, Lindy Manufacturing, American Industrial Company, Kenmode Precision Metal Stamping, Wisconsin Metal Parts, Inc., Clow Stamping Co., Aro Metal Stamping, Tempco Manufacturing, Interplex Industries Inc., Goshen Stamping Co., Inc. and Caparo India