Industry Insights
Automotive metal stamping market size was USD 70.42 billion in 2015. Automotive metal stamping is a process of converting sheet metal into shapes & sizes based on the end-user requirements. The industry is highly influenced by consumption patterns of sheet metals in various end-use applications such as cars, commercial vehicles, recreational vehicles and transportation.
Europe automotive metal stamping market revenue, by technology, 2013 - 2024 (USD billion)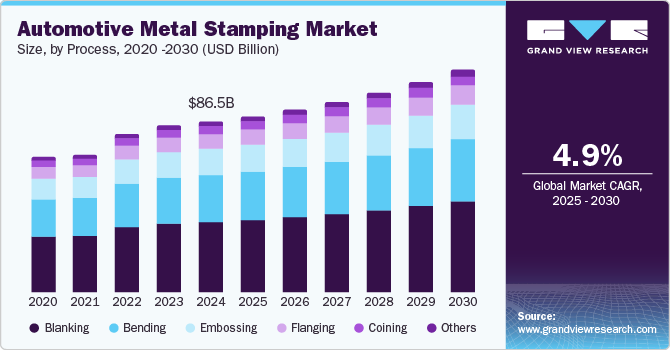 Metals and alloys are widely consumed in automotive manufacturing. Major OEMs have established manufacturing contracts with metal stamping companies and are a crucial source for expanding the business for the latter. As a result, automotive production trends and policy framework intended towards the composition in automobiles has a huge influence on the industry.
The industry is characterized by the presence of a large number of contract manufacturers, accounting for over 50% of the overall market. As a result, research & development investments by companies to improve the efficiency of production processes and maintain a competitive edge is a key factor promoting growth. Rising energy cost coupled with a gradual rise in metal prices is expected to hamper profit margins of manufacturers. Furthermore, the presence of a large number of manufacturers in the industry is expected to result in price-wars which are further expected to diminish profit margins over the forecast period.
Growing use of plastics in various automotive components as a metal substitute, in the production of automobile chassis, transmission components, interior & exterior structural components is anticipated to restrain growth. However, increasing use of alloys including titanium, cast aluminum, cast iron, and forged steel to improve performance efficiency in automobiles is likely to have a positive impact on growth.
Technology Insights
Automotive metal stamping industry is segmented on the basis of technology into blanking, embossing, bending, coining and flanging. The blanking process is expected to witness the fastest growth among its counterparts, growing at a CAGR of over 6% from 2016 to 2024. Growing use of blanking in the automobile industry owing to its ability to cater to mass production lines is expected to bolster demand. Furthermore, the use of fine blanking and laser blanking in the industry is expected to aid the growth owing to superior processing.
Bending technology accounted for over 25% of the overall revenue share in 2015, and is expected to witness robust growth over the next eight years. Rising use of the technology in low and medium quantities stamping processes is expected to propel demand. Furthermore, technological advancements including automation are expected to further enhance production processes.
Application Insights
Automotive metal stamping market is segmented on the basis of application into cars, commercial vehicles, recreational vehicles and transportation. Cars accounted for the highest market share owing to robust production volumes and substantial demand primarily in Asia Pacific. The process is employed in manufacturing body panels such as door, bonnet, tailgate trunk lid, and hood. Furthermore, rising aftermarket production of automotive parts is expected to enhance market growth over the projected period.
Transportation vehicles are expected to witness significant growth followed by commercial and recreational vehicles. Transportation comprises of heavy vehicles such as buses and trucks. Metal stamping technology is widely used in transportation sector owing to the robust build quality. Metal stamped parts are highly durable and are able to withstand extreme conditions, which is expected to fuel growth in transportation application.
Regional Insights
Asia Pacific was the largest market, accounting for 36.5% of global revenue in 2015. The region is expected to dominate the industry over the forecast period owing to the rising demand for the automobiles primarily in China, and India. Furthermore, supportive government regulations porting the manufacturing industry in the region coupled with the availability of inexpensive labor is likely to promote automotive industry, which in turn is expected to have a positive impact on growth.
Europe accounted for 30.2% of the total market share in 2015. The presence of major automotive players including Volkswagen, FIAT, BMW and Daimler is expected to have a positive impact on industry growth. Technological advancement related to the use of lightweight materials including aluminum for manufacturing components to reduce overall weight is a key factor promoting growth. Furthermore, interstate trade between the countries of the European Union is expected to boost the demand for transportation vehicles over the next eight years.
Competitive Insights
The market is highly competitive owing to the presence of a large number of established manufacturers and contract suppliers. Major players such as Alcoa Inc., Martinrea International, Shiloh Industries, Inc. are actively involved in the industry, with numerous strategic alliances as well as global presence.
After-sales service is a key market segment for contract manufacturers as they cater directly to the end-users. However, these companies purely operate on the basis of end-use consumption patterns, thus incurring high risk in terms of operational-ability.