Industry Insights
Barcode printers are specialty printers, which enable the printing of barcode labels or tags that can be directly printed on or attached to physical objects. They are commonly used to label retail items or label cartons with Universal Product Codes (UPCs) or European Article Numbers (EANs) before shipment. They are also used for printing barcodes on wristbands used for personal identification in hospitals or events.
Global barcode printers market by product (USD Million), 2012 - 2020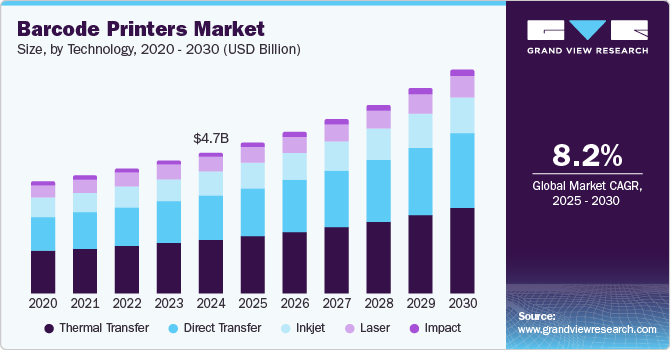 Increased use in organized retail for labeling and point of sale purposes is expected to drive the barcode printers market over the forecast period. Increased demand for barcode wristbands is expected to favorably impact market growth. Furthermore, the trend of mobile sales workforce carrying out on-field transactions has augmented the demand for mobile printers that are capable of connecting wirelessly to the organization's network and printing receipts on the spot. Increased adoption of radio frequency identification (RFID) which offers several advantages over barcodes is expected to pose a challenge to industry growth. The barcode printers market has witnessed commoditization owing to Asian companies offering products at considerably lower prices.

Product Insights
Mobile printers, desktop printers, and industrial printers are the three primary types of products in the barcode printers market. Mobile printers are primarily used by organizations' sales workforce for printing receipts, labels, and tickets, irrespective of the time and place. Desktop printers are used for printing low to mid-volume labels, receipts, and barcode wristbands. Industrial printers are used for high volume applications including warehouse labeling and order labeling. They are designed to work 24/7 in harsh environments for mission critical operations.
Technology Insights
Numerous print technologies are available in the barcode printers market, which can be bifurcated into two primary categories, namely, impact and non-impact printing techniques. Impact printing comprises dot matrix and drum printers, whereas non-impact printing comprises direct thermal, thermal transfer, laser printers, and inkjet printers. Dot matrix printing is the oldest and cheapest method for producing low to medium density on-site barcodes via several dots printed in matrix form to produce a series of lines and spaces. Inkjet printing is used in settings where high production of barcodes is required at a faster rate. Laser printers work on the principle of charged paper particles attracting ions of ink and bonding together by heat and pressure provided by a drum; they are not suited for industrial applications. Thermal printing makes use of a thermal printhead which applies heat to the marked surface. Thermal transfer printing produces images on printing materials with the help of a heated ribbon, and this technology is expected to dominate the market owing to enhanced image durability and the ability to perform in mission-critical applications. Direct thermal printing directly creates the image on the printing material without a ribbon and is suitable for applications having a short shelf life such as shipping labels and receipts.
End-Use Insights
On the basis of end-use, the barcode printers market has been segmented into healthcare, manufacturing, retail, shipping and government. Barcode printers are used in healthcare for issuing wristbands and tags that help in patient identification and tracking services, specimen labeling, surgical procedures, and point of care (POC) medicine administration. In manufacturing, barcodes are used for inventory labeling which helps to establish inventory control and enables work-in-progress (WIP) tracking. They are widely used in retail applications such as point-of-sale, price-tag printing, product labeling, and shelf labeling. Before shipping items, they are labeled with barcodes for validation of order number and part number at the destination. Governments have been increasingly using barcode printers for numerous purposes such as evidence tracking, e-citation, ID card printing, clothing marking, managing records administration, public safety, and surveillance. This is expected to fuel the global barcode printers market over the forecast period
Regional Insights
North America and EMEA are expected to dominate the barcode printers market over the forecast period owing to increased demand from the U.S. and Western European countries. Asia Pacific, Eastern Europe, and Latin America are expected to witness a substantial growth due to the establishment of production facilities in these economies and increased investments by MNCs in retail and industrial infrastructure. There has been an influx of suppliers manufacturing and selling low-cost printers, primarily from Asia Pacific, which has resulted in the barcode printers market is highly commoditized.
Competitive Insights
Key industry participants include Zebra Technologies, Toshiba Tec, Avery Dennison, Honeywell Scanning & Mobility, SATO Holdings Corporation, Oki Electric Industry Co., Ltd., Printek Inc., Printronix, and Dascom.