Industry Insights
The global bariatric surgery market size was valued to be over USD 1,300 million in 2014 and is expected to grow at a CAGR of over 10% over the next seven years. The factors that contribute to market growth are the incidence of obesity owing to changing lifestyle habits and chronic diseases due to obesity such as Type 2 diabetes and hypertension. In addition to this, the market is expected to boom owing to the technological innovations by industry players with increasing number of incision-less surgeries.
For instance, according to the WHO data review of May 2014, 2.8 million people die every year owing to obesity and being overweight. In 2013, 62% of the obese people in the world lived in developed countries followed by developing nations such as China. In the U.S., there were 79 million overweight people and spent more than USD 147 billion on medical costs related to obesity.
US and Canada bariatric surgery market, by procedures, 2012-2022, (USD Million)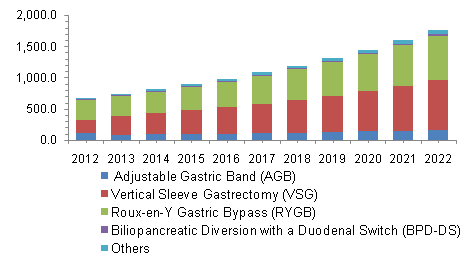 The American Heart Association has estimated the total medical cost to reach up to USD 957 billion from USD 861 billion by 2030. The huge healthcare spending has alarmed the government to take actions to reduce the incidence of obesity and the long-term chronic diseases related to it. In June 2014, the Centers for Disease Control and Prevention (CDC), funded USD 4.7 million to six colleges and universities to initiate strategies to reduce obesity in areas with high obesity levels.
Procedures Insights
Roux-en-Y Gastric Bypass (RYGB) dominated the bariatric surgery market in 2014 with revenue estimated at over USD 500 million in 2014. The procedure was introduced in 1960 and is being performed since then with improvements such as introducing it as laparoscopic or minimally invasive procedure for over a decade.
Gastric bypass surgeries were performed through open surgery causing large incisions on the belly. Hence, the introduction of laparoscopic bypass surgeries overtook the conventional methods and was performed with small minimal incisions. In addition to this, gastric bypass surgeries are preferred by candidates with diabetes and gastric reflux problems.
It is expected that sleeve gastrectomy will be the fastest growing market during the forecast period as it has been recently approved by the FDA and is an incision-less surgery. This procedure has witnessed various developments in the recent years. For instance, in addition to ReShape Dual Balloon approval by the FDA, a new Elipse device is filed for approval, which is swallowed unlike Reshape, which is implanted and gets excreted through the excretory system after four months.
Regional Insights
The North America bariatric surgery market was the largest in 2014, owing to high obesity rates along with huge government supported funding and research activities undertaken by the industry players to evaluate the efficiency of their surgeries to treat obesity. For instance, bariatric surgeries, which were insured by Medicare only for population having BMI 40 and above was revised and decreased to 30 and above. This change benefited large population who were obese and could not afford the huge Surgery, surgeons, and hospital costs.
In addition to government efforts to control obesity, industry players are investing in research to link obesity with various chronic complications. In June 2015, Ethicon, a subsidiary of Johnson and Johnson invested over USD 3.2 million to study the effects of bariatric surgery on Type 2 diabetes and obesity.
Obesity in Europe is increasing at an alarming rate with Ireland topping the chart. The report submitted by the WHO on European Modelling Obesity Project stated the various interventions and healthcare cost burden related to obesity, if not addressed. Hence, the government is funding various academic institutes to come up with innovative strategies. In August 2015, the National Cancer Institute (NCI) was awarded a grant of USD 750,000 to University of Kentucky to study the link between breast cancer and obesity.
Asia Pacific is the fastest growing market with the CAGR of over 10.5% owing to the huge obese population and increasing medical tourism due to Surgery performed at affordable costs. The Procedures, which is offered at USD 25,000 in the U.S., is offered at USD 12,000 in Asia Pacific countries. Even industry players have extended their research facilities in India to study the obesity-related factors here. For instance, Covidien has established a new research facility in Hyderabad to understand the factors contributing to obesity in India.
Competitive Market Share Insights
Key industry contributors are Allergan Inc., Covidien Plc, Johnson and Johnson, Intuitive Surgical Inc., GI Dynamics Inc., TransEnterix Inc., USGI Medical Inc., Semiled Ltd., Cousin Biotech, and Mediflex Surgical Procedures. The industry contributors are innovating newer technologies, which are non-invasive reducing patients' time in the hospitals, reducing the changes of infection, and saving cost.
In August 2015, ORBERA bariatric system was approved by the FDA for patients with a BMI range of 30 to 40. In addition to this, in April 2015, Intuitive Surgical Inc. received CE mark in Europe to sell EndoWrist Stapler for da Vinci Si and Xi Surgical Systems.
The government funding to increase awareness on obesity, the preference for incision-less surgeries, and industry technological innovations enabling bariatric surgeries with small incisions are expected to spur market growth.