Industry Insights
Global biofertilizers market size was estimated at USD 535.8 million in 2014. Excessive application of agrochemicals on crops leading to soil contamination and other environmental hazards is expected to be a key market driver over the forecast period. In addition to being an eco-friendly option, the product also helps to maintain soil and crop health. These are produced using organic wastes such as struvite and compost acting as substitute for chemical-based fertilizers.
The EU "Common Agricultural Policy" promotes use of bio based products along with organic farming and provides up to 30% of the budget as direct green payment to farmers complying with sustainable agricultural practices. Favorable regulatory scenario, especially in North America and Europe is expected to be a key driving factor for biofertilizer industry growth over the next seven years.
The government of India introduced a national initiative as part of its five-year plan which aims at increasing biofertilizer production, distribution, and utilization of thus favoring biofertilizers market growth.
Low cost of these products as compared to their synthetic counterparts is expected to propel demand over the next seven years. However, lack of awareness among farmers particularly in emerging economies is expected to challenge industry growth over the forecast period.
Governments of China and India have also undertaken initiatives to educate farmers regarding use for enhanced crop protection. Growing awareness about product benefits is expected to augment demand over the forecast period.
U.S. biofertilizers market revenue by product, 2012-2022 (USD Million)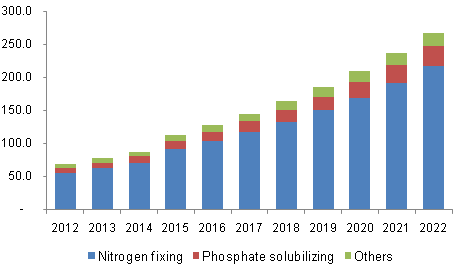 Product Insights
Nitrogen fixing was the largest product segment, accounting for over 75.0% of global revenue share in 2014. Nitrogen fixing biofertilizers comprise mixed strains of various nitrogen fixing bacteria's such as rhizobium, azospirillum, acetobacter and azotobacter that help improve nitrogen content, organic and microbial population of the soil.
Phosphate solubilizers were the second largest product segment, accounting for 15.0% of global revenue in 2014 and are also expected to be the fastest growing at a CAGR of 13.9% from 2015 to 2022. These products contain phosphate solubilizing bacteria which hydrolyze organic and inorganic phosphate particularly from synthetic compounds.
Predominant consumption of synthetic phosphate fertilizers in China, India, and Australia in light of numerous production facilities is expected to remain a restraining factor for the industry over the next seven years.
Application Insights
Seed treatment was the largest application and accounted for over 65.0% of the market in 2014. Seeds treated with biofertilizers help them sustain bacteria and virus attacks and also aids in increasing the yield.
Additionally, they help in harnessing atmospheric nitrogen and making it available to the plant. These seeds are capable of increasing phosphorous content of soil by solubilizing it and improving availability. Rising use of treated seeds among farmers is expected to fuel industry growth over the forecast period.
Soil treatment helps in increasing the fertility of the soil and improves the yields of the planted crop. Rising fertile land requirement for agricultural practices in various countries including China, India, Brazil, Italy and the U.S. is expected to have a positive impact on the market over the next seven years.
Regional Insights
Asia Pacific accounted for over 15.0% of global revenue share in 2014. China being the world's largest agricultural market has been promoting usage by providing organic product manufacturers with exemption of VAT, excise and agricultural tax. This is expected to fuel demand over the forecast period.
North America biofertilizers market was the largest regional industry in 2014 followed by Europe and together accounted for over 54% of the global revenue. Growing preference towards organic food coupled with rising awareness regarding hazards associated with chemical fertilizers and atmospheric pollution has resulted in high consumption in these regions.
Competitive Insights
Global biofertilizers market share is fragmented with a large number of domestic companies focusing on regional markets. CBF China Biofertilizers AG and Novozymes A/S were the largest players supplying products majorly to North America and Europe.
The majority of these companies have established exclusive agreements with distributors to cater to end-users. Some companies have their distribution networks, thus increasing their revenues by distributing products of independent manufacturers.
Companies such as Novozymes, Lallemand, AgriLife, and National Fertilizers have established their own retail & distribution outlets in order to cut-down on distribution costs, thus enabling them to sell products at competitive and even lower prices.