Industry Insights
Global bioherbicides market was valued at USD 1.12 billion in 2015. Increasing consumer awareness coupled with stringent food & environmental regulations to promote organic farming in Asia Pacific, North America, and Europe is expected to remain a key driving factor for global bioherbicides market over the forecast period.
Chemical based herbicides are known to create water and soil pollution. These chemicals affect human health through food consumption. Bioherbicides are compounds derived from microbes including fungi, bacteria, and protozoa.
These compounds do not pose any threat to the farmers during the handling process. Moreover, crops harvested using bioherbicides have been considered safe for consumption. Therefore, such environmental and health benefits associated with an organic product when compared to synthetic counterparts is expected to positively impact the bioherbicides market over the next eight years.
Organic farming has gained popularity among consumers demanding for organically produced vegetables and food grains. Increasing awareness programs to educate consumers regarding noxious chemical impacts is anticipated to trigger the global product usage.
Manufacturers in collaboration with local governing bodies have been focusing on educating farmers for increasing the bioherbicides consumption. The shift in consumer preference towards healthier and nutritional food products is also expected to positively impact overall product demand.
Low prices of synthetic herbicides are expected to remain a key challenge for its penetration in the global market. Additionally, chemical based herbicides are known to show better results on account of which farmers tend to use them more than bioherbicides.
Lack of awareness among the farmers is also anticipated to restrain the industry development in the near future. Integration of bioherbicides with chemical herbicides increases the impact of bio based products on weed and helps in enhancing the process efficiency.
Such initiatives are expected to emerge as industry growth opportunity over the forecast period. The resistance offered by weeds over the period is anticipated to occur as the major challenge faced by the manufacturers.
U.S. bioherbicides market revenue by application, 2014-2024, (USD Million)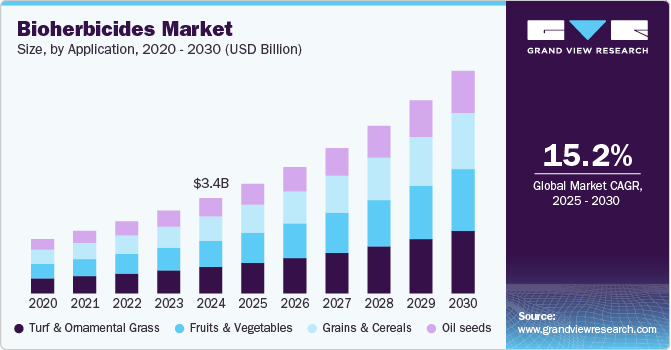 Weeds such as Marestail has developed resistance towards some of the compounds. Companies focus on developing new materials for weed eradication on account of resistivity offered by these unwanted plantsU.S. bioherbicides market revenue by application, 2014-2024, (USD Million)
Application Insights
Fruits & vegetableswere the leading application segment on account of the wide application of bioherbicides for varieties for fruits and vegetable cultivation. Growing organic farming practices coupled with increasing demand for high-value fruits and vegetables is expected to be the primary factor contributing to the product growth in the segment.
Fruits & vegetables was followed by turf & ornamental grass which is anticipated to witness the highest growth rate over the forecast period. This segment is anticipated to develop at an approximate CAGR of 16% from 2016 to 2024. Use of bioherbicides for maintaining the golf course, gardens and clearing of weeds around railway tracks is expected to significantly contribute to the overall segment growth.
Regional Insights
North America bioherbicides market led the global industry and accounted for approximately 30% of global revenue in 2015. The regional growth is expected to be driven by positive outlook toward organic farming and environmental safety concerns. Consumer awareness initiatives by regional governmental bodies towards health and environment are anticipated to play an important role especially in countries including the U.S and Canada.
Regional demand was followed by Europe. Countries including the UK, Germany, France, Spain, and Italy have been using bioherbicides for high-value fruits cultivation. Asia Pacific is anticipated to witness the highest growth over the forecast period. Increasing awareness regarding environmental hazards among farmers is expected to drive the regional growth in countries including India, China, and Indonesia. Development of rural market is anticipated to propel the bioherbicide demand in SAARC nations.
Competitive Insights
Key players operating in the global bioherbicides market include Bioherbicides Australia (BHA), Hindustan Biotech, Marrone Bio Inventions, Fitz Chem Corporation, Emery Oleochemicals, Mycologic Inc and Engage Agro USA.
Bioherbicides Australia has developed a product named as Di-Bak, which is a capsule based organic product. It has been very popular in the treatment of woody weeds. Their products are specifically designed to suit the geographical terrain which includes coastal areas, wetland, and grasslands.
Research and development initiatives to identify potential micro-organisms are expected to increase by local manufacturers to enhance competition level in the global environment.