"Biological implants market is driven by development in composite grafting coupled with rising advancements in tissue engineering"
The global biological implants market was valued at USD 5,070.8 million in 2015 and is expected to exhibit a growth rate of 7.6% over the forecast period. With technological breakthroughs in the fields of regenerative medicine and tissue engineering, the market for biological implants is expected to witness substantial demand and sales over the forecast period.
The emergence of biomaterials to perform reconstructive procedures that are compatible and less cumbersome will considerably increase the revenue generation and drive progress up to 2024.
Substantial advancements have been made in precise implant surgical procedures for more aesthetic and predictable outcomes. The aforementioned developments and advancements in implant and tissue regeneration collectively bolsters growth for these products.
North America Biological Implants Market, By Product, 2013 - 2024 (USD Million)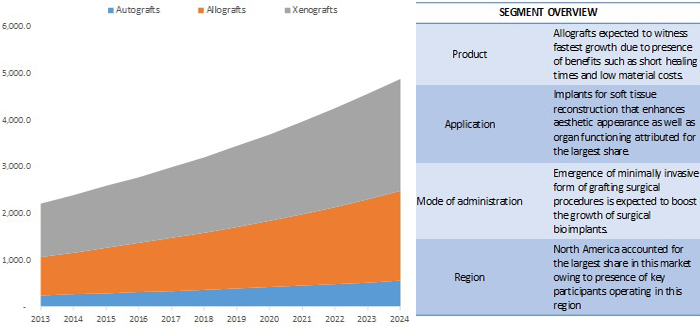 Moreover, companies are playing a pivotal role in addressing the challenge of foreign body rejection associated with synthetic devices by the development of biologically derived reconstructive solutions. Novel product development will continue to rise globally, encouraging companies to proactively optimize their portfolios in this vertical, consequently influencing revenue generation.
Development in the regenerative medicine sector which includes a variety of therapeutic approaches such as the utilization of bio-based materials and biologics for targeting the root cause of an ailment has sparked a new trend leading to increasing adoption of these products is one of the crucial factors propelling market growth over the forecast period. Development of soft tissue grafts for a number of complex procedures such as abdominal wall reconstruction, thoracic reconstruction, breast reconstruction among others owing to lower contamination rates of bioprosthetic mesh materials along with stable vascularization even at infected wound sites and lower visceral repair site adhesions are key reasons due to which they are used as compared to prosthetic mesh materials.
High manufacturing costs and hesitant uptake due to adverse events are anticipated to derail the projected progress to a certain extent.
"Xenografts accounted for the largest share of the product segment in 2015"
Xenografts accounted for the largest share in 2015 owing to advancements in the field of vascular engineering and tissue engineering for the treatment of diseases with the use of scaffold that is a structurally intact xenogeneic vessel, such as a pig aorta. Availability and ease of procurement of the xenogeneic grafts without the issue of donor site morbidity is anticipated to impact revenue generation significantly.
Allografts are expected to experience the fastest growth in the coming years. Superior aesthetic results obtained with their use is anticipated to augment the sale and demand in this segment.
"Rising incidence of cardiovascular disorders are expected to propel the cardiovascular implants segment growth"
Various applications of these products include orthopedic, cardiovascular, and other soft tissue implants. Soft tissue implants held the majority share of over 44% owing to the availability of a wide range of products falling in this category.
Although cardiovascular implants are observed to have low penetration in 2015, it is expected to witness the fastest growth in the coming years. Rising incidence of cholesterol abnormalities and cardiovascular disorders is anticipated to positively reinforce this segment's potential in the coming years. Availability of various cardiac tissues in the market in the form of allograft valves, heterograft valves that are obtained from the porcine heart & bovine pericardial valves, and a stentless valve which can be trimmed according to the requirement is attributed to the projected progress in this segment.
"Surgical biological implants are the most adopted route of administration"
Surgical biological implants dominated with respect to revenue share in 2015 and is expected to maintain its dominance over the forecast period as a result of the constant unveiling of biological products offered by companies, which can be surgically inserted into the body.
In situ forming injectable products emerged as an attractive platform for delivery of peptide and protein macromolecules, owing to their ease of application and tissue biocompatibility, consequently boost revenue generation for injectable implants. Moreover, increasing customer expectation with an injectable mode of implantation has spurred the demand for a minimally invasive mode of reconstructive surgeries in this segment.
"North America holds the highest revenue share in 2015"
In 2015, North America accounted for the largest share of over 50%. This largest share is attributed to the simultaneous development of surgical procedures for extremities using implants. Also, the presence of a large number of key participants operating in this region coupled with high incidence of accidental injury that features most of the reconstructive procedures is expected to project demand for this market in North America.
However, Asia Pacific region is expected to witness lucrative growth through to 2024 as a consequence of constantly growing healthcare systems and infrastructure in countries such as China and Japan due to favorable government initiatives and unmet needs of patients. Supply of biological implant products from international companies, such as Integra Lifesciences and NuVasive coupled with the improvement in the healthcare infrastructure in regional markets of Asia Pacific and Latin America are expected to drive lucrative growth in the near future.
"Market is poised for continuous growth due to mergers & acquisitions"
Prominent key players operating in this market include Integra LifeSciences Corporation, NuVasive, Inc, Edwards LifeSciences Corporation, Stryker Corporation, Acelity, Medtronic, RTI Surgical, BioPolymer GmbH & Co. KG, Baxter International, Vericel, Aplhatec Spine Inc, CryoLife, Maxigen Biotech Inc, IOP Ophthalmics, Conmed Corporation Allergan Plc, Biotissue Technologies, Auto Tissue Berlin GmbH, MiMedx Group, Inc., Organogenesis Inc, and Osiris Therapeutics. These players are involved in the implementation of portfolio separations and regional expansion strategies as a value-enhancement opportunity for enhancing the market presence.
For instance, in January 2015, Integra LifeSciences Corporation launched Integra reinforcement matrix as a biological implant for the treatment of tendon injury that requires extremities procedure. This FDA approved product is composed of porcine dermis and offers durable reinforcement during tendon repairing procedures.