Industry Insights
The global dental implants market size was valued at USD 3.77 billion in 2016 growing at CAGR of 7.7% over the forecast period. Increasing applications of dental implants in various therapeutic areas along with the increasing demand for prosthetics are some of the key factors expected to boost the dental implants market.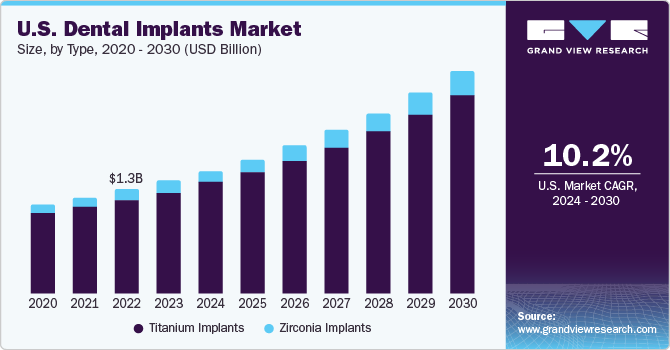 Prosthetics play a major role in propelling the demand for dental implants through oral rehabilitation, which helps in restoring oral function and facial form of a patient. Acceptance level for dental implants is increasing among patients and dental surgeons majorly due to limitations of removable prosthetics, such as discomfort, lack of natural appearance, and requirement of maintenance. Prosthetics mounted on dental implants do not encroach soft tissues and enhance aesthetics, which is further expected to drive the growth of the market.
Growing number of dental injuries owing to road accidents and sport injuries are also considered as some of the major factors favoring demand for dental implants. The WHO data suggested that nearly 10 million people are injured or disabled due to road accidents every year. In addition, according to American Academy for Implant Dentistry, in the U.S., over 15 million people per year undergo bridge and crown replacements for missing teeth. Hence, facilitating extensive demand for dental implants.
Dental implants are long-term replacements preserving adjacent teeth, which are also ground in case of bridges. Receiving an implant is equivalent to receiving a new tooth (teeth). Also, it is considered as the only restorative technique that preserves and stimulates natural bone. They can also act as stable support for prosthetics (dentures). Moreover, dental implants improve the appearance of a person by providing comfort and convenience unlike the removable dentures. Each year 5 million implants are placed in the U.S. as per American Dental Association.
U.S. held a substantial market share in 2016 due to growing number of dental implant placement procedures undertaken per year. The American Academy of Implant dentistry estimated that over 69% of Americans between age group of 35 and 44 years have at least one missing tooth. Moreover, as a developed region, the U.S. population has higher affordability rate for dental implant procedures. High healthcare spending in this region is expected to propel market growth. Two of the major companies, namer Biomet and DENTSPLY Sirona are headquartered in the U.S., which contributes to greater penetration of this market.
According to the National Center for Health Statistics, in 2011 to 2012, 91% of the people in the U.S with age group 20 to 64 years had dental caries in their permanent teeth. Moreover, National Health and Nutrition Examination survey estimated that 42% of the children aged 2 to 11 years have tooth decay and 23% of them are untreated. The National Institute of Dental and Craniofacial research has found that tooth loss in the American adults begins between the ages of 35 and 45, adults over 45 years have lost a few teeth, and more than 24% of adults aged above 74 years are completely edentulous.
Product Insights
Titanium segment dominated the product market in 2016 with a share of 92.45% owing to the wide use of dental implants made up of titanium. The biocompatible nature of pure form of titanium is the main benefit of its use. Crude form of titanium consists of other metals such as ilmenite, iron, vanadium, zirconium, silicon, and magnesium. The chemical synthesis procedure entails the conversion of crude titanium intermediates through a sequence of extraction and purification reactions into pure titanium ingot. Titanium dioxide is very toxic for the human body and, hence, needs to be absent from the titanium implant.
Zirconium segment is anticipated to be the fastest growing product segment over the forecast period. The material called zirconium, functions with nearly same features as that of titanium. Titanium implants can be made as one-piece or two-piece systems, whereas, zirconium implants are made as one-piece systems. Two-piece implants offer better features, such as they can be used to support overdentures. Implants are manufactured in different sizes (length and width), which enables choosing of implants as per patients' bone size.
Regional Insights
Europe dominated the dental implant market in 2016 in term of revenue. Aging population is one of the major social challenges faced by European countries. Based on European Commission statistics, by 2020, a quarter of Europeans will be over 60 years of age. Hence, European region is expected to influence the dental implant market to a large extent due to its high geriatric population base. In 2011, nearly 50% of the European population was suffering from periodontitis, with over to 70% to 85% of the population aged between 60 and 65 years.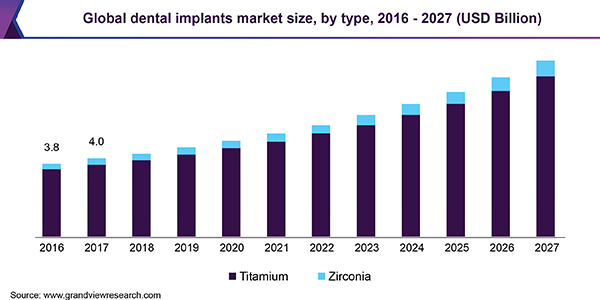 In countries such as Romania, cost of dental implant procedure is found to be very low compared to other European countries. Romania Dental Tourism data suggested that the cost of a dental implant in Romania starts from approximately USD 503, whereas the same treatment cost starts from nearly USD 3,500 in countries like the U.S.; Thus, could be considered as an added advantage for growth of European dental implant market. Furthermore, one of the major market players, Nobel Biocare, is headquartered in Europe, which allows a comparatively wider market for dental implants.
Asia Pacific is anticipated to be the fastest growing region over the forecast period. According to a 2014 survey report, which was conducted on 1,200 adults in India, provided in, Journal of Oral Health, 51.8% of the people had at least one missing tooth and 5.2% were completely edentulous. This provides increasing opportunity for key players to cater to the huge untargeted population suffering from tooth loss. Increasing economic stability and dispensing power is further estimated to accelerate market growth. Owing to the aforementioned factors, Asia Pacific is projected to offer lucrative growth opportunities for dental implants market.
Moreover, growing geriatric population base in Asian countries with large untapped opportunities, such as Japan and China, is expected to drive market growth during the forecast period.,. Increasing prevalence of osteoporosis and deficiency of calcium has resulted in teeth loss in the geriatric population. The medications prescribed for other chronic and metabolic disorders, such as corticosteroids, have also been concluded to further result in edentulous state in adults. Thus, leading to rise in demand for various preventive, restorative, and surgical services. In addition, increased spending on self-care and high awareness levels regarding the presence of various options available for oral health care is anticipated to drive the market growth.
Dental Implants Market Share Insights
The global dental implants market is dominated by key market players such as BioHorizons IPH, Inc.; Nobel Biocare Services AG; Zimmer Biomet Holdings, Inc.; OSSTEM IMPLANT; Institut Straumann AG; Bicon, LLC; Leader Italy; Anthogyr SAS; DENTIS, DENTSPLY Sirona; DENTIUM Co., Ltd.; T-Plus Implant Tech. Co., and KYOCERA Medical Corporation.
The companies are focusing on strategic initiatives such as introduction of novel products through customization according to consumers' needs, partnerships, collaborations and mergers and acquisitions in order to expand their product portfolio and extend leadership positions in the field of dental implantology. For instance, Zimmer Dental introduced Zimmer Zfx CAD/CAM Abutments in titanium in partnership with Zfx to expand its global presence in digital dentistry by providing complete dental solutions. Furthermore, in February 2016, DENTSPLY International, Inc. merged with Sirona Dental Systems, Inc. for diversification of portfolio of dental products.