Industry Insights
The global biosurfactants market demand was 344.06 kilotons in 2013. It is projected to expand at a CAGR of 4.3% from 2014 to 2020. Surfactants are usually amphiphilic organic compounds containing both hydrophobic group (tail) and hydrophilic groups (head). Bio-surfactants are surfactants in which at least one of the two groups (hydrophilic or hydrophobic) is obtained from plants, and hence, they are not necessarily 100% plant-derived.
Surfactants lower the surface tension of liquids, allowing chemicals to mix more easily. Biosurfactants are produced using oleochemical (bio-based) raw materials including plant oils such as coconut and palm oils, plant carbohydrates such as sorbitol, sucrose, and glucose or from animal fats such as tallow.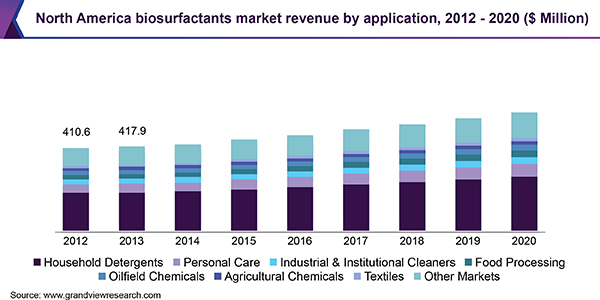 Oleochemical feedstock sourcing for surfactants has been changing in recent years as animal fats have lost ground for vegetable oils. Like synthetic surfactants, biosurfactants are excellent emulsifiers and maintain wetting and foaming properties, characteristics that are valued in several applications including household detergents and cosmetics industry. Growing environmental concerns with regards to the use of synthetic (petroleum derived) surfactants such as low degradability are expected to be a key driver for the growth in the biosurfactants market over the forecast period.
Synthetic surfactants have a high degree of branching those results in poor degradability in contrast to biosurfactants, which have high biodegradability and low toxicity. Rising preference for the use of bio-based products is further expected to augment the growth of the market in the next six years.
However, cost competitiveness concerning conventional surfactants remains a major restraint for the market. Also, the low availability and high price of feedstock owing to demand in other applications, such as biofuels and downstream renewable chemicals, may have a negative impact on the development of biosurfactants.
Large scale commercialization of glycolipid biosurfactants is expected to create huge opportunities for the biosurfactants market in the future owing to their ability to be used in a variety of applications such as detergents, personal care products, and food industry. However, the commercialization of glycolipid biosurfactants remains a challenge due to higher raw material prices and structural and technological variations. Optimization of the fermentation process is expected to reduce the manufacturing costs and help in increasing yield.
Product Insights
Methyl Ester Ketone (MES) was the largest consumed biosurfactant accounting for 33% of the market in 2013. MES is derived from palm and coconut and is an excellent substitute for synthetic surfactants as detergent feedstock. In addition, MES has a far lower price as compared to other conventional detergent feedstocks. Alkyl Polyglucoside (APG) was the second-largest consumed biosurfactant accounting for 25% of the global demand in 2013.
APG is derived from sugar and fatty alcohols and has excellent properties for use in industrial applications. The high share is due to its excellent foaming properties with high stability and caustic content. Sorbitan esters and sucrose esters were the other key products in the market with a combined share of 8% in 2013. Rhamnolipids was a relatively small market but is expected to register the highest growth at an estimated CAGR of 5.4% from 2014 to 2020 owing to its development using biotech processing.
Application Insights
Household detergent was the largest application of biosurfactants accounting for 44.6% of the market in 2013. The growing environmental concern with synthetic surfactants in detergent is expected to lead to an increased usage of biosurfactants owing to their lower toxicity. In addition, biosurfactants have superior foaming properties as compared to synthetic surfactants making them ideally suited for use in detergents. Personal care was the second largest application of biosurfactants accounting for over 10% of global consumption in 2013.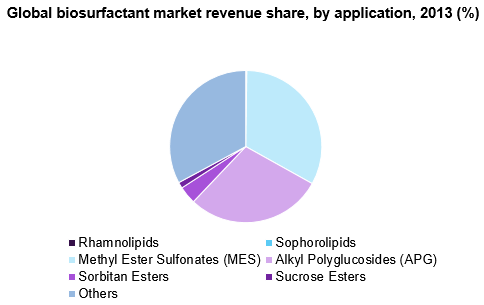 The growing market for personal care products in emerging economies coupled with increasing awareness about the advantages of bio-based products is expected to boost the demand for biosurfactants over the forecast period. Industrial and Food processing applications of biosurfactants together accounted for over 11% of the market in 2013. Biosurfactants are increasingly being used as oil field chemicals due to their excellent cleaning ability and stable chemical nature. The other segments covered in the report include agricultural chemicals, textiles, and institutional applications.
Regional Insights
Europe was the largest consumer of biosurfactants in 2013 accounting for over 50% of global consumption. The high proportion of biosurfactants in the region can be contributed to growing awareness among consumers regarding the health hazards associated with chemical surfactants. Also, the stringent regulatory framework of the region favors the use of bio-based products in place of convention petroleum-based products.
North America was the second-largest consumer of biosurfactants with a share of over one quarter. The demand for surfactants in the personal care industry is expected to boost demand in the region. Asia Pacific was a relatively small market in 2013 but is expected to gain considerable share over the forecast period on account of the growing application industry in the region. Countries, such as India and China, have well-established textile, agricultural, and personal care industries, which is expected to augment the demand for biosurfactants over the next six years.
Biosurfactants Market Share Insights
The global biosurfactants market is consolidated in nature with the top five companies accounting for over 80% of market share in 2013. BASF-Cognis was the largest manufacturer of biosurfactants in 2013 with a market share of over 20%. Ecover accounted for 20.0% of the market share in 2013. Ecover is integrated along the market's value chain and has established thorough distribution channels for biosurfactants in Europe.
Urumqi Unite accounted for 16.0% of the market share in 2013. The company has been producing biosurfactants in China since 2006. Additionally, the company is very well strategically placed, in terms of distribution with sales offices in North America, Eastern Europe, South America, Southeast Asia, and Africa. Other major companies in the market include Saraya, MG Intobio, Jeneil Biotech, Soliance, Lion Corp., Sun Products, Kao Corp., Chemtura, Croda, Evonik, Mitsubishi Chemicals and AkzoNobel. Saraya and MG Intobio jointly accounted for 24.0% of the market share.
Frequently Asked Questions About This Report