Industry Insights
The global blood preparation market was valued at USD 42.49 billion in 2014 and is expected to grow at a CAGR of 4.2% over the forecast period. Rising number of patients in emergency departments coupled with growing demand for transfusion of blood and its components is expected to drive the blood preparation market during the forecast period. Transfusion and its components are required during surgical interventions, treatment of infectious diseases, and recovery of a heavy loss due to accidents.
Global blood preparation market share, by product, 2012 - 2022 (USD Million)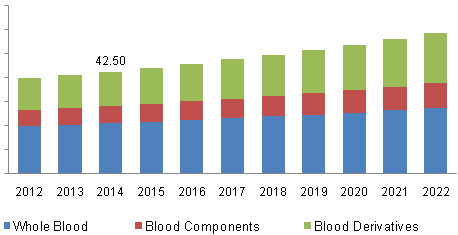 The increasing prevalence of thrombocytosis and its associated complications and rising demand for rapid acting and more efficient drugs for prevention and treatment are expected to enable positive blood preparation industry growth. Biopharmaceutical companies are investing resources for the development of novel pipeline drugs. Organizations such as the Center for Disease Control (CDC) and the National Institutes of Health (NIH) are taking initiatives for the development of awareness programs aimed at preventing thrombosis-associated complications in early stages. Growing geriatric population base, patient awareness levels, the introduction of advanced technology, and high healthcare expenditures are some factors expected to drive the blood preparation market over the forecast period.
Product Insights
Key blood preparation market product segments include whole blood, derivatives, and components. Blood received during donation is separated into components after the total donation process or by apheresis technique. Whole blood dominated the product segment with the largest market share of over 45.0% in 2014 and is further segmented into RBC, plasma, platelets, and granulocytes with the help of centrifugation or filtration techniques. The introduction of more accurate and rapid technology for the preparation of components without losing the activity of components is likely to drive the market over the forecast period. Plasma separated from whole blood is used as source plasma in the pharmaceutical industry for manufacturing of plasma-derived therapeutics. These components are further processed to get specific products in line with patient requirements. For instance, packed red cells are used for transfusion in patients suffering from cardiovascular disorders, where high-volume transfusion is not possible and leukocyte reduced RBC are used in patients who have developed alloimmunity towards various RBC, platelets, and HLA antigens. Increasing prevalence of disorders and conditions leading to component deficiency will most likely boost blood preparation market growth.
Antithrombotic and Anticoagulants Market Insights
Anticoagulants dominated the overall antithrombotic and anticoagulants market in 2014 owing to, the increasing prevalence of thrombosis related disorders, rising demand for rapid and more efficient drugs and growing geriatric population base. Furthermore, increasing government initiatives aimed at creating awareness pertaining to the prevention of thrombosis disorders is also expected to widen the consumer base of the market.
Regional Insights
The North American blood preparation market was the largest and was valued at over 20.0 billion in 2014. Increasing prevalence of thrombocytosis disorders, the presence of sophisticated infrastructure for the development of new drugs, and high patient awareness levels are some factors expected to drive regional market growth over the forecast period. Furthermore, growing number of government initiatives aimed at the prevention and treatment of thrombocytosis and associated complications are expected to boost usage rates. For instance, the NBCA with CDC started a new blood clot awareness program "Stop the Clot" for thrombosis and atrial fibrillation. The European blood preparation market was the second most revenue generating region in 2014. Associations such as the Plasma Protein Therapeutic Association (PPTA) organization are actively involved in the manufacturing of quality plasma-derived products and distribution of source plasma. The presence of sophisticated healthcare infrastructure in the developed Western European countries is expected to drive market growth during the forecast period. The Asia Pacific and Latin American blood preparation markets are expected to exhibit the fastest growth over the forecast period. Rising number of blood transfusion needs, increasing the prevalence of blood-associated disorders and large presence of unmet needs are some notable drivers of these markets.
Competitive Insights
Key players of the blood preparation market include Bristol-Myers Squibb Co., Pfizer Inc., Baxter Healthcare Corp., Leo Pharma Inc., Shandong East Chemical Industry Co., GlaxoSmithKline PLC, Sanofi Aventis, Hisunny Chemical Co., AstraZeneca Co., and Celgene Corp. The market is technology-driven and therefore, manufacturers are engaged in rigorous R&D to develop novel, rapid acting, efficient, and cost-effective prophylactic and therapeutic drugs for the treatment of thrombocytosis and associated disorders.