Industry Insights
The global blood preparation market size was valued at USD 33.3 billion in 2016 and is expected to grow at a CAGR of 5.5% over the forecast period. Growing worldwide demand for blood and its component due to increase in target diseases, accidents, and surgeries is expected to be a key driver for blood preparation market.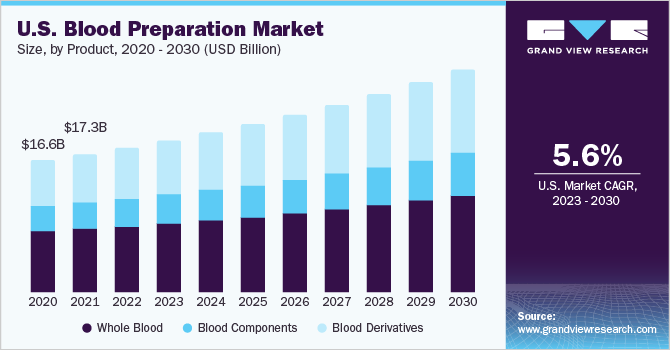 In addition, increasing number of patients in emergency departments coupled with rising demand for blood transfusion is expected to fuel the market growth. According to the Healthcare Cost and Utilization Project (HCUP) Statistical Briefs, blood transfusion was the most common procedure during hospitalizations in the year 2014. It is considered crucial for treating some serious diseases and illnesses. The rate of blood transfusion has increased tremendously since past few years.
Some biopharmaceutical companies are financing resources for the development of new and innovative pipeline drugs. Organizations such as the National Institutes of Health (NIH) and the Center for Disease Control (CDC) are taking initiatives for raising awareness levels via programs that aim to prevent thrombosis-associated complications in early stages.
Furthermore, high healthcare expenditures, introduction of novel technology, patient awareness levels, and growing geriatric population base are other factors anticipated to accelerate the market over the forecast period.
Rise in government initiatives for increasing the number of blood donations by applying reimbursement policies, such as monetary incentives for blood donors, is expected to result in lucrative growth of this market over the forecast period.
Product Insights
Based on products, the market is segmented into whole blood, derivatives, and components. Blood received during donation is separated into constituents by apheresis technique after the total donation process. Whole blood product segment held the largest market share in 2016 and is further categorized into granulocytes, platelets, plasma, and RBC. Increasing demand for whole blood for major surgeries, accidents, and transfusions and associated advantages with whole blood, such as easy availability, low cost, and low maintenance, are some factors that can be attributed for its high share.
On the other hand, blood derivatives is identified as the fastest growing segment of this market. Presence of government initiatives for the development of plasma-derived proteins, such as immunoglobulins, coagulation factor products, human fibrin foam, dried human plasma, and human thrombin is expected to drive market growth.
Blood derivatives such as intravenous immunoglobulin and hyperimmune are given to the patients with weakened immune systems or to boost the immunity in cases of life-threatening infections, such as Ebola. Increasing prevalence of these diseases, introduction of advanced technologies to separate blood components, and introduction of blood-derived medicines are the factors predicted to boost the market growth.
Type Insights
The market is categorized on the basis of type into platelet aggregation inhibitor, fibrinolytic, and anticoagulants. Among these, anticoagulants dominated the type segment in 2016 and are expected to grow with a lucrative CAGR by 2025 owing to the introduction of new products with higher efficacy and the potential commercialization of new products currently in the pipeline.
Biopharmaceutical companies are upgrading their products by launching novel and more efficient anticoagulant drugs in market. Re-launch of some key drug products such as Urokinase in North America is expected to fuel market growth in the coming years. Anticoagulants are drugs that inhibit clot formation in blood without targeting function of thrombin. Heparins are known for their anticoagulation activity for decades and are still the first preference for anticoagulation. Other anticoagulants are vitamin K antagonists, direct thrombin inhibitors, and direct factor Xa inhibitors.
Application Insights
Based on the applications, the market has been segmented as thrombocytosis, pulmonary embolism, renal impairment, angina blood vessel complications and others. Among these, blood preparation is widely used in thrombocytosis. It is a condition with high blood platelet count. Higher platelet count leads to coagulation of blood in the circulatory system and ultimately life-threatening heart conditions.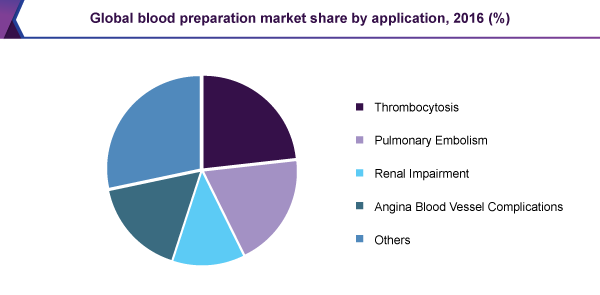 Thrombocytosis is classified as primary and secondary. Primary thrombocytosis is uncommon with an estimation of 24 people per million globally. It is prevalent in the middle-aged people and in women below 40 years. While secondary thrombocytosis is more common due to the conditions such as hyposplenism, splenectomy, asplenia, hemorrhage, osteosarcoma, and rheumatoid arthritis, associated with it.
Angina blood vessel complications are expected to grow at the fastest CAGR during the forecast period owing to rising R&D for the development of anticoagulants for cardiac problems and increasing prevalence of cardiovascular disorders. Angina Pectoris is characterized by severe pain in the chest and discomfort owing to the insufficient blood and oxygen supply to the heart. Although the main treatment for angina is nitroglycerine, use of anticoagulants is significant owing to the frequency of complications in the former. Furthermore, rise in lifestyle-associated diseases, popularity of oral anticoagulants, growing patient awareness, high levels of healthcare expenditure, and favorable government policies are some other factors leading to the market growth.
Regional Insights
North America dominated the overall market in terms of revenue in 2016 owing to the high incidence of blood cancer and increasing prevalence of cardiovascular, hematological, and neurological diseases. Furthermore, high patient awareness levels coupled with relatively higher healthcare expenditure levels and sophisticated healthcare infrastructure in this region are the factors that can be attributed to the region's high share.
Asia Pacific blood preparation market is expected to witness fastest growth in the coming years. Constantly improving healthcare infrastructure, Presence of untapped opportunities, economic development, and rising initiatives by private and public organizations are some factors that can be accounted for this rapid growth. For instance, the Japanese Red Cross Society and Japan Society of Blood Transfusion are organizations regulating blood demand and supply in Japan. These societies have been reviewing preclinical and clinical data on blood pathogen reduction over a number of years. The country is mostly dependent on imports from other countries for plasma-derived proteins.
Blood Preparation Market Share Insights
The key players in the market are Celgene Corp, AstraZeneca Co., Sanofi Aventis Leo Pharma Inc., Bristol-Myers Squibb Co., Baxter Healthcare Corp., Pfizer Inc., Shandong East Chemical Industry Co, and GlaxoSmithKline PLC. Most of the companies are engaged in adopting strategies such as mergers and acquisition, collaborations, and new product development to increase their market share.
For instance, In March 2017, Bristol-Myers Squibb announced collaboration with Foundation Medicine to leverage on the latter's molecular information platform for identification of predictive biomarkers. In March 2017, Leo Pharma announced establishment of a new company to develop and market BioPhotonic technology in partnership with Klox Technologies, Inc.
Moreover, continuous regulatory approvals to company's new drug is expected to further enhance the market growth. In February 2017, U.S. FDA approved QTERN, which is indicated for improving glycemic/blood sugar levels. Another company, Sanofi received U.S. regulatory approval to market new combination drugs for diabetes in November 2016.
Segments Covered in the Report
For the purpose of this study, Grand View Research has segmented the global blood preparation market on the basis of products, anti-thrombotics and anticoagulant type, anti-thrombotics and anticoagulant application, and region:
Product Outlook (Revenue, USD Million, 2014 - 2025)

Whole Blood

Red Cells

Granulocytes

Plasma

Platelets

Blood Components

Blood Derivatives

Type Outlook (Revenue, USD Million, 2014 - 2025)

Application Outlook (Revenue, USD Million, 2014 - 2025)

Thrombocytosis

Pulmonary Embolism

Renal Impairment

Others

Regional Outlook (Revenue, USD Million, 2014 - 2025)