Industry Insights
Caprylic acid market size was USD 2.7 million in 2014. Caprylic acid market is expected to witness significant growth on account of growing cosmetic industry. This is further attributed to profound usage of the compound as cleansing agent, masking and perfume agent.
Coconut and palm oil are key raw materials used for caprylic acid manufacturing and its application in various end-use industries. Coconut oil contains about 5-8% of caprylic acid, whereas the content in palm oil is about 3-5%. This naturally derived compound is expected to drive the organic personal care demand, on account of its anti-oxidant, anti-microbial and anti-fungal properties. The compound has extensive usage in the medical & dietary application on account of approval by the U.S Food and Drug Administration (FDA) for its usage in nutritional supplements in the food industry.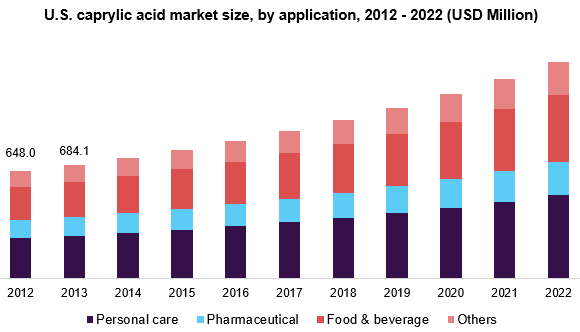 Growing environmental concerns and increasing government support regarding use of naturally derived products in industrial application is likely to propel demand. Furthermore, R&D related to use of potential and low cost raw material for production of caprylic acid is expected to drive the market over forecast period.
Growing demand for personal care goods in emerging economies such as Thailand, India and Brazil is expected to have positive impact on demand. Caprylic acid is used in the preparation of esters which are used in skin care, hair care, color cosmetics, perfumes, soaps and other personal care goods. Increasing use of the compound in luxurious items, medicines, lubricants, and surfactants is expected to drive the market demand over the next seven years. Furthermore, growing usage in the surfactant segment can be attributed to its hydrophobic property. The compound also has extensive usage in commercial applications as fat reducing agent, anti-microbial pesticide and fragrance enhancing component.
Application Insights
Caprylic acid used in personal care was valued at over USD 0.9 million in 2014. Increasing use of the compound in manufacturing of skin care creams, hair care products and cosmetics is expected to propel demand over the forecast period. Furthermore, personal care segment is expected to witness significant growth on account of extensive usage of these products by working population. In addition, profound usage of these compounds owing to extensive use by working population is expected to contribute to market growth in personal care applications.
Growing pharmaceutical industry is expected to drive the market growth over the forecast period. Pharmaceutical application is expected to witness steady growth among other applications, growing at a CAGR of over 5.0% of the overall volume market share from 2015 to 2022 on account of the increasing technological advancements, aging population, as well as rising awareness regarding generic medicines.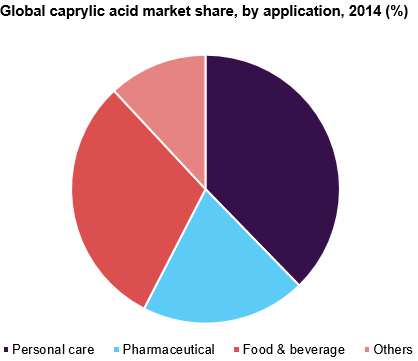 Caprylic acid has profound usage in medical applications which includes treatment of children with epilepsy as well as Crohn's disease is also expected to boost the market demand over the next seven years. Furthermore, it also helps in the treatment of oral gingivitis, urinary tract infections, candida virus, bladder infections and also to maintain pH balance of the body. 
Regional Insights
North America is expected to witness significant growth over the forecast period on account of the growing food & beverage and personal care segment. It is used as a food contact surface sanitizer on account of its antimicrobial properties and antifungal properties, which thereby propels the product demand in breweries, wineries & dairies.
Europe demand for the product was valued at over USD 0.6 million and is expected to witness substantial growth owing to rising demand from personal care sector. This can be attributed to benefits offered by the product such as reduction of wrinkles, cellulite and age spots, which is expected to favorably impact market growth.
Asia Pacific accounted for over 25% of the global volume share in 2014. Growing industrialization in Asia Pacific region coupled with rising pharmaceutical research by companies is likely to open new avenues for caprylic acid demand, which in turn is expected to propel production over the next seven years.
Caprylic Acid Market Share Insights
Solazyme Inc. has developed a new technology for caprylic acid production which uses algal oil as a raw material. The algal oil has potential to produce lost cost caprylic acid and meet the rising consumer demand. Key market participants include Evergreen Oleochemicals, KLK Oleo, Oleon, Wilmar International Vantage Oleochemical and Pacific Oleochemicals Sdn Bhd.