Industry Insights
The global carbon black market size was estimated at 11.99 million tons in 2014. Carbon black is majorly used in manufacturing of tires as it maximizes tread wear and reduces rolling resistance which is the key driver for the industry. They are produced via three major processes including furnace black, channel process and acetylene black process utilizing petroleum, natural gas or acetylene gas as feedstock. Furnace black is the most widely used process as it offers greater potential for mass production.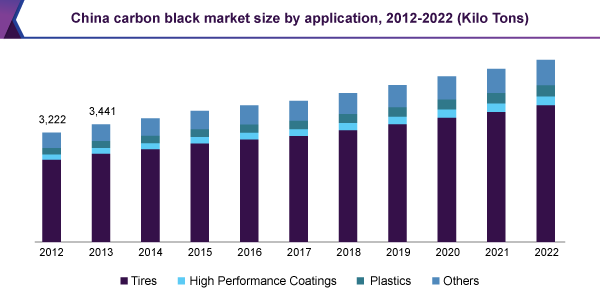 Tires in automobile play a crucial role in ensuring better handling, improved fuel efficiency and safety by offering better traction. Carbon black is utilized in different rubber types to enhance performance properties of tires. With increasing regulatory intervention regarding passenger safety, participants in the tire industry have been concentrating on improving performance properties thereby increasing their scope in the application segment
Manufacturers combine various tread and carcass grade of the product to improve handling, tread wear and fuel efficiency to meet consumer requirements. Several tests conducted by tire manufacturers have revealed that integrating them in production increases abrasion resistance multiple fold as well as enhances tire tensile strength.
They are also extensively used in electrical & electronics, chemicals and construction industry for strengthening rubber compounds and equipment's. Products include roll coverings, seals, tubes, conveyor belts, profiles, antistatic films, fibers, floppy disks, moldings, cables and roofing foils. It is a highly competitive industry with key players increasingly investing in R&D to improve their product quality.
Furthermore, it can absorb Ultra Violet light rays and assists in converting it to heat, which has augmented its use in plastics industry. It improves UV resistance of plastics and offers superior conductivity and antistatic properties. Thus, increasing plastics production as well as development of advanced polymers will have a considerable impact on industry dynamics. In addition, a shift towards utilizing specialty grade plastics in several manufacturing industries and rising demand for product in lightweight auto parts will be a positive influence.
However, stringent regulations imposed by various regulatory bodies such as Office of Environmental Health Hazard Assessment (OEHHA), U.S. Environmental Protection Agency (EPA), European Commission (EC) may hamper growth potential of the market. In February 2003, Carbon Black was enlisted in cancer-causing substances by California Office of Environmental Health Hazard Assessment (OEHHA).
Application Insights
Tires emerged as prominent application and accounted nearly 74% of overall volume in 2014. Various formulations of carbon black are used with different type of tires to meet consumer, regulatory and environmental requirements. It is most commonly used in treads, inner liners, sidewalls and carcasses to achieve desired performance properties.
They have been classified into two basic categories (tread & carcass) for tire applications. Tread offers high reinforcement for tires, which results in enhanced tire tread wear, abrasion resistance to sidewall, cut resistance and improves traction. Carcass grades are used for improving ply strength, hysteresis and air retention. Additionally, tire manufacturers have engaged in developing specialty grades for unique applications.
The rapid expansion of automotive sector globally presents lucrative opportunities for the product. The rise in disposable income coupled with a shift in trend towards individualization of transport in emerging economies such as China, India, Brazil, Argentina, Thailand has boosted passenger car sales which helped growth of the market.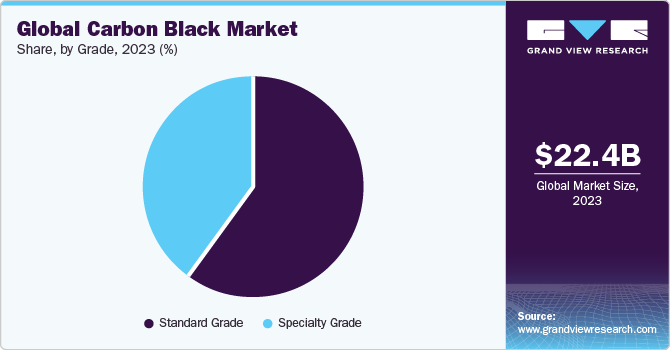 The product has become an integral part of high performance coatings owing its superior characteristics such as resistance to high wear & tear, ability to withstand adverse weather conditions and insulation properties. High performance coatings are being widely used in end-use industries such as aerospace & defense, petrochemicals, infrastructure and floor coatings.
They are broadly used in plastics for production of products such as pigment, conductive filler material, particulate reinforcement and ultraviolet light (UV) absorber. The increasing utilization of lightweight body parts in automobile parts to meet environmental regulations has created high demand for pigment products.
Fine particle of the substance provides deep jet-black color for plastic products manufactured by injection molding, extrusion and other processes. Moreover, they offer antistatic properties and improves conductivity to many plastic products. These features have enabled its extensive utilization in conductive packaging, films, semi-conductive cable components, photographic containers, stretch wraps, industrial bags and in molding process for thermoplastics
Regional Insights
Asia Pacific emerged as dominant region and accounted for over 49% of global volume in 2014. Rapid industrialization and urbanization, high economic growth, rising foreign investments, favorable legislations and regulatory framework are major factors driving growth in the region.
The transformation of Asia Pacific region into a manufacturing hub has augmented the growth for the material over past few years. Several large players have shifted their manufacturing facilities to China, India, Indonesia, Vietnam owing to cheaper raw material, labor cost and investment support from various governments.
Automotive manufacturing sector in Asia Pacific has experienced a boom in last two decades due to considerable demand from domestic as well as exports, this trend will continue over the forecast period. Moreover, the rising plastics production as a result of strong demand from packaging, medical devices, automotive, and electronics sectors shall further strengthen the growth in Asia Pacific.
North American market is driven by increasing utilization of the product as pigment in light weight auto parts to meet stringent environmental regulations. Moreover, there will be considerable demand in North America for the foreseeable future owing to increasing tire, rubber and high-performance coatings demand from end-use industries such as automotive, aerospace, packaging and ink.
The European market is characterized by stringent regulations regarding plastics for all the applications. Recovery of automotive industry in major economies such as Germany, France, UK and Russia shall boost the growth over the forecast period. Moreover, Europe has witnessed considerable rise in demand for the material in non-rubber applications such as printing ink.
Latin America and Middle East & Africa are characterized by increasing construction spending and high economic growth. The major economies in Latin America such as Brazil and Argentina will witness a surge in demand over the forecast period owing to rising automotive production. Key players such as Mercedes, Ford, Hyundai have shifted their manufacturing facilities to the region due to cheap labor and production cost.
Carbon Black Market Share Insights
Prominent players in the industry include Birla, Asahi Carbon Co., Evonik Industries, Sid Richardson Carbon & Energy Co., Nippon Steel & Sumikin Chemical Co. Ltd., Himadri Companies & Industries Ltd., Mitsubishi Chemical Corp., Tokai Carbon Co. Ltd, OCI Company Ltd., OMSK Group, and OJSC Kremenchug.
Large players such as Evonik Industries and Mitsubishi have opted for integration to attain greater economies of scale and reduce production costs while bettering their logistics supply chain and are present throughout the value chain from feedstock manufacturing to end product. These companies have thereby attained an advantage over their competitors in terms of captive raw material supply, especially during price fluctuations.
The manufacturing process emits a large amount of toxic GHG which are not suitable for environment and health. Companies are investing in R&D activities in order to develop their own manufacturing processes which will reduce gas emissions within the permissible limit and improves the quality of their product.
Segments Covered in the Report
This report forecasts revenue growth at global, regional, and country levels and provides an analysis on latest industry trends in each of the sub-segments from 2012 to 2022. For the purpose of this study, Grand View Research has segmented the global carbon black market report on the basis of application, and region:
Application Outlook (Volume, Kilo Tons; Revenue, USD Million, 2012 - 2022)

Regional Outlook (Volume, Kilo Tons; Revenue, USD Million, 2012 - 2022)

North America

Europe

Asia Pacific

Latin America

Middle East & Africa