Industry Insights
Global carbon black market size was 11.99 million tons in 2014. High demand from tires, rubber goods, and plastics production is expected to drive the global carbon black market over the forecast period. Carbon black finds the majority of its usage in the manufacturing of tires and plays a vital role in increasing tire's tread wear and rolling resistance.
Tires in an automobile are responsible for better handling, increased fuel efficiency (tire pressure, treading, traction), and grip with the road surface. Tire manufacturers frequently upgrade and make improvements to their existing line of products to meet consumer, regulatory and environmental requirements.
In addition to finding broad application scope in the automotive industry, carbon black finds usage in construction, chemicals and electrical & electronics industry for providing strength to industrial rubber compounds and equipment.
A key characteristic of carbon black is the ability to absorb UV light and convert it to heat, thereon making plastics more resistant to UV radiation. It provides conductivity and antistatic properties to plastics ranging from highly conductive to insulation materials. Plastics production and subsequent development of high performance polymers shall have a significant impact on industry dynamics.
Some of the emerging trends directly influencing dynamics of the industry include the shift towards more specialized grades from commodity ones and increasing usage as a pigment in lightweight auto-parts to improve conductivity.
U.S. carbon black market volume by application, 2012 - 2022 (Kilo Tons)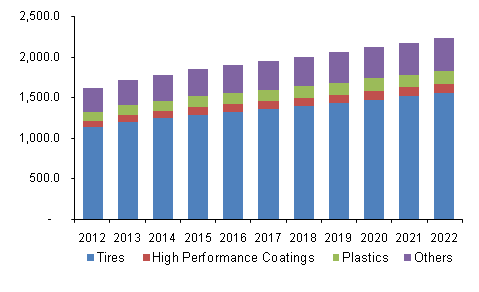 Since carbon black is manufactured by partial combustion of fuels directly affecting the environment and human health, it has come under strict regulations from these agencies. In February 2003, it was added to the California Office of Environmental Health Hazard Assessment (OEHHA) list of substances known to cause cancer.

Application Insights
On the basis of application, the report segments global industry into tires, high performance coatings, and plastics among other niche segments such as toners, printing inks, electrostatic discharge compounds and rubber.
Tires emerged as the leading application segment by accounting for over 70% of the overall volume in 2014. Carbon black is widely used in tire manufacturing by adding it to rubber as filler and reinforcing agent. For different types of tires, it is used in inner liners, carcasses, treads, and sidewalls with their utilization depending on performance requirements.
Global tire demand reached 4 billion units in 2014 as a result of positive automotive outlook in manufacturing sectors of Brazil, China, India and Southeast Asia. Recovery of industries in Europe and a stable forecast for the U.S. automotive production scenario shall further aid the segment growth over the forecast period.
Carbon black is widely used in conductive packaging, fibers, films & semi-conductive cable compounds and in products that include photographic containers, industrial bags & stretch wraps, and in the thermoplastic molding process. They provide electrical antistatic and conductive properties to many plastic products ranging from insulation materials to highly conductive areas.
Regional Insights
Asia Pacific carbon black market led the global industry and accounted for over 50% of the global volume in 2014. The regional market is characterized by high industrial growth, favorable legislative and monetary framework which led to increased private investments in manufacturing sectors of Southeast Asian countries.
China and India, major consumers in the region, are expected to grow exponentially over the forecast period. Growing automotive industry coupled with the shift of manufacturing facilities to China, India, Indonesia, and Thailand is anticipated to drive further demand in Asia Pacific. Increasing plastics production as a result of high demand from packaging, medical devices, automotive, and electronics sectors shall also provide the required impetus for Asia Pacific growth.
North America and Europe are characterized by increasing intervention from regulatory agencies regarding emissions during carbon black production. The both regions collectively accounted for over 38% of the global volume in 2014.
Competitive Insights
The global carbon black market is dominated by top multinational corporations accounting for a major share in the global market. Key industry participants include OJSC Kremenchug, OMSK Group, Sid Richardson Carbon & Energy Co., Tokai Carbon Co. Ltd., Asahi Carbon Co., OCI Company Ltd., Cabot Corp., China Synthetic Rubber Corp., Himadri Companies & Industries Ltd., Mitsubishi Chemical Corp., Nippon Steel & Sumikin Chemical Co. Ltd., and Birla.