Industry Insights
Global ceramic filters market was valued at USD 773.6 million in 2013, with growing environmental concerns is expected to drive demand. Environmental regulations and mandates governing water treatment & disposal and air emissions are touted to complement the global market growth. Rules & regulations issued by governments and agencies such as Environment Protection Agency (EPA), Energy & Environment Affairs (EEA), National Science Foundation (NSF), American Society for Testing and Materials (ASTM) and European Environment Agency (EEA) are presumed to play a critical role in developing the global ceramic market over the next few years. These regulations encourage the industries to adopt environment-friendly operating procedures and primarily focus on industrial water disposal and air emissions including Volatile Organic Compounds (VOCs) and other toxic gaseous emissions. Ceramic filters possess superior inherent properties that make them suitable for a myriad of applications across key end-use industries. These products have lower operating costs, longer operational life and are chemically inert. Growing acceptance across major end-use industries is projected to assist the global market over the forecast period. These products need high initial capital investment for its operations. Such capital intensiveness is expected to remain a major hindrance for market participants. Volatile prices are also expected to pose a threat to overall growth. R&D initiatives to develop novel applications and superior products offer ample opportunities for industry participants. Ceramic filters market has several unmet customer needs that need to be catered to for this industry to prosper in the near future. These unmet customer needs such as expanding distributorship, reducing CAPEX and initiating large scale industrial operations provide abundant opportunities for the industry participants.
Global Ceramic Filters Market Revenue by Product, 2012 - 2022 (USD Million)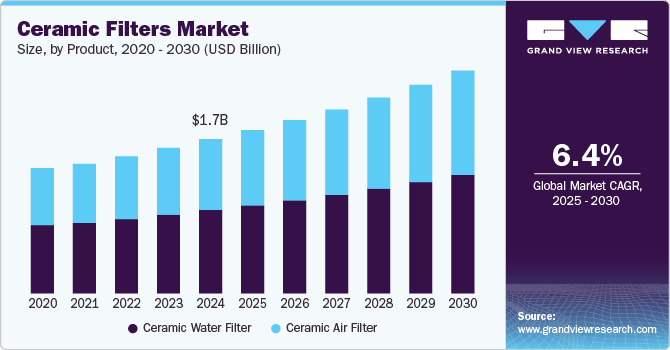 Product Insights
Water filters dominated the global market in the recent past and are touted to continue their dominance over the forecast period. Environmental regulations governing water pollution and air emissions are projected to aid the global market. Stringent regulations mandate the industry participants to adopt environment-friendly operating procedures that include water treatment and toxic gases & VOC removal. Raw materials include ceramic and a host of other chemicals including zirconium oxide, silicon carbide, titanium oxide, and aluminum oxide. The industry is exposed to several regulations governing its energy-intensive production process. Such regulatory framework is touted to impact negatively the industry and subsequently the filters industry. Ceramic prices are intricately related to crude oil prices. Volatile crude oil prices are expected to impact further the industry and in turn, negatively impact the overall market over the forecast period. Volatile prices also eat into the profits and increase operational expenditure for the industry participants.
Application Insights
Major applications include residential, commercial and industrial. Residential applications have dominated the global market in recent times, with regulatory initiatives to provide clean and safe drinking water anticipated to help demand over the next seven years. Industrial applications are expected to witness the fastest growth over the forecast period, with increasing industrialization in emerging markets to be beneficial for the overall market growth. Technology innovation and R&D initiatives are expected to impact positively the market. The surge in demand for residential applications, particularly in African countries owing to its economic advantage is anticipated to assist the global industry growth. Industrial applications in emerging countries such as China, India, South East Asia and Brazil was significant over the last few years and is expected to have a positive impact on the regional ceramic filters market.
Regional Insights
Asia Pacific ceramic filters industry was the most regional market over the recent past, followed by Europe and North America. Asia Pacific dominance is slated to continue over the forecast period. European and North American ceramic filters market share are expected to decrease slightly in the near future owing to brisk growth from other emerging regions such as Central & South America and the Middle East & Africa. Emerging markets are expected to provide ample opportunities for industry participants. Rapid industrialization in the emerging markets is slated to result in high demand from end-use industries. Emerging markets are slated witness faster growth when compared to the developed markets of North America and Europe. Government initiatives encouraging economic development as well as industrialization are presumed to bolster the end-use industry demand.
Ceramic Filters Insights
Global ceramic filters industry is characterized by a large number of producers and buyers. The market is projected to witness rapid growth over the forecast period. Industry participants are taking strong measures to expand their product portfolio and increase their production capacity with an aim to cater to the growing demand from the emerging countries. Major industry participants include Unifrax I LLC, Haldor Topsoe A/S, Doulton Ceramics, Glosfume Ltd., Ceramic Filters Company Inc., Global Water Ceramic Filters Manufacture Corporation, Anguil Environmental Systems Inc., Tri-Mer Corporation, Pall Corporation, Veolia, ClearEdge Filtration and 3M Company.