Industry Insights
Ceric ammonium nitrate market was valued at USD 110.7 million in 2014. The industry is expected to witness significant growth owing to numerous opportunities unexplored mainly in the research field.
Research groups and educational institutions have been continuously working to develop application base of ceric ammonium nitrate in organic reactions. According to some research studies, ceric ammonium nitrate has broad scope in laboratories for organic reactions and its application base is expected to widen over the forecast period.
The product also finds application for industrial purposes such as preparation of etchants which is used in electronic products mainly photomasks and liquid crystal displays. The product is expected to increase its penetration in the medical industry and metal surface cleaning process.
U.S. ceric ammonium nitrate market revenue by application, 2012 - 2022 (USD Million)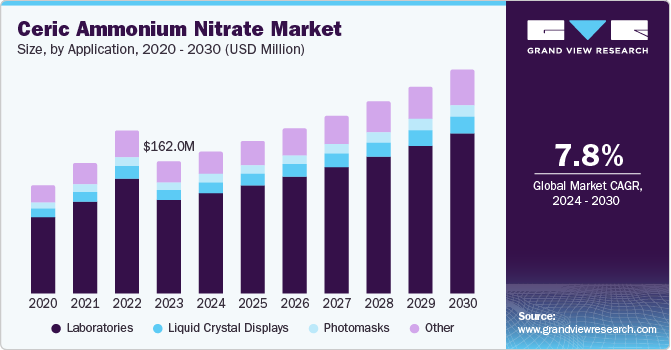 In terms of revenue, the market witnessed a decline in revenues in the past two years on account of falling raw material prices. The prices are expected to stabilize over the forecast period directly impacting market revenues.
Ceric ammonium nitrate is considered hazardous by various regulatory bodies such as the European Union and has negative impacts on health and environment. Manufacturers are expected to follow health and environmental regulations by Mine Safety and Health Administration (MSHA) The National Institute for Occupational Safety and Health (NIOSH), U.S. Environmental Protection Agency (EPA), and Occupational Safety and Health Administration (OSHA) to control the impact of ceric ammonium nitrate.
Application Insights
Laboratories were the leading application segment in the global market. The sector is expected to increase slightly over the forecast period. Ceric ammonium nitrate (CAN) is considered as a versatile chemical agent in organic chemistry.
The chemical product is cost effective in nature. Owing to its adaptable nature coupled with cost effectiveness, ceric ammonium nitrate is widely used for organic reaction in stoichiometric/catalytic quantities.
Key factors driving ceric ammonium nitrate growth in laboratories segment includes increasing initiatives by research laboratories and educational institutions to expand application base owing to favorable prices coupled with flexible nature.
Others application segment includes medical application areas and surface cleaning mainly metal. The application segment is expected to fall over the forecast period owing to fewer industry opportunities for growth. Photomasks and liquid crystal displays market shares are expected fall by 2022 owing to limited scope for development and expansion.
Regional Insights
Asia Pacific ceric ammonium nitrate market led the global industry with demand share exceeding 40% in 2014. A key factor driving the regional market include developments in end use industries such as electronic, research & medical, attractive prices offered by manufacturers and investment initiative by research groups & educational institutions to expand application use in laboratories.
North America was the second largest regional market. The region mainly U.S. is conducting a number of research studies to identify CAN use for organic reactions. The regional share is expected to increase slightly over the forecast period. The Middle East & Africa and Central & South America volume share are expected to fall over the forecast period.
Competitive Insights
Global ceric ammonium nitrate market is consolidated in nature with a limited number of manufacturers globally. CAN producers include Uranus Chemicals Co. Ltd, Henan CoreyChem Co. Ltd, Chuan Yan Technology Co. Ltd, Treibacher, American Elements and ProChem.
Manufacturers have also integrated their operations in order to enhance their profits and increase overall product supply. Uranus Chemicals Co. Ltd, Treibacher, American Elements and ProChem have integrated their operations and are also involved in supplying or distribution business. Competition among manufacturers is expected to increase in the future.

Key product suppliers include American International Chemical, Ganzhou Wanfeng Advanced Materials Tech. Co., Ltd., Shanghai Renyoung Pharmaceutical Co., Ltd., A.B. Enterprises, Green Resource Co., Ltd., Sigma-Aldrich, and Santa Cruz Biotechnology.