Industry Insights
The global circulating tumor cells market size was valued at USD 3,776.5 million in 2014. Major factors owing to progress in this industry include rising advancements in biomedical imaging and bioengineering technology.
Imperative role of genomics and translational research in the development of methods that can enhance detection, enumeration and analysis of circulating tumor cells in patient specimens is attributive for estimated growth in this industry through to 2022.
The rise in the adoption of personalized medicine and companion diagnostic options for complete eradication of cancer from the site of infection is anticipated to induce progress in the sector with potential avenues.
North America CTC Enrichment Methods Market, By Technology, 2012-2022 (USD Million)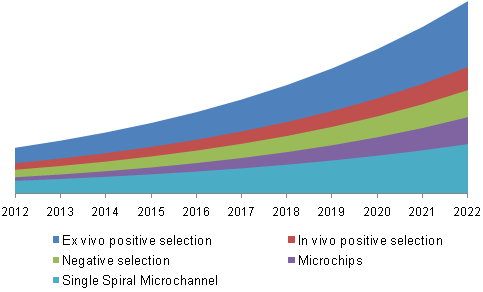 Growing need for oncology screening, diagnosis, and therapy monitoring in order to determine patient's health at different stages of disease development & progression is anticipated to influence sector growth in the coming years. Biological investigation of circulating tumor cells aids oncologist in gaining insights into tumor development mechanism, thereby enhancing diagnosis, serial sampling, therapeutic manipulation, and understanding resistant cancer profiles.
Projects involved in biotechnology sector for trouble shooting the problems faced during analysis of circulating tumor cells is anticipated to support in the development of novel methodologies which in turn is expected to drive revenue generation over the forecast period.
The presence of detection tests in development pipeline or in the process of patent filing, application & review is anticipated to fuel industrial progress through to 2022. For instance, CTCscope system is a pipeline product by Advanced Cell Diagnostics, a privately held oncology-related company in U.S.
Technology Insights
Key technologies analyzed in this study include methodologies used for CTC enrichment, detection, and analysis. Revenue generated from CTC enrichment segment accounted for over 45.0% of the total market value and it is anticipated that it shall witness lucrative growth over the forecast period.
The positive-looking forecast for the segment can be attributed to high market usage of the methods owing to the presence of a number of applications in oncology research where either CTC enrichment has high demand or is expected to witness growth in it over the forecast period. Presence of several methods based on different physical and electrochemical properties of circulating tumor cells for their enrichment also enables the segment to have a varied product portfolio and enhance market penetration.
Advent of technologically advanced products for e.g. novel microfluidic chip that enables the capture of CTC clusters is expected to provide the market with a supplemental surge in the demand. Complete commercialization of cluster chips and other such products that are currently in the final stages of development are further expected to fuel growth in demand over the forecast period. Utilization of cluster chip technology for studying CTC clusters which have till now been a challenge to successfully capture are expected to help oncologists understand tumor metastases. Such research incentives are expected to enhance the market attractiveness over the forecast period.
Application Insights
Application of CTC technologies for cancer stem cells research and investigation dominated the CTC market in 2014 in terms of market demand and revenue generation with revenue estimated at over USD 1,100 million. This segment dominated owing to the fact that participants operating herein are actively involved in the study of breast, adrenal, colon, melanoma, myeloma, prostate, pancreatic, lung, nervous, thyroid cancers, and leukemia by applying translational research principles on different populations. These participants include prominent market related entities such as U-M Comprehensive Cancer Center and Institute of Stem Cell Biology and Regenerative Medicine.
On the other hand, EMT biomarker development is expected to witness substantial growth in the next seven years owing to tremendous utility of epithelial mesenchymal transition biomarkers in deciphering complex processes leading to cancer metastasis in effective development of oncology therapeutics. Initiatives of collaborations between notable market players are expected to continue to take place over the forecast period and enhance the growth potential in revenue generation avenues.
Regional Insights
North America CTC industry was the largest in 2014, owing to the largest number of research projects carried out in the region. In addition, the U.S. Government supports research by funding various institutes, which grant research funds. Moreover, the presence of substantial target population coupled with rising R&D investments by the key market entities is attributive for a larger market share of this region.
Asia Pacific circulating tumor cell detection sector is projected to grow at a rapid rate due to the increasing interest of global companies to expand their respective business presence in the rapidly growing Asia countries. Presence of large untapped opportunities in such emerging economies as India and China is anticipated to enhance market share of this region over the forecast period. In addition, improving healthcare infrastructure coupled with supportive government initiatives is expected to accentuate progress in the Asian market in the coming years.
Competitive Insights
Key market participants present in the circulating tumor cells market are involved in collaboration with the universities focusing on cancer studies and the hospitals that are involved in provision of preventive medicine for personalized therapy for oncology diseases. For instance, Epic Sciences announced collaboration with the Abramson Cancer Center of the University of Pennsylvania (Penn). This collaboration is expected to improve multiple studies for exploring biomarkers, which are identified by analysis of circulating tumor cells.
Major entities operating in the sector are Clearbridge BioMedics, Fluxion Biosciences, Adnagen, Advanced Cell Diagnostics, Apocell, Cynvenio Biosystems, Aviva Biosciences, Biocep Ltd., Biocept Inc., Biofluidica, Canopus Biosciences, Creatv Microtech Inc., Epic Biosciences, Vitatex Inc., Greiner Bio-one GmbH, Ikonisys Inc., Sysmex Corporation, Janssen Diagnostics, CellTraffix Inc., and Miltenyi Biotech.
Industry participants are also engaged in expansion of their geographic presence by the development of clinical testing facilities in untapped regions of the market. In September 2014, Advanced Cell Diagnostics announced the establishment of the new subsidiary in Europe. This subsidiary has warehousing and distribution center located close to Milan, Italy, and sales, marketing, and technical support staff in Germany and the UK.
Analyst Perspective
Circulating tumor cells have been an important element in the quest to understand cancer related mechanisms better and prepare the possibilities for a cure for all forms of cancer. Since its discovery, oncologists have been immensely interested to study circulating tumor cells and CTC clusters. CTC are so rare that at an average only 1 CTC is present in around 1 billion blood cells and CTC clusters are even rarer. Recent development of Cluster Chip, which has been successful in capturing CTC clusters ranging between 2 – 17 cells is an important development in the market. With further development and complete commercialization of microfluidic chips and related products in the market, we can expected that the market is poised to witness a considerable surge in demand in the coming 4 – 5 years.
The aim of this study is to map the CTC market, identify key factors responsible for demand generation, and understand the flow of revenue in the market. The report further focuses over key trends and aims to forecast the growth of this market based on current market developments and by understand the prospective developments that can be expected to fuel growth over the forecast period.
The CTC market is relatively fragmented with a number of oncology-focused institutes and corporate which are objectively in the process of developing product highly beneficial to the consumers of this market. A competitive understanding of these entities can provide valuable insights about new product development and strategic product positioning to enhance market shares.