Industry Insights
The global Coenzyme Q10 market size was valued at 402.4 USD million in 2015. It is expected to expand at a CAGR of 13.8% from 2016 to 2024. Growing consumer awareness regarding the benefits offered by it in treating various ailments is expected to remain a key driving factor for the global Coenzyme Q10 market over the forecast period.
Inherent benefits of the product in healthcare applications to promote treat cancer, heart health and Huntington's disease have also contributed towards market growth. The coenzyme was conventionally utilized in the treatment of cardiovascular ailments and cognitive illnesses, as well as an effective component in treating periodontal diseases.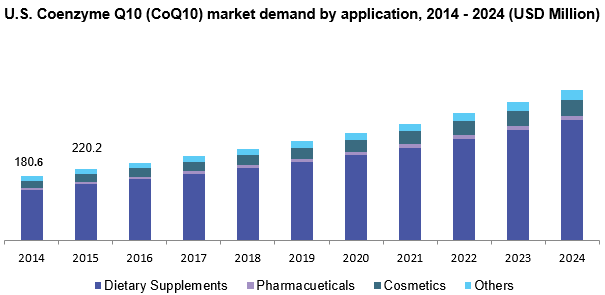 Estimates by the World Health Organization (WHO) predict that the number of cancer patients is likely to rise considerably by 2030. This factor is expected to fuel Coenzyme Q10 demand over the future.
CoQ10 is responsible for transferring electrons and aerobic cellular respiration in diverse organisms. It is majorly found in organs that require high energy such as liver, kidney, and heart. The product is industrially manufactured via yeast fermentation, although it can also be produced by bacteria fermentation for small scale purposes.
The market is expected to witness significant growth in fast-growing applications such as cosmetics, which include anti-aging and sunscreen creams. Growing consumer disposable income on account of economic growth in emerging economies such as China, India, Mexico, and Brazil is driving the demand for natural & organic cosmetic ingredients, which in turn is crucial for the Coenzyme Q10 industry.
The growing geriatric population in countries such as the U.S., the U.K., Russia, China, and Japan coupled with the growing prevalence of ailments & diseases, particularly in developing economies of Asia Pacific, have resulted in high demand for nutricosmetics manufactured from coenzymes. The material has inherent antioxidant properties and provides biological energy to promote skin repair.
CoQ10 is sold only as a dietary supplement, restricting its potential applications in the medical industry. Stringent government & federal regulations regarding drug usage are expected to hinder growth over the forecast period. However, rising awareness regarding benefits in eye care and cognitive disease treatment is expected to offer lucrative opportunities over the forecast period.
Application Insights
Dietary supplements emerged as the largest application segment with Coenzyme Q10 volume estimated at over 1,000 tons in 2015. The segment growth is likely to be driven by advantageous product characteristics that include antioxidant and energy generation properties. There is an extensive demand for dietary supplements as well as in the pharmaceutical industry, the health drink manufacturers are also coming up with the new health drink which contains CoQ10.
Pharmaceuticals emerged as the fastest-growing application, with an estimated CAGR of 10.4% from 2016 to 2024. The pharmaceutical compositions are basically used for the treatment of diseases of the skin and mucous membranes and preventing dysmetabolic conditions. The activity of Coenzyme Q10 is stringently in relation with the tissular respiratory processes. Growing application scope in the ailment of cognitive diseases, eye care, cancer, and heart diseases, coupled with the rising number of cardiovascular disease patients is expected to fuel demand.
Regional Insights
North America was the dominant regional market accounting for over half of the overall volume in 2015. The region is expected to maintain its dominance owing to high demand in cosmetic applications. However, stringent regulations regarding product usage in medical ailments are expected to hinder growth.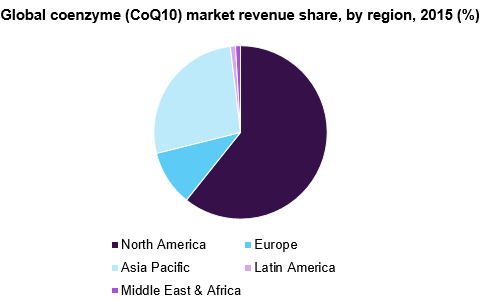 Asia Pacific emerged as the fastest-growing regional market, with an estimated CAGR of 10.8% from 2016 to 2024. Transitioning consumer lifestyles, coupled with growing health concerns in emerging economies such as India and Japan is expected to drive segment growth. The development of small-scale manufacturers along with increasing cosmetics demand in India and China would be a positive sign for regional industry growth. Favorable regulatory guidelines along with positive application outlook in personal care products demand Would propel the CoQ10 market demand.
Coenzyme (CoQ10) Market Share Insights
The market competition is high among the market players. The fragmented nature of the industry along with price-based competition in the vitamin supplements product market is likely to play a vital role in influencing the product demand over the forecast period.
The market is highly concentrated with the top four companies accounting for over 60% of the overall volume. Key players operating in the global Coenzyme Q10 market include Kyowa Hakko U.S.A. Inc., Gnosis S.p.A., Kaneka Corporation, DSM Nutritional Products, Hwail Pharmaceutical Company Ltd., PharmaEssentia Corporation, ZMC LLC and Ni