Industry Insights
The global composites market size was estimated at USD 76,710.5 million in 2017. It is projected to expand at a CAGR of 7.7% over the forecast period. Rapid industrialization in developing economies from Asia Pacific and increasing demand for wind energy are expected to augment market growth. High demand from automotive industry is anticipated to further propel market growth. Rising fuel prices have triggered the need for fuel-efficient vehicles. This factor is projected to positively influence market growth in near future.
Composites are most widely used as a replacement for steel on account of their higher strength to weight ratio. Presently, a substantial number of vehicles use conventional fuel technologies such as petrol and diesel. This has led to a rise in demand for fuel-efficient vehicles. Increasing environmental concerns and stringent regulations regarding pollution control have forced automotive manufacturers to use advanced technologies and develop vehicles to reduce pollution.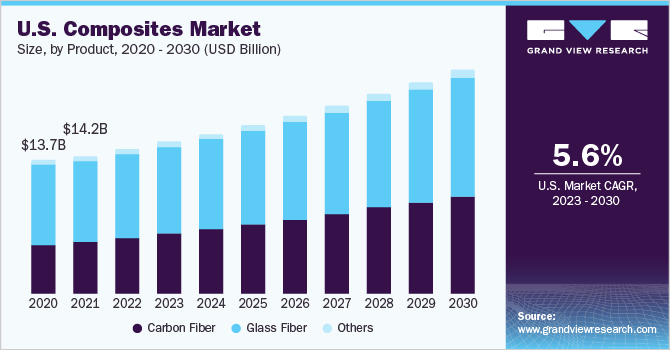 Rise in propylene production has driven demand for polyacrylonitrile, which is a primary raw material for Carbon Fiber Reinforced Plastic (CFRP) production. Extensive R&D activities in Japan and Europe have led to emergence of numerous market players, which in turn, is expected to drive the market demand. For example, presence of key industry players such as Toray Industries Inc., Teijin Limited, and Mitsubishi Rayon Co., Ltd. in Japan has boosted regional product demand.
Growing aerospace industry in North America and Europe is also anticipated to fuel the market. Escalating demand for commercial aviation on account of increased disposable income and globalization is driving aerospace industry over the last few years. This key trend is expected continue over the forecast period as well.
Rising concerns regarding aircraft weight are expected to fuel composite demand from aviation industry. Commercial aviation has increased the usage of composites to around 50% of total weight of the aircraft. Airbus A350 is built utilizing 52% CFRP, while Boeing 787 Dreamliner is built using 50% CFRP in terms of weight. Surge in commercial aviation is expected to drive the global CFRP market over the forecast period.
Product Insights
Glass fiber emerged as the largest product segment in the global composites market in 2017. Also known as fiberglass, this composite is made of fine fibers of glass. Fiberglass is robust, lightweight, and strong material, but has lower stiffness than carbon fiber. Glass fibers weight properties and bulk strength are very favorable compared to metals.
Carbon fiber is expected to register fastest growth over the study period. It mostly comprises of carbon atoms that are bounded together in crystals aligned parallel to the fiber. Carbon fibers are combined with other materials to form a composite. Carbon fiber reinforced polymer is formed when carbon fiber is molded with plastic resin. Properties of carbon fibers such as low weight and thermal expansion, high stiffness, temperature tolerance, and high chemical resistance makes it very popular in industrial and other applications.
Resin Insights
Thermosetting resin was estimated to be the largest market globally, with a volume share of 81.75% in 2017. Thermoset or thermosetting composites are synthetic materials that get strengthened when heated. They cannot be remolded after the initial heating. Thermosetting products are stronger owing to cross linking and are also suited for high temperature.
Thermoplastics harden when cooled down without losing their plasticity. They can be re-melted and reshaped when reheated above their processing temperature. Thermoplastics are less expensive, weldable, extra tough, non-toxic, and recyclable for other processes.
Manufacturing Process Insights
Layup was the dominant market globally, with a revenue share of 32% in 2017. Layup is the most basic method for production. The process involves placing a layer of fiber in a sequence by using a matrix of resin and hardener. The layup is then allowed to set at room temperature. The curing process can be accelerated by applying heat with an oven. Hand layup process is a low cost tooling technique and includes a wide choice of material types and suppliers.
Asia Pacific is expected to continue its dominance over the forecast period. Increasing production of boats, wind turbine blades, and architectural moldings are expected to fuel the growth of layup product market in Asia Pacific.
Application Insights
Transportation accounted for the largest revenue share of 20.98% in 2017. Advantages of durable and lightweight materials are appreciated in design, manufacturing efficiencies, and fuel savings for autos to buses to trains, across the transportation spectrum. Manufacturers in the bus and light rail markets use composites to enhance fuel efficiency and interiors. Top suppliers require corrosion resistant, fire retardant, and durable products to fulfil demand for adhesives, resins, putties, reinforcements, and gels in transportation applications.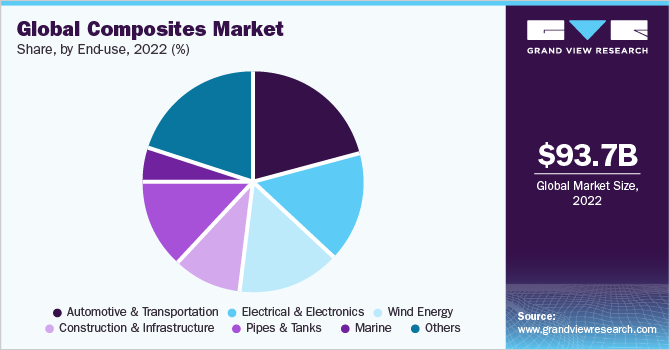 Wind energy is projected to emerge as the fastest-growing application segment in composites market over the forecast period. The primary intent for using composites in wind energy sector is to keep the blade weight under control and its ability to impart superior properties such as fire retardancy, excellent corrosion resistance, design flexibility, and durability.
Regional Insights
The North America composites market was valued at USD 16,925 million in 2017 and is expected to grow at a CAGR of 7.3% over the forecast period. The demand for composites in North America is driven by the robust growth of aerospace & defense, electrical & electronics, and automotive industries. In North America, particularly the U.S. is an important manufacturer of commercial aircraft, cargo jets, large passenger aircraft, and defense aircraft. The demand for composites in aircraft application is driven by major aircraft manufacturers such as Airbus S.A.S, and Boeing.
Asia Pacific is one of the most lucrative destinations for automotive, construction, aerospace, and electrical & electronics manufacturers owing to the presence of major economies in the region. The demand for composites, in terms of volume was estimated at 3,758.9 kilotons in 2017 and is projected to grow at an estimated CAGR of 8.1% over the forecast period.
Composites Market Share Insights
The market has observed backward as well as forward integration from various raw material manufacturers. Self-procurement of raw materials along with production and utilization of carbon fiber helps manufacturers cut down logistics cost and cater to end-use product manufacturers directly to increase profitability. CFRP applications depend on the grades used and ultimately on the quality of precursor. Various manufacturers have developed their own manufacturing technique to gain competitive advantage. CFRP is manufactured as per client requirement for special applications such as aerospace and high performance cars.
Key market players such as Cytec Industries, Toray industries, Mitsubishi Rayon Corporation, Hexcel, and Hyosung have integrated major part of their value chain ranging from production and raw material supply to CFRP distribution. High level of integration enables companies to cut down on cost associated with raw material procurement and strengthens their market share with development of specialty products. Key market players have their own patented technologies and they have presence across all levels of a value chain.