Industry Insights
The shift in trend towards adoption of unconventional transportation fuels to reduce carbon footprints is expected to remain a key driving factor for global compressed natural gas (CNG) market. CNG emerged used as a substitute transportation fuel for gasoline, diesel and LPG on account of low emission of greenhouse gases (GHG) production on combustion. CNG can be used in traditional internal combustion engines that have been originally designed or modified for gasoline/diesel which has been further propelling its market growth.
Global CNG market estimates and forecast by source, 2012-2020 (million cubic meters)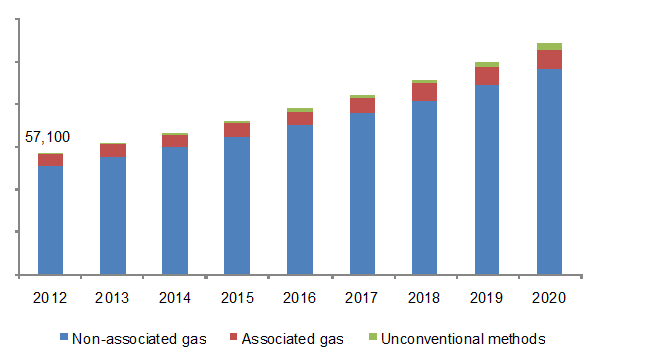 The emergence of CNG as low-cost fuel coupled with growing energy demands is expected to have a positive influence on global CNG market growth. It costs lower than traditional fuels such as gasoline and diesel and produce energy equivalent on combustion. Exploration of shale gas and other non-conventional sources of energy particularly in North America have brought down global CNG prices. Increasing government regulations on account of environmental concern is expected to significantly have a significant effect on global CNG market over the next six years. Increasing monetary assistance in the form of subsidies coupled with growing awareness to reduce pollution by are some major factors promoting its use in automobiles in regions such as Middle East, Asia Pacific and Latin America. The majority of the governments have been making efforts to convert gasoline based public transport to CNG.
Placement and costs of CNG storage tanks in automobiles coupled with a limited number of filling stations is expected to remain a key challenge for market participants. Traditional gasoline vehicles require additional CNG tanks storage space in trunks usually utilizing the free space. Initial installation cost of storage tanks are higher than traditional gasoline engines are already installed in automobiles. With increasing CNG powered automobile, fuel tanks costs are gradually decreasing, and efforts are being made to bring costs to an acceptable level. In addition, automobiles manufactures have been providing in-build CNG installed tanks under vehicles body and providing free space for trunks. Increasing R&D investment on dual fuel technology engines by leading automobile manufacturers is expected to open up new gates for market participants.
Source Insights
The global CNG market can be segmented based on the sources of extraction. Major sources include extraction of associated gases, non-associated gases, and unconventional methods. Non-associated gas reservoir emerged as a leading source for CNG production. Increasing exploration of non-associated and unconventional gas reservoirs is expected to drive CNG market over the next six years. Associated gas reservoir formed the second largest share of production. It is expected to show moderate growth rates over the forecast period owing to presence of wet gases. Unconventional methods including LNG is expected to be the fastest-growing source production over the next six years owing to growing global LNG fleet coupled with increasing installations of re-gasification facilities in Asia Pacific particularly in countries such as China and India.
Application Insights
On the basis of application, CNG market is classified as light-duty vehicles (LDV), heavy/light duty buses and heavy/light duty trucks. LDV emerged as dominant application for CNG market and accounts for over half of the total CNG market. LDV is also expected to witness the highest growth rate over the next six years owing to global increase in production of natural gas vehicles (NGVs) coupled with demand for clean fuels in automobiles. Numerous LDV manufacturers such as General Motors, Fiat, Toyota, Suzuki, and Honda have introduced in-built CNG fuel tanks owing to increase efficiency of vehicle and low maintenance costs. In addition, existing gasoline fuel automobiles can also be converted to dual fuel technology by installing CNG kits which are further expected to drive CNG demand in LDV. Major public transportation vehicles specifically in Asia Pacific and Latin America are being converted to CNG based fuel systems owing to their maximum fuel consumption and fast recovery of the initial capital invested.
Regional Insights
Global CNG market is characterized by government subsidies and environmental regulations which differ from region to region. Asia Pacific emerged as the leading consumer for CNG in 2013. Emerging Asian countries such as China, India, Malaysia and Indonesia are expected to show higher growth rates owing increase in NGVs demand and rise in middle-class disposable incomes. In addition, CNG has a developed market in the form of South Korea and Japan. Majority of the public transportation fleet is being converted to CNG fuel systems supported by government regulations. Europe was followed by Asia Pacific and emerged as the second largest CNG market. Central & South America is expected to witness the highest growth rate over the forecast period. South American countries such as Brazil and Argentina witnessed high NGVs demand over the past few years owing to increase in demand from taxicab segment and is expected to show steady growth rates over the next six years.
Competitive Insights
The global CNG market is highly fragmented owing to large number industry participants spread across various regions. Regional market players compete on the basis of price differentiation and service levels. Key industry participants include Indraprastha Gas Limited (IGL), National Iranian Gas Company, Mahanagar Gas Limited (MNGL), and J-W Power Company. Other major players include OAO Gazprom, Trillium CNG, GNVert, ANGI Energy Systems Inc., NeoGas Inc., China Natural Gas Inc. and J-W Power Company.