Industry Insights
Global compression therapy market size was valued at USD 2.58 billion in 2014. Increasing prevalence of venous disorders such as deep vein thrombosis, leg ulcers, lymphedema and blood clots is a key factor expected to drive market growth over the forecast period.
Increased prevalence of diabetes is an integral growth factor, as patients usually suffer from swelling of legs, ankles, and feet. Such disease symptoms lead to a rise in demand for pertinent therapeutic options. According to the estimates of the International Diabetes Federation, the global prevalence of diabetes is expected to increase from 366 million in 2011 to 552 million by 2030.
U.S. compression therapy market, by product, 2012-2022 (USD Million)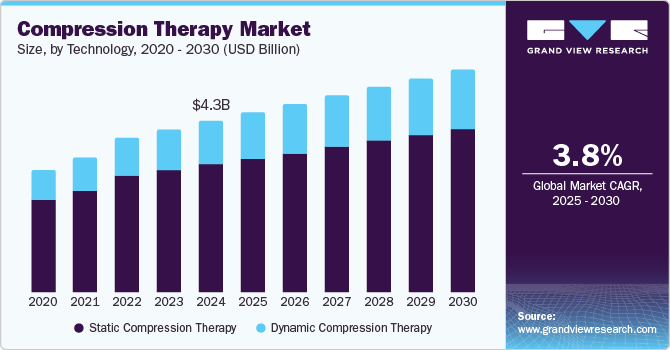 Increasing geriatric population base is another factor likely to boost compression therapy services demand, as old age heightens the susceptibility towards venous disorders. High incidences of sport related injuries and general injuries resulting in target disorders are also expected to lead to a growth in usage rates over the forecast period.
Advancements in compression therapy are expected to help the manufacturers capitalize on the available opportunities. Notable advancements include the use of mobile intermittent pressure pumps, inelastic compaction boots, and multilayer bandage technique.
Product Insights
Key product segments analyzed include bandages, stockings, tapes, and pumps. As of 2014, bandages dominated the overall segment, accounting for over 45.0% of the total generated revenue. The dominance of this segment is attributed to the benefits associated with bandages such as easy application; reduced slippage and less bulkiness which allows users to wear normal footwear.
Compression pump market is expected to witness significant gains over the next seven years owing to, the rising incidence of lymphedema as well as similar venous disorders. Furthermore, these pumps give controlled pressure according to the severity of the disorder, thus are more effective as compared to the other available alternatives.
Moreover, the use of pumps leads to the reduction in the duration of hospital stays, outpatient visit rates, and cellulitis infection. These factors prove to be a cost-effective endeavor for both the healthcare establishments and the patients.
Technology Insights
The static technology was the largest segment, with its market valued at over USD 1.75 billion in 2014. Easy application and removal are two key patient friendly attributes associated with this technology.
Dynamic technology is expected to experience lucrative growth over the forecast period as a consequence of associated benefits especially its ability to mimic the lymphatic system and promote fluid movement. Additionally, technological advancements like portability and ability to heal cutaneous ulcers are likely to drive segment growth.
Regional Insights
The North America compression therapy market held over 45.0% of the total revenue in 2014. The presence of large geriatric population base and high prevalence of diabetes and chronic venous disorders contributed towards the growth of this region. The presence of well-structured government reimbursement plans and increasing healthcare awareness levels are also identified as demand boosting factors.
Asia Pacific compression therapy market is expected to witness the fastest growth over the forecast period owing to improving healthcare infrastructure which is expected to improve patient accessibility. The presence of high unmet needs and the favorable business environment in countries like India and China is likely to improve usage rates.
Competitive Insights
Key players of the compression therapy market include Medi GmbH & Co., Julius Zorn GmbH, Paul Hartmann AG, ArjoHuntleigh, Medtronic Plc, SIGVARIS and BSN Medical GmbH. These companies are involved in strategic initiatives such as acquisitions and new product launches to gain and maintain a competitive edge in the industry.
For instance, in June 2015, BSN medicals acquired FarrowMed Medical solutions, this acquisition is expected to help BSN medical to expand lymphedema treatment solutions and it will help BSN Medical to maintain its position in the lymphedema and venous disease management segments.
Outsourcing is also a popular trend observed in this industry. Manufactures are now striving to move their production into emerging economies to lower production costs and gain access to untapped opportunities.