Industry Insights
Global conveying equipment market was valued at USD 31.89 billion in 2013. The conveying equipment offers an accurate, efficient, and cost-effective technique for fast and easy transport of goods. Conveyor belts are made from rubber and are protected with PVC, textiles, or steel by its application.
Global conveying equipment market finds application as goods carrier in several industries including metal mining and coal, power, food and beverages, steelworks, airports, cement, and ports. The major advantage offered by the conveying equipment includes a reduction in the time required for producing thereby increasing their operational efficiency.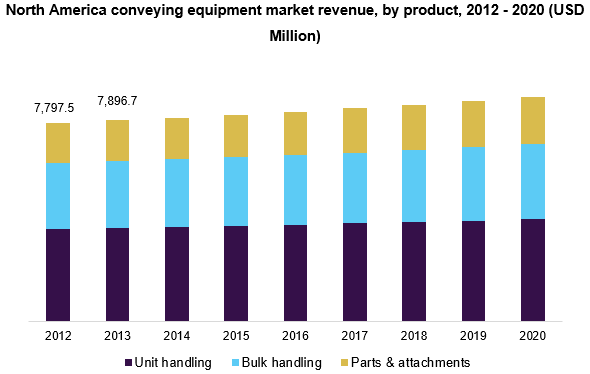 The production of tailored conveying equipment is made possible by the growth in industrial output and development in the technologies. The development in manufacturing activities of durable and non-durable goods in the emerging economies across the globe are projected to drive the market growth over the forecast period. However, the highly fluctuating prices of the significant raw materials, for instance, rubber is predicted to negatively impact the global conveying equipment market over the next six years.
Conveying equipment can be installed at any place and are measured to be safer than a forklift for the transportation of goods. It can transport equipment of all loads, shapes, weights, and sizes. The various alternatives existing for running the conveying equipment include hydraulic fully automated and mechanical equipment, which is designed to fulfill the individual requirements.
The majority of the conveyor systems are utilized in various businesses including agricultural, computer, electronic, packaging, aerospace, pharmaceuticals, automotive, food processing, canning and bottling, print finishing, and chemicals. Conveyor systems, for instance, chain conveyor and roller conveyor provide rapid and efficient convey of various materials. Aforementioned factor increases their popularity in material handling and packaging industry.
Conveyor equipment is considered to be a helping hand to the company's ability so that they efficiently transport its goods under the given time duration. Companies have been taking up measures such as timely inspections, possessing major parts in stock, appropriate training of their personnel, and keeping a close watch on reducers and motors to make sure their effective productivity.
Product Insights
In 2013, unit handling, having the largest share of the market, accounted for more than 45% of the global conveying equipment market. Unit handling equipment is majorly used to monitor reduced batch size which is applicable broadly to processing food & beverage, shipments, and other durable goods productions. However, parts and attachments segment is expected to experience the maximum growth rate, at a projected CAGR of 2.4%, from 2014 to 2020.
Bulk handling is anticipated to account for over 32% of the total market in 2020. Growing logistics industry across the globe to help increase in demand for bulk handling conveyors.
Application Insights
Manufacturing of durable goods segment had the largest market demand, of over 35%, in 2013 and is also projected to be the fastest-growing segment over the forecast period. This high demand for manufacturing of durable goods can be attributed to an ever rising requirement of industrial machinery and computer equipment.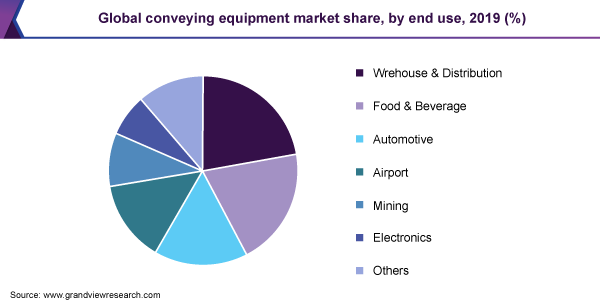 Non-durable goods applications include soft drinks, alcoholic beverages, home care, food, cosmetics and personal care. Conveying equipment used in personal care & pharmaceuticals is expected to witness high growth over the forecast period.
Regional Insights
European market of conveying equipment had the highest consumption, of over 35%, in 2013. Asia Pacific is predicted to experience the highest demand over the next six years, growing at an expected CAGR of 2.5%. Transportation boom in China, South Korea, Malaysia, Thailand, Vietnam, Indonesia, and India to significantly help the market growth over the forecast period.
Rest of the World accounted for only 8.1% in 2013, with demand mainly stemming from emerging economies such as Brazil, Argentina, South Africa and UAE among others. Other countries such as Saudi Arabia also contributed to market demand. Regional market share is expected to grow to 8.3% by 2020 at 2.3% CAGR over the forecast period.
Conveying Equipment Market Share Insights
The global conveying equipment market is highly fragmented in nature. It is characterized by numerous small to medium sized organizations that compete among themselves to gain a strong foothold in the global market. In 2013, the top three companies including Rexnord, Sandvik, and Dematic, together, accounted for more than 35% of the global market.