Industry Insights
Changing lifestyle triggering the demand for cosmetic procedures is expected to boost the growth of the cosmetic implants market over the next six years. Moreover, the introduction of technological advancements such as hyaluronic acid facial filler and two form-stable silicone gel breast implants and growing expenditure levels among consumers pertinent to aesthetic procedures are expected to positively reinforce the market. The cosmetic implants market is expected to reach USD 9.0 billion by 2020, growing at a CAGR of 6.8% during the forecast period. According to statistics published by the American Society of Plastic Surgeons in 2013, nearly 13.4 million minimally invasive cosmetic procedures have been performed which is approximately 3.0% more than the data registered in 2012.
Global cosmetic implants market, by raw material, 2012 - 2020 (USD Million)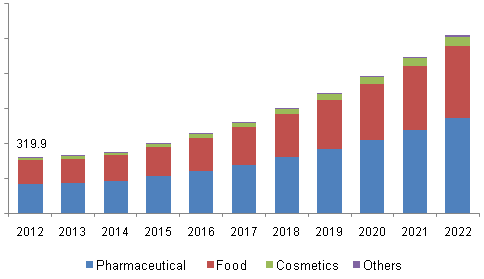 Furthermore, cosmetic surgical procedures demonstrated a steady growth of 1% as compared to 2012. In 2013, nearly 1.7 million cosmetic surgical procedures were performed. Facelift and Eyelid reshaping was the top performing segments indicating 6% growth as compared to the previous year. Reconstructive plastic surgery which improves appearance and function of abnormal body parts witnessed a 2.0% growth from 2012 to 2013. Top performing reconstructive procedures include tumor removal (4.4 million), laceration repair (254,000), maxillofacial surgery (199,000), scar revision (177,000), hand surgery (131,000) and breast reconstruction (96,000). Moreover, the presence of patient awareness campaigns such as the Breast Reconstructive Awareness Campaign directed towards engaging, educating, and empowering women to make decisions pertaining to their well-being post breast cancer diagnosis is expected to boost usage rates during the forecast period.
Raw Material Insights
The overall cosmetic implants market on the basis of raw material types is categorized into polymers, ceramics, metals, and biological. Ceramic materials are used as abutments which are connected to the dental implant and rise above the gum. Ceramic materials are rapidly gaining preference over conventional metal implants. The fact that the ceramic implants look aesthetically more appealing and do not shadow the tissue once it emerges from the bone accounts for the aforementioned conclusion. Polymer-based cosmetic implants held the majority of the market share in 2013, mainly owing to its application in procedures conducted in large volumes such as breast and facial implants. Moreover, high durability and the ability of polymers to be molded into various shapes are expected to drive segment growth during the forecast period. On the other hand, biological cosmetic implants are expected to grow at a lucrative rate over the next six years owing to growing patient awareness levels pertaining to the benefits of biological cosmetic implants over the synthetic ones.
Application Insight
Key application areas of cosmetic implants include dental implants, breast implants, facial implants, and others. Dental cosmetic implants emerged as the largest application segment in 2013. Key factors attributing to its large share include the presence of a large patient base suffering from dental disorders. According to the estimates published by the American Academy of Implant Dentistry, over 30 million American citizens are missing all their teeth in one or both jaws. Furthermore, nearly 15 million residents in the U.S. have undergone bridge and crown replacements. However, breast implants are expected to grow at a lucrative rate of over 6.0% from 2014 to 2020.
Regional Insights
North America was the largest regional cosmetic implants market closely followed by Europe. Key drivers attributing to its large share include presence of sophisticated healthcare infrastructure coupled with high awareness levels pertaining to physical and aesthetic appearances. Asia Pacific is expected to present manufacturers with lucrative future growth opportunities. Rapid economic development and improving healthcare infrastructure witnessed in the emerging markets of India and China is expected to significantly improve usage rates.
Competitive Insights
Key players of cosmetic implants market include Aesthetic and Reconstructive Technologies (AART) Inc., 3M Health Care, DENTSPLY International Inc., Allergan, Inc., GC Aesthetics, Implantech Associates Inc., Mentor Worldwide LLC, Institut Straumann AG, Sientra Inc., Nobel Biocare Holding AG, Zimmer Holdings Inc and Spectrum Designs Medical.