Industry Insights
The global crop protection chemicals market size was estimated at USD 53.6 billion in 2014. Rapidly increasing population, increasing awareness regarding food & health safety, reduced arable land and necessity for enhanced crop yield is expected to drive demand over the forecast period.
Consumer awareness regarding food safety and environmental concern has resulted in increased demand for Biopesticides. Moreover, with phasing out of certain pesticides including glyphosate, atrazine, and chlorpyrifos, the demand for biopesticides is expected to over the forecast period.
Biopesticides are primarily derived from plants, animals, bacteria and certain minerals and control pests by nontoxic mechanisms. Furthermore, the volume required per hectare of land is less and is highly effective as compared to its counterparts, which is likely to propel demand for the product over the next seven years.
North America crop protection chemicals market revenue by application, 2012-2022, (USD Billion)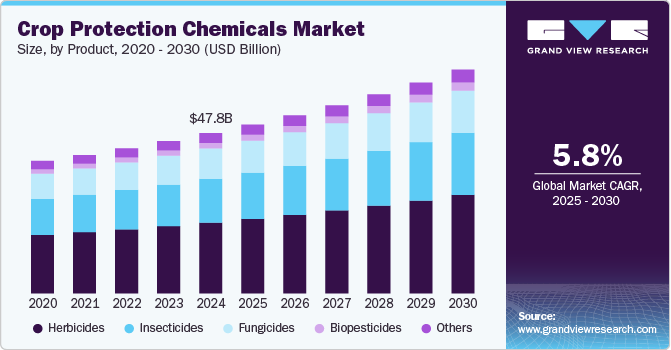 Stringent regulations against the use of synthetic pesticides owing to adverse environmental impact are expected to hamper market growth. The majority of the products are closely regulated by major regulatory bodies including U.S. EPA as well as the European Commission.
Product Insights
Global demand for herbicides was valued at USD 17.0 billion in 2014. Herbicides are the most widely used product owing to its market dominance in North America and Europe. Favorable climatic conditions coupled with enhanced properties including the selective killing of unwanted weeds is expected to drive market demand over the forecast period.
Fungicides accounted for over 22.7% of the global industry volume in 2014. Rising demand for fungicides across all the major regions owing to favorable climatic conditions promoting fungal growth is expected to propel demand for the compound over the next seven years. Fungicides are classified as eradicants and protectants. Eradicants eliminate the fungal growth affecting the plants; whereas protectants prevent the fungal growth in plants and are the most widely used fungicides across the globe.
Application Insights
Cotton was the largest application segment which was valued at USD 12.65 billion in 2014. Growing demand for agrochemicals in cotton coupled with growing cotton production in Asia-Pacific and ROW is expected to have a positive impact towards market growth. Cotton plantation has been affected by severe drought particularly in India. However, governmental support with incentives and monetary aids is expected to increase production over the next few years.
Cereals application accounted for 19.0% market share in 2014. Rising demand for food grains across the globe is expected to have a positive impact towards market growth. Cereals application was driven by growing demand in Asia Pacific and Latin America wherein pulses and food grain account for a large market share. This trend is expected to continue account of large population growth and growing demand for healthier food products among consumers.
Regional Insights
North America was the largest market for crop protection chemicals in 2014, and this trend is expected to continue over the forecast period. North America is expected to grow at a relatively low CAGR of 7.3% from 2015 to 2022 owing to growing consumer awareness regarding the ill-effects of synthetic agrochemicals. However, growing demand for biopesticides in the region owing to various attributes including low toxicity, high effectiveness and safety is expected to augment market growth over the projected period.
Crop protection chemical demand in Asia Pacific was valued at USD 14.03 billion in 2014. The Asia-Pacific demand for these chemicals is expected to witness the fastest growth on account growing demand from China and India. Growing population in the region coupled with increasing demand for crop production is expected to drive demand for these products over the forecast period. In addition, arable land in China, India, and Southeast Asia is expected to witness decrease, thus promoting the use of agrochemicals over the next seven years.
Competitive Insights
Key players in the crop protection chemicals industry include Arysta LifeScience, American Vanguard, Bayer CropScience, BioWorks, BASF SE, Chemtura Corp, Cheminova, Chr Hansen, Dow AgroSciences, DuPont, FMC Corp, Ishihara Sangyo Kaisha, Isagro SpA, Makhteshim Agan, Monsanto, Natural Industries, Marrone Bio Innovations, Nufarm Ltd, Novozymes A/S, Syngenta AG, Sumitomo Chemical, and Valent Biosciences.
Global crop protection market is characterized by a large number of mergers and acquisitions in the recent years. Several large companies have consolidated their presence in the existing geographies or ventured into newer areas through acquisitions of local companies. Some of the recent acquisitions in 2013 include the acquisition of ISEM's fungicide technologies by Belchim Crop Protection, acquisition of Alpha Pesticides (Britain) by De Sangosse Group's and acquisition of Plant Syence by Verdesian Life Sciences.