Industry Insights
The global dashboard camera market was valued at over USD 950 million in 2014. Rising awareness for in-car safety coupled with favorable government initiatives is anticipated to drive the demand for dashboard camera market over the forecast period. Dashboard cameras enable users to record real-time windshield videos of vehicular accidents caused due to road rage incidents, misconduct, and hit-and-run cases.
Asia Pacific dashboard camera market revenue by product, 2012-2022, (USD Million)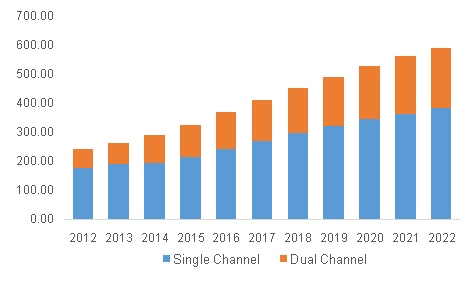 The introduction of stringent safety regulations by governments and transport authorities across the globe has substantially contributed to industry expansion. Moreover, increasing awareness about the benefits such as continuous vigilance offered by such car DVR systems among the public has positively influenced industry growth. Increasing industry-wide competition has led to a declining trend in the dashcam prices leading to the large-scale adoption of such cameras among users.
Innovation in wireless connectivity technologies is anticipated to propel further the demand for such advanced dashcams among automobile users. Awareness campaigns across the globe, such as theTeen Safe Driver Program in the U.S. that encourages the use of such digital video recorders have favorably impacted the industry. Funding initiatives and governmental schemes such as the In-Car Camera Incentive Program offered by the American Family Insurance Company have kept the industry prospects upbeat in the recent years.
Dashcams enable recording of video footage that can be used to track down law offenders, examine details of accidents, and incidents of misconduct on roads. Dashboard cameras are widely used in police patrol vehicles as they assist law enforcement authorities to easily track down license plates of law-breakers and offenders helping them in reducing the road rage incidents and subsequently enhancing road safety.
Prominent automobile manufacturers are focusing on offering dashcams with enhanced features and functionalities including Lane Keeping Assistance (LKA) and Advanced Driver Assistance Systems (ADAS) elevating the demand for dashcams.
However, the use of dashboard cameras is still forbidden by law and considered as a violation of privacy in certain European countries such as Austria and Switzerland and charges heavy fines on the violators, thus restraining regional industry growth.
Product Insights
Based on products, the dashcam market can be classified into two types, single-channel, and dual-channel systems. Single channel dashcam product segment accounted for over 70% of the overall market share in 2014 and is projected to continue its dominance over the next seven years.
Dual channel dashcam segment has a high growth potential and is projected to gain traction over the forecast period. Such dashcams offer front and rear protection to the automobile and collect all-round evidence in the case of road mishaps. Dual channel dashcams are capable of recording events taking place in vehicles as well as external events through the rear windshield.
Vendors are accentuating on enhancing the convenience and user-friendliness of such cameras by adding innovative features such as high-endurance battery life with low power drains, expandable storage capacity, in-built GPS, and nigh vision cameras with high resolution. Dashcams with capabilities such as smartphone connectivity and audible notifications are anticipated to fuel industry growth.
Technology Insights
Dashcams offer basic features such as real-time video surveillance and recording. Additionally, in-car DVR vendors across the globe have introduced advanced DVR systems that provide enhanced features such as wireless connectivity, expandable memory slots, and day/night video capture abilities to ensure uninterrupted video recording throughout the day.
Smart car DVR systems by vendors such as Vicovation and BlackVue have Wide Dynamic Range (WDR) and Wi-Fi functionality. These systems are made extremely durable with extensive heat duration. In addition, such smart DVR systems offering smartphone sync applications on iOS and Android platforms have opened up promising growth avenues for such dashcam devices.
Video Quality Insights
Standard Definition (SD) dashcams record videos at a lower resolution such as 720p or even 640x480, enabling devices to record longer loops of videos in the limited memory capacities.
High-resolution DVR systems record in full 1080p high definition resolution that can even allow reading license plates through video recordings in cases of on-road mishaps. Such HD dashcams are expected to witness an increase in demand owing to increasing number of users upgrading from SD to HD.
Regional Insights
North America dashcam market accounted for over 35% of the global revenue share in 2014. Escalating rates of fatal accidents are expected to trigger the demand for dashboard cameras in the U.S. Such cameras offer an excellent solution for gathering evidence in incidents of road accidents.
The dashboard camera market is predicted to gain momentum in the U.S. and several countries in the Asia-Pacific and European region. Increased administrative focus on providing road safety and fraud protection to passengers and motorists has led to the proliferation of regional market in South East Asian countries such as Singapore, Indonesia, and Malaysia.
Taxi firms and other commercial fleet owners in Singapore have started installing DVR systems in all its vehicles to provide evidence in cases of conflicts and accidents, and to encourage prudence amongst drivers in the society to adhere to traffic rules.
Dashcams provide advantages such as tracking lap time along with monitoring the activities of chauffeurs. Dashcams integrated with high-end features such as G-sensors, GPS tracking, and Wi-Fi connectivity are experiencing an upsurge in demand in the emerging regional markets from the Asia Pacific region.
Competitive Market Share Insights
Industry players are focusing on offering differentiated products and integrating dashcam devices with additional features supplementing basic utility of video recording. Vendors are offering advanced features such as Wi-Fi connectivity and smartphone applications support and enable users to receive real-time updates on their smartphones in case of a mishap connected with their vehicle.
Key players dominating the dashcam industry include ABEO Technology, Falcon Zero LLC, Hewlett-Packard Development Company, DOD Tec, Panasonic Corporation, Pittasoft Co., Ltd., Shenzhen Zhixinsheng Electronic, and Vicovation.