Industry Insights
Global Diesel Genset Market size was estimated at USD 12.66 billion in 2014 and is expected to witness significant growth over the next seven years owing to its rising demand from various end-use sectors including residential, commercial and industrial. Increasing demand from emerging economies will propel industry expansion over the next seven years.
Germany Diesel Genset Market revenue by end-use, 2012 - 2022 (USD Million)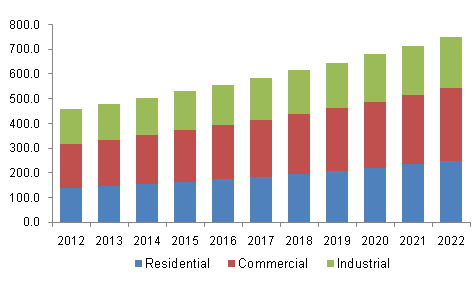 Growing residential, commercial and industrial sector in various emerging economies including India, China, Saudi Arabia, Brazil, and China on account of rapid industrialization and increasing power outages is expected to stimulate market size over the next seven years. Growing per capita income in these countries is also fuelling the growth.
Agreements and partnerships along with new product launches by key players is expected to stimulate market expansion. In addition, demand is expected to fuel as they are cheaper, and are easily available in the market. However, stringent environmental regulations regarding emissions along with the threat of other substitutes such as fuel cells and solar cells are expected to restrain growth over the next seven years.
End-use Insights
Demand for diesel gensets was highest for commercial end-uses accounting for over 35% of global the revenue and will show a significant rise in light of increasing demand from various sectors including retail and telecom. Also, the market is expected to witness rise owing to high usage of diesel gensets as a continuous source of power in remote applications such as mining, oil & gas, and telecom.
The residential sector is expected to witness growth at a CAGR exceeding 7% from 2015 to 2022 as a result of increasing per capita income, thereby increasing the demand for diesel gensets. The residential segment in North America and Europe together accounted for a combined market share of more than 35% in 2014.
Emerging economies of Asia Pacific and MEA region have witnessed strong growth in the commercial sector. IT, telecom and retail are some of the sectors which are growing rapidly in these regions, resulting in high demand for diesel gensets. Hospitality is one of the biggest contributors to the commercial segment of the market. Hospitality includes hotels and resorts, both of which make the entire sector a vital economic force.
Product Insights
Diesel gensets are segmented as per different power ratings such as low power (0-350 kVA), medium power (350-1000 kVA), and high power (above 1000 kVA). Low power gensets are generally used in residential applications in case of power outage. Power backup is a basic and crucial requirement. Developed economies face an issue of power stability even though the demand-supply gap is low as compared to the emerging economies. To overcome this challenge, power backups such as diesel gensets have been in high demand over the past few years.
High power diesel gensets are expected to witness significant gains with a CAGR of 7.4% from 2015 to 2022. However, EPA has been enforcing stringent regulations regarding emissions in North America and some parts of Latin America, which is likely to result in moderate market growth in the regions. However, growing global population is leading to an increasing demand for power backup, which is expected to fuel its demand over the next seven years. In addition, rapid industrialization and booming manufacturing sector in emerging economies is expected to increase its demand over the forecast period.
Regional Insights
Industrial was the largest energy consuming sector globally. Power failure highly affects productivity, which may lead to manufacturers incurring heavy losses. Recently, emerging economies including India, Brazil, and Saudi Arabia have been contributing significantly to the demand for power backup in industrial sector owing to rapid industrialization. Increasing per capita income of these emerging economies is also helping the market to grow in these regions.
Due to the growing population and continuous demand supply gap in power, Asia Pacific has emerged as the largest diesel genset market globally. Asia Pacific diesel genset market was valued at USD was 1.23 billion in 2014 and the trend is projected to continue on account of presence of large number of players including Kirloskar Electric Co. Ltd., Caterpillar Inc., Cummins Inc., F.G.Wilson Inc. and Himoinsa S.L. Asia Pacific is expected to witness fastest growth on account of increasing population and manufacturing sector in various countries including India, China, Malaysia, South Korea, and Australia. Rapid industrialization and urbanization coupled with government initiatives to provide electricity in rural areas are expected to play a crucial role in driving growth.
Competitive Insights
Global Diesel Genset Market is highly competitive with major companies involved in continuous product innovation and R&D activities. Key players include Kirloskar Electric Co. Ltd., Caterpillar Inc., Aggreko PLC, Cummins Inc., F.G.Wilson Inc. and Himoinsa S.L. The industry is characterized by significant merger and acquisition activities as large companies try to gain significant share over the forecast period. For instance, in April 2015, Yanmar acquired 70% shares of Himoinsa. This acquisition was made to expand the customer reach globally.