Industry Insights
This research report analyzes the digital camera industry, which does not include digital cameras in mobile phones and tablets. The growing popularity of social networking and the trend of sharing images over various platforms have led to the growth of the digital camera industry. Services and applications such as photo editors including Adobe Photoshop have also aided in increasing demand for digital cameras.
Lower product penetration in countries such as India and Brazil is expected to be a key opportunity, with several end-users willing to invest in digital cameras. The market in North America and Europe is expected to benefit from the increasing replacement demand, and innovation remains the key growth strategy. The rise in disposable income coupled with the trend of users upgrading to more expensive products is expected to contribute to increased profitability for market participants over the forecast period.
The surging smartphone adoption is another major factor that has considerably impacted the demand for digital cameras especially compact point & shoot cameras. The advent of high-resolution camera phones can be a possible threat to the demand for cameras since users can use their readily accessible mobile devices for capturing images.
Product Insights
Key product segments analyzed and reported in this study include built-in lens cameras and interchangeable lens cameras, which are further segmented into DSLR and non-reflex cameras. Built-in lens camera demand is expected to remain sluggish over the next six years, with unit shipments estimated to reach 128 million units by 2020. Increasing smartphone penetration is expected to be a key challenge for this market, with consumers increasingly preferring smartphones over compact point & shoot cameras to benefit from enhanced features in a single device. Also, internet connectivity offered by smartphones, enabling users to upload pictures on social networking sites has had a significant impact on eroding market share for built-in lens cameras.
Global Digital Camera Unit Shipments, by Product Segment, 2012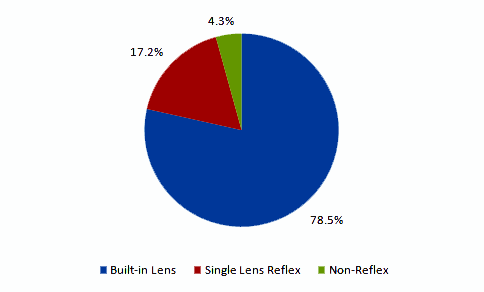 Cameras with built-in lens accounted for 78.5% of the overall shipments in 2012. DSLRs (Digital Single Lens Reflex camera) among other high-end premium camera models have been enjoying growing popularity in developed nations. DSLRs accounted for 17.2% of the global digital camera unit shipments in 2012. Interchangeable lens cameras are expected to gain market share over the forecast period, mainly due to the increased consumer spending on mirror-less cameras and DSLRs, particularly in developed countries. Market revenue for interchangeable-lens digital cameras was estimated to be USD 7,533.6 million in 2012.
The convenience of use, compact size, and performance efficiency of the interchangeable lenses are expected to drive mirror-less camera demand over the next six years. In addition to digital cameras, associated accessories have also witnessed considerable demand. Manufacturers have been focusing on adding enhanced features for connectivity to gain market share. Experienced or professional photographers rely on the superior image capturing, and efficient still and moving photography. Therefore, market participants emphasize on product differentiation and innovation.
Regional Insights
North America had been leading the market in the recent past; however, Asia Pacific is expected to be the largest market during the forecast period. Ownership penetration for digital cameras has reached maturity in North America and Europe, especially in the U.S., Germany, UK, and France, due to which first-time buyer demand has consistently declined in these markets over the past few years. Additionally, economic turmoil in Europe has seen consumers constrain consumer goods such as digital cameras. Digital camera demand in North America and Europe is expected to be driven by replacement demand from existing compact camera users.
North America's digital camera unit shipments are expected to reach 37,488.2 thousand units in 2020, growing at a CAGR of 6.1% from 2013 to 2020. The U.S. dominates the North American market, accounting for over 80% of total shipments in 2012. Germany was the largest digital camera market in Europe, with estimated sales of 8.8 million units in 2012.
Asia Pacific digital camera market has grown significantly over the last decade and accounted for over 33% of total global shipments in 2012. Income growth of consumers in China, India, and other South-east Asian countries, coupled with low ownership levels is expected to enhance the region's market presence over the next six years. The roW is also expected to witness rapid growth over the next few years due to the vast scope for product penetration in Latin America. Brazil is expected to be a key market opportunity for industry participants.
Competitive Insights
The digital camera industry is highly consolidated and is largely dominated by Japanese players. Key brands include Nikon, Canon, Samsung, Fujifilm, Sony, etc. Consumer feedback is increasingly playing a critical role in product development, with industry participants focusing on providing maximum features and benefits to consumers in a single device. This has resulted in higher R&D investments across the market. Brand reinforcement is another key competitive strategy employed through a glut of marketing and promotional activities.