Industry Insights
Global dimer acid market size was USD 1.31 billion in 2015. Rising demand for polyamide resins in coatings and adhesives industries is expected to be a key driving factor for industry growth over the forecast period.
Developing regions in Asia Pacific & Central & South America are expected to witness considerable growth over the forecast period collectively accounting for over 45% of the overall market by 2024. Rapid urbanization in China, India, Russia, Brazil, South Africa, and Mexico has facilitated the need for better residential as well as public infrastructure.
These regions are also characterized by expanding manufacturing facilities further facilitating construction activities. Increasing construction spending, particularly by the government, in these countries is expected to boost demand for polyamide resins in adhesives & construction materials, thereby fostering dimer acid market growth.
U.S. dimer acid market revenue by application, 2014 - 2024, (USD Million)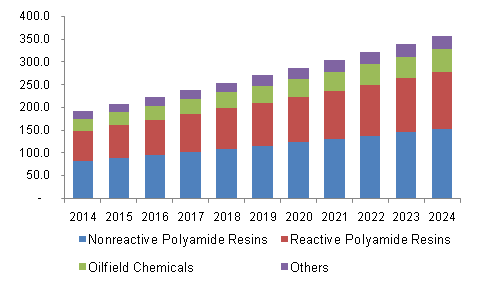 Oilfield chemicals find wide application scope in oil and gas extraction and processing activities along with other applications such as well drilling, refining, and hydraulic fracturing. Key oilfield chemicals that utilize dimer acid as a raw material include corrosion & scale inhibitors, wetting agents, surfactants, and demulsifiers.
The shift in trend from energy imports to domestic generation, to become self-sufficient &cater to the growing energy demand in emerging economies is also likely to encourage dimer acid applications.
The increasing number of drilling activities across the globe to meet excess energy demand is expected to positively impact oilfield chemicals and positively impact dimer acid demand. Growing crude oil production & consumption in countries such as the U.S., Canada, and China along with other Middle Eastern countries is also expected to boost oilfield chemicals demand. These factors are a crucial determinant of dimer acid market growth.
Expanding water transport and shipping industry is poised to drive marine coatings demand. Marine coatings are increasingly utilizing dimer acid in the form of acid based polyamide resins for enhanced coatings performance. This trend is expected to fuel dimer acid demand over the forecast period.
Vegetable oils such as soybean & corn are witnessing high demand from the food and biofuels industry, resulting in dwindling supplies for dimer acid production. Raw material price volatility owing to limited supply is expected to hinder growth. However, favorable regulations from agencies such as EPA and REACH are expected to provide immense opportunities to major participants over the forecast period
Application Insights
Reactive polyamide resins emerged as the largest application segment with a volume estimated at over 190kilo tons in 2015. Segment growth is driven by increasing demand for these resins in the construction industry, specifically in epoxies & floor coatings to enhance performance. It is also anticipated to emerge as the fastest growing application, growing at an estimated CAGR of 4.3% from 2016 to 2024.
Nonreactive polyamide resins segment is expected to exhibit considerable growth over the future, on account of growing applications in various industrial solvents, flexographic printing inks and paper coatings. The segment accounted for 40% of the overall market volume in 2015 and is expected to grow at an estimated CAGR of 4.0% from 2016 to 2024.
Regional Insights
Asia Pacific dimer acid market led the global industry and accounted for over one-third of the total volume in 2015. It is expected to maintain its dominance over the forecast period, growing at an estimated CAGR of 4.8% from 2016 to 2024. Growth in construction activities coupled with favorable regulations and government initiatives in the region promoting manufacturing is expected to drive dimer acid demand as well.
North America is anticipated to witness average growth owing increasing construction spending in Mexico along with the recovery of housing sector post-recession. It is also expected to benefit from increasing crude oil production and shale gas extraction in the U.S.
Competitive Insights
The industry is highly concentrated with top four companies accounting for over 45% of the overall volume. Some of the key players operating in global dimer acid market include Florachem Corp., BASF, Arizona Chemicals, Emery Oleochemicals, Aturex Group, Anqing Hongyu Chemical Co. Ltd., Oleon N.V., Novepha Co. Ltd., Harima Chemicals and Nissan Chemical America Corp.