Industry Insights
The global drug discovery informatics market size was valued at USD 1,737.0 million in 2014. Key growth drivers of this sector include information technology advancements in the field of data mining and analytics with respect to drug development, structured and unstructured data explosion, and rising usage of cloud-based services.
Lack of information technology applications that assist in aggregating data and also aid in providing 'critical attributes' of data evaluation in order to make real-time decisions is expected to influence research in this sector to a significant extent thereby driving industrial progress through to 2022. Additionally, ongoing advancements in software platforms for the provision of data aggregation, data processing & analysis, and data visualization is attributive for an adoption of more integrated and automated lab systems thus boosting revenue generation through to 2022.
U.S. Drug Discovery Informatics Market, By Services, 2012 - 2022 (USD Million)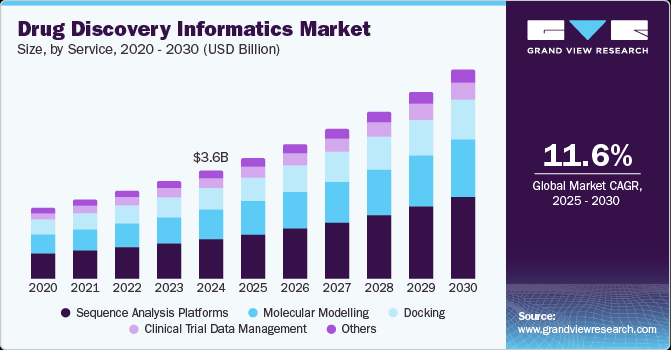 Increasing disease burden due to rising incidence of chronic diseases such as diabetes, cardiovascular, oncology, and infectious diseases is one of the major concerns for governments and healthcare providers across the globe. Initiatives were taken up by the U.S. government in collaboration with advisory groups such as President's Council of Advisors on Science and Technology (PCAST) for the improvement of economic incentives to promote innovation in pharmaceutical development is another factor expected to positively reinforce market growth in the coming years.
Moreover, collaborations and strategic partnerships between in-silico product vendors and pharmaceutical companies have resulted in the growth in efficiency of the market entities to develop "global" off-the-shelf products as well as "local" customized products. For instance, in June 2014, Infosys launched a cloud-based solution for the acceleration of supply management services for clinical trials. This solution is expected to optimize the complete process of medicine design by driving greater collaboration between clinical trial outsourcing organizations and pharmaceutical companies.
Workflow Insights
Based on workflow, major segments of this industry include bioinformatic solutions used in the drug discovery and drug development phases of the novel pharmaceutical development process. In 2014, software solutions for drug discovery phase accounted for the largest market share owing to the higher usage of IT in this segment. Improvement in computational power drives the development of in-silico ADME/toxicity screening products, which are there after used in lead identification and validation phases for determination of pharmacokinetic & dynamic profiles.
Drug development informatics are anticipated to register substantial growth over the forecast period as a consequence of the introduction of novel platforms and associated services for analysis of data obtained from clinical trial phases I to III. For instance,in December 2015, Certara, a drug discovery platform provider, launched version 15 of its Simcyp population-based simulator. This product has achieved regulatory acceptance from US Food and Drug Administration, the European Medicines Agency, and the Japanese Pharmaceuticals and Medical Devices Agency.
Mode Insights
Depending on the mode of service provision, the services offered can either be conducted in-house through licensed solutions or can be outsourced to companies in parts or phases. In-house informatics held larger share owing to the presence of information technology platforms amongst the major players operating in this region. However, outsourced informatics is anticipated to witness lucrative growth over the forecast period as the key participants are involved in the collaborations with software technology providers in order to gain access to in-silico tools and databases for therapeutic product discovery.
In June 2015, AMRI and Perkin Elmer announced their collaboration for enabling translational research in drug design sector. This collaboration is expected to provide AMRI with the ability to acquire, manage, integrate and analyze large complex data from the various translational platforms for driving better decisions in therapeutic discovery.
Services Insights
Sequence analysis platforms related services accounted for the largest revenue share in 2014 and are anticipated to continue to dominate the market over the forecast period due to their growing adoption and introduction of the advanced simultaneous genetic sequencing of the genome which provides new avenues in lead identification.
Regional Insights
North America dominated this industry with revenue share of over 40%. Launch of novel in-silico tools by the key participants operating in this region due to observed improvement in drug attrition rates, which consequently increased adoption rate of in-silico technologies, is attributive for the largest share of North America in sector revenue.
Demand for informatics services in Europe is also increasing owing to rise in the therapeutic discovery projects and activities carried out by the university based institutes and other companies headquartered in this region. For instance, in January 2016, Boehringer Ingelheim, pharmaceutical company headquartered in Rhein, Germany collaborated with Arena Pharmaceuticals for the provision of novel medications for treatment of Schizophrenia. .
Asia Pacific is expected to be one of the fastest growing regions of this sector and is projected to grow at a lucrative rate. Factors accountable for its fastest growth include ongoing research in software and drug nano technology sector in developing economies of this region.
Competitive Insights
Key market contributors present in the drug discovery informatics industryare Certara, Infosys, Boehringer Ingelheim GmBh, DiscoverX, Charles River Laboratories, Albany Molecular Research Inc,Selvita, ChemAxon, GVK Biosciences, Jubilant Biosys, collaborative Drug Discovery Inc., and Novo Informatics.
Industry participants are involved in geographic expansion by providing services in untapped regions of market. Additionally, participants are involved in collaboration with academic research institutes and universities. For instance, in March 2013, Collaborative Drug Discovery with University of Arizona's BIO5 Institute Oro Valley (BIO5-OV) for the use of CDD Vault for secured sharing of BIO5 drug discovery data.
Analyst Perspective
This study consists of different informatics services and tools used in various phases of drug design & development. Informatics technologies provide a cost-efficient alternative and costly failurein late stages of drug development is anticipated to spur the use of in-silico models for early pharmacokinetic screening. Aim of this study is to identify key drivers responsible for demand, and estimate the flow of revenue in this industry between various steps of drug development. The report further focuses over key trends followed by market participants based on current developments and its influence on the sector growth over the forecast period. Variable analysis is carried out keeping in consideration various parameters of the services provided and their applicability in aiding drug design process. Market estimates are based on share of the given segment of interest along with its application in drug development. Revenue and services offered by the dominant players operating herein are also factors taken into consideration while estimating market size and segmentation. Dominant players of this industry are involved in collaborations with software companies in order to avail novel technologies for R&D. Thus, this topic is gaining substantial attention in the field of therapeutic drug design and informatic solutions market.