Industry Insights
The increasing demand for time-saving data search solutions is expected to be the key growth factor for the enterprise search market. The increasing data volumes sourced from different gateways in the large enterprises has created a need for managing it. Enterprise search solutions help in organizing and managing this data, due to which these solutions have found a large adoption in large enterprises. Enterprise search solutions enable the availability of required data or information to the user from a pool of databases, emails, intranet, data management systems, and so on. It saves the operation time and money for the enterprise by efficiently managing information and searching for the required information without any hassles. Additionally, it offers a security layer by allowing only authorized personnel to access information.
Asia Pacific enterprise search market by end-use, 2013 - 2024 (USD Million)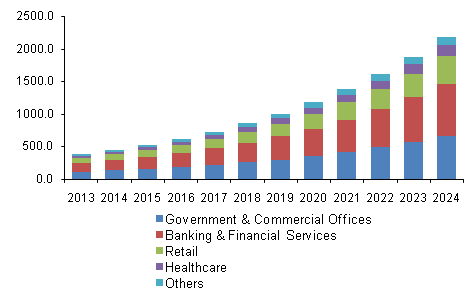 The demand for relevant information and the emergence of technologies such as Software as a Service (SAAS) and cloud computing are further expected to favor the enterprise search market growth over the forecast period. The low maintenance and installation costs along with the elimination of technical support staff associated with these technologies are expected to fuel the enterprise search market growth. Data ambiguity and high implementation cost may act as a restraint to the market.
End-Use Insights
Banking & finance is expected to remain a sizable end-use segment in the global enterprise search market over the next eight years. Interconnectivity and sharing of data in different outlets is a primary growth factor for the segment. The government and commercial offices are expected to grow at a considerable rate owing to the increasing use of intranet in order to share data and information over the forecast period. In the healthcare and medical segments, enterprise search tool solutions can be used to obtain critical treatment information, enabling the fast and efficient functionality of medical institutes. Other end-use industries include defense, aerospace, construction, media, and entertainment.
Enterprise Size Insights
The enterprises' size can be classified based on their employee strength. Enterprise search solutions are implemented in large, medium, and small enterprises, depending on their requirements. Searching for accurate data in any large enterprise is a tedious process, owing to its vast database. Enterprise search solutions are primary solutions addressing these issues in an efficient manner, saving time, and increasing operational efficiency.
Regional Insights
North America is expected to be the key regional market over the forecast period, owing to the presence of the major industry participants and technological advancements. Additionally, the convergence of enterprise security solutions and information systems may provide new avenues for growth in North America. The Asia Pacific is expected to grow considerably till 2024 on account of the growing information technology sector in countries such as India, China, Japan, South Korea, and the Philippines.
Competitive Insights
The key vendors in the enterprise search market are IBM Corp, Coveo Corp., Polyspot & Sinequa Inc., Expert System Inc., HP Autonomy, Lucidworks, Esker Software Corp., Dassault Systemes Inc., Perceptive Software Inc., and Marklogic Inc. The leading companies are entering into strategic collaborations in order to provide mass-market solutions as well as serve the niche markets. IBM Corporation acquired the enterprise search software provider, Vivisimo, in 2012 in order to enhance its portfolio and help customers take data-intensive decisions. IBM Corporation also offers its own enterprise search service named OmniFind with enhanced search capabilities, including features such as integration with the InfoSphere and BigInsights edition as a bundled service. Content management solutions from HP Autonomy help customers to address the barriers in productivity by managing large data volumes, multiple data repositories, and cloud and mobility services.