Industry Insights
Global epigenetics market size was valued at USD 3.98 billion in 2014 and is expected to grow at a CAGR of 19.3% over the forecast period. Increasing prevalence of cancer is the key driver propelling the growth of the epigenetics market.
Furthermore, epigenetics has triggered research and development of new therapeutic drugs for various types of cancer and chronic and autoimmune disorders. For instance, in 2015, FDA approved ramucirumab/Cyramza by Eli Lilly and Company for use in combination with Folfiri for the treatment of patients with metastatic colorectal cancer (mCRC). While few HDAC inhibitors namely Farydak by Novartis and Istodax by Celgene received FDA approval in 2015 for the treatment of patients with multiple myeloma.
U.S. epigenetics market, by product, 2012-2020, (USD Million)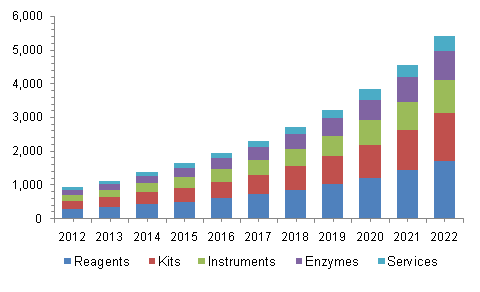 Biopharmaceutical companies are now entering into collaborations with diagnostic companies for the development of therapeutics based on novel epigenetic biomarkers. Such strategic initiatives are likely to significantly improve penetration rates over the forecast period.
The introduction of technological advancements and potential investments for R&D and drug development are other vital forces driving this market. Currently, most of the focus in the diagnostic segment is on detection of DNA methylation patterns and histone modifications. Epi ProColon 1.0 by Epigenomics, ColoVantage by Quest Diagnostics, Real Time mS9 by Abbott are few tests which detect the SepT9 DNA methylation biomarker for colorectal carcinoma.
These techniques provide some benefits; such as the ability to detect tumor; DNA shed into body fluids (blood plasma/urine) and quantification of un-methylated DNA of the same gene simultaneously which serves as a reference for detection of epigenetic changes. Development of highly specific antibodies for rapid and accurate detection of modifications of histone core proteins is also expected to improve usage rates.
Product Insights
Reagents, kits, instruments, enzymes, and services are the major product segments of this technology. Reagents was the most revenue generating segment in 2014 at over 30.0% due to the use of various reagents in reaction techniques such as DNA methylation, histone methylation, and acetylation.
However, kits are expected to witness the fastest growth of over 19.0% during the forecast period mainly due to, the increasing use of epigenetic kits by research laboratories and academic researchers. For instance, Abcam has developed multiplex assays kits for detection of modifications at various core histone proteins. Companies are making use of advanced techniques for the production of kits for more accurate and rapid detections using small samples.
Technology Insights
Key technology segment analyzed in this report include DNA Methylation, Histone Methylation, Histone Acetylation, Large noncoding RNA, MicroRNA modification and Chromatin structures.
DNA methylation was the most used technology in 2014, with the segment generating more than USD 1,850.0 million. For instance, MDxHealth's technology known as MSP (Methylation-Specific-PCR) is accurate and specific in detection of single cancer cell among 10,000 healthy cells.
Nevertheless, DNA methylation biomarkers have great potential to contribute to personalized drug development. Rapid and accurate whole genome analysis for methylation and histone modification is also possible with availability technological advances.
Application Insights
Solid tumors held the largest share of the market in 2014. The combination of traditional cancer therapy with methyl-transferase inhibitors is holding huge potential for treatment of solid tumors. However, application of epigenetics in the treatment of liquid tumors sub-segment is also showing an opportunity area with considerable CAGR of over 20% during the forecast period.
Non-oncology segment of epigenetics market is further segmented in to; Inflammatory diseases, metabolic diseases, infectious diseases, cardiovascular diseases, and others. Metabolic diseases was the largest share holding sub-segment in the year 2014 at over 32.0% due to the high impact of high-fat diet on DNA modifications and epigenetic regulation of metabolism.
However, the cardiovascular disorders segment is expected to be the fastest growing segment over the forecast period owing to the emergence of technologies such as microRNA modifications in diagnosis and treatment of cardiovascular disorders.
Regional Insights
In 2014, North America was the largest regional market accounting for over 38% of the overall epigenetics market followed by Europe aggregated by, the increasing research and development activities of large pharmaceutical firms.
Asia Pacific is the most lucrative market supportive by the presence of favorable regulatory landscape and increasing population with diabetes, cancer, cardiovascular diseases etc. India, China, Mexico, Brazil, and South Africa are experiencing economic growth over the past few years. These countries are expected to offer immense potential for epigenetics industry mainly due to growing economy and the presence of high unmet needs.
Competitive Market Share Insights
Key players of the epigenetics market include Illumina, Abcam, Diagenode, Thermo Fisher Scientific, Active Motif, Merck, Zymo research, Qiagen, CellCentric Ltd, Chroma Therapeutics Ltd, Eisai Co. Ltd, Novartis International AG, Oncolys Biopharma Inc., Syndax Pharmaceuticals, Inc., Valirx Plc and Sigma-Aldrich Corporation.
Major players are adopting sustainability strategies like a novel; product development, venture capital investments owing to challenging economic conditions for example Chroma Therapeutics received seed financing from Abingworth and CRV in the year 2011.