Industry Insights
The global epigenetics market size was valued at USD 5.6 billion in the year 2016 and is growing at CAGR of 19.3%. Increasing prevalence of cancer and other chronic diseases along with the rising geriatric population base are some of the key factors expected to boost the epigenetics market.
Presence of organizations such as the International Human Epigenome Consortium (IHEC), the National Cancer Institute (NCI), and the National Institute of Health (NIH) promotes funding and support to R&D and product development exercises pertaining to the field of epigenetics. The NIH funds epigenetics research through Common fund epigenomics program, which actively supports new epigenetic research worldwide.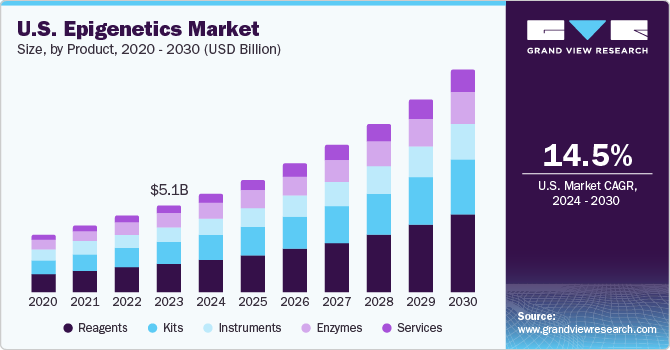 The rising need to understand the epigenetic modifications at the molecular level and development of therapeutic solutions is anticipated to motivate these organizations to fund research and development programs. In addition, endeavors such as the Epidemiology and Genomics Research Program (EGRP) in the NCI's Division of Cancer grants research initiatives owing to novel epigenetic research that serves as a driving force for market growth.
According to the National Cancer Institute (NIH), the estimated number of cancer deaths in the U.S. is 171.2 per 100,000 men and women per year. Incidence rate, mortality and survival statistics and information on cancer symptoms, risk factors, early detection, and early treatment are among key factors for its high prevalence. The International Cancer Genome Consortium (ICGC) is focusing on obtaining the genomic description, epigenomic changes, and transcriptomic changes in different types of tumors.
The Encyclopedia of DNA Elements (ENCODE) project was launched by the U.S. national human genome research institute with an objective to identify all the human genome sequence functional elements. The International Human Epigenome Consortium (IHEC), built by the NIH is also involved in the development of epigenomic data generation and analysis, which can be made useful for epigenomics researchers. Majorly, epigenetics research is focusing on the identification of treatment options for various types of tumors.
Product Insights
The reagents dominated the epigenetics product market segment in 2016. Histone and DNA modifiers are the major types of reagents used for epigenetics. Epigenetic reagents are segmented into antibodies, PCR reagents, histones, primers, electrophoresis reagents, nucleic acid analysis reagents, buffers, and others. PyroMark Q24 is one of the advanced reagents featuring advanced pyrosequencing chemistry to provide even better real-time sequence-based detection and quantification than before.
Existence of a number of technology platforms facilitates analysis at the gene, protein, or cellular levels, which leads to innovation in the epigenetic reagents market. The Polymerase Chain Reaction (PCR) established a platform for genomic. Gene regulation is impacted by epigenetic factors such as chromatin structure, DNA methylation, and non-coding RNAs. The life sciences and analytical tools market is mostly driven by the wide use of reagents.
The kits product segment was observed to be the fastest segment over the forecast period. The ready-to-use kits are manufactured by many biotechnology companies for detection of epigenetic modifications. Kits available in the market range from kits for nucleic acid purification, analysis of DNA methylation status, and detection of histone modifications by various enzymes to kits for chromatin immunoprecipitation.
Epigenetic diagnostic kits are used for the diagnosis of disorders due to epigenetic modifications in early stages and during treatment to check the efficacy of therapeutics. They work on the basis of immunoprecipitation by involvement of modification-specific monoclonal antibodies.
Technology Insights
Epigenetics market consist of various technologies such as DNA methylation, histone methylation, histone acetylation, large noncoding RNA, microRNA modification and chromatin structures. DNA methylation was found to be the largest technological segment in 2016. DNA methylation is the covalent addition of a methyl group in the cytosine ring, which leads to inhibition of transcription. Sensitive bisulphite modification followed by PCR is performed called as Methylation Sensitive PCR (MSP).
Real time PCR for methylation detection, methyl light & quantitative analysis of methylated alleles are the variations of MSP. Currently, quantitative methods such as allele-specific bisulphite sequencing, southern-based method, bisulphite pyrosequencing, and bisulphite PCR followed by MALDI-TOF MS are also useful for DNA methylation. Advancement of technologies is increasingly enabling the assessment of locus-specific DNA methylation on genome wide scale.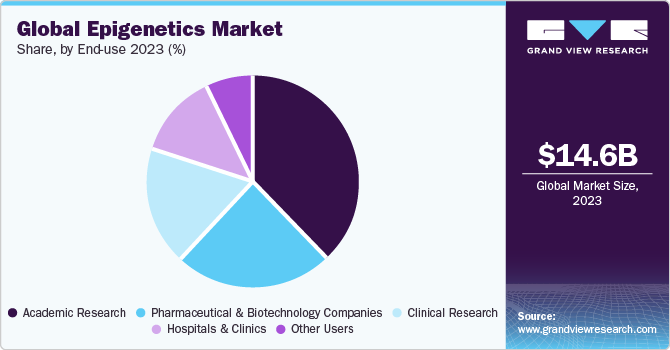 Histone Acetylation is expected to witness fastest growth over the forecast period owing to their enhanced efficacy due to introduction of novel mechanisms. Histone acetylation is the enzymatic incorporation of an acetyl group to lysine residues. Histone acetylation is involved in the control of cellular processes such as gene silencing, chromatin transcription and dynamics, progression of cell cycle, differentiation, apoptosis, DNA replication, neuronal repression, nuclear import, and DNA repair. The enzymes involved in histone acetylation are Histone Acetyl Transferases (HATs) and the enzymes involved in deacetylation are histone deacetylases (HDACs).
Application Insights
Oncology dominated the overall market in 2016 at 69.9%. Increasing prevalence of cancer worldwide with increasing deaths due to cancer is expected to be a high rendering driver for this market growth. Moreover, this segment is expected to gain revenue share over the forecast period owing to the introduction of new products and the potential future commercialization of products currently in the pipeline.
Hypermethylation and epigenetic silencing are known as epimutations, occurring due to epigenetic changes. Epimutations have been known to be involved in the etiology of cancers. Extensive R&D is going on for detecting epimutations, specifically related to silencing of tumor suppressor genes and activation of oncogenes. Unlike regular mutations, epimutations are reversible in nature.
Non-oncology is estimated to be the fastest growing segment owing to rigorous R&D initiatives undertaken by private institutions and biopharmaceutical companies for identification of epigenetic markers related to these disorders.
Epigenetic modifications have been proved to be the base of many non-oncology disorders such as metabolic disorders, neurodegenerative disorders, and infectious diseases. Extensive research is undertaken by private institutions and biopharmaceutical companies for detection of biomarkers for drug development.
Regional Insights
North America is the dominant region of this market. It held the share of over 39.2% in 2016. Prominent drivers of the market are presence of government funding for ongoing research activities on epigenetics, improved healthcare facilities, constantly increasing geriatric population, advanced technological facilities, diligent research, successful initiatives, and accurate diagnostic procedures. In addition, the Common Fund supported programs in the U.S. are expected to boost the epigenetic research activities covering diversified range of diseases including oncology and non-oncology diseases such as cardiovascular, metabolic, inflammatory, and other diseases.
Asia Pacific is estimated to witness the fastest growth over the forecast period owing to the rising disposable income, high unmet clinical needs of patients, rising awareness about early diagnosis, and availability of effective treatment in emerging countries, such as India and China.Asia Pacific region is in limelight due to increasing cases of various types of cancers in this region. Growth in geriatric population base is expected to further enhance market growth by increasing cases of oncology as well as chronic diseases. The R&D initiatives related to analysis of epigenetic base in various diseases are increasing in this region. EpiGen Research Consortium based in the UK has extended its research facility in Singapore for research on chronic diseases such as diabetes and obesity.
Epigenetics Market Share Insights
Key players in this industry are Roche Diagnostics, Thermo Fisher Scientific, Inc., Eisai Co. Ltd., and Novartis AG. The major players are focusing on expanding their businesses in developing regions to increase their market share.
In addition, they are adopting strategies such as mergers & acquisitions and development of new products. For instance, In April 2013, Qiagen NV announced that it has acquired Ingenuity Systems Inc., a provider of software solutions, for efficient and accurate analysis and interpretation of genomic data.
Segments Covered in the Report
This report forecasts revenue growth at global, regional, and country levels and provides an analysis on latest industry trends in each of the sub-segments from 2014 to 2024. For the purpose of this study, Grand View Research has segmented the global epigenetics market report on the basis of product, technology, application and region:
Product Outlook (Revenue, USD Million, 2015 - 2022)

Reagents

Kits

Instruments

Enzymes

Services

Technology Outlook (Revenue, USD Million, 2015 - 2022)

DNA Methylation

Histone Methylation

Histone Acetylation

Large noncoding RNA

MicroRNA Modification

Chromatin structures

Application Outlook (Revenue, USD Million, 2015 - 2022)

Oncology

Solid Tumors

Liquid Tumors

Non Oncology

Inflammatory Diseases

Metabolic Diseases

Infectious Diseases

Cardiovascular Diseases

Regional Outlook (Revenue, USD Million, 2015 - 2022)