Industry Insights
The global epoxy coating market size was USD 21.52 billion in 2015. The market is expected to grow owing to rising demand from paints and coatings industry on account of improved durability and superior toughness. In addition, increasing emphasis by the regional governments on reducing VOC content in the epoxy-based paints and coatings in matured economies including U.S. and Europe is expected to accelerate growth. Growing product use in production sector to improve the shelf life of the structural steel is likely to fuel the demand over the forecast period.
U.S. epoxy coating market revenue, by application, 2013 - 2024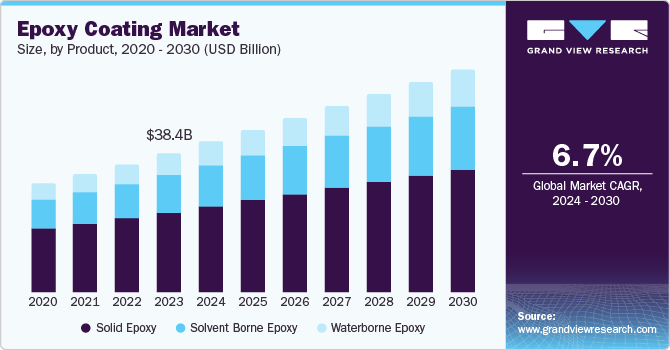 Epoxy based coatings account for a significant share in the paints and coatings application on account of properties such as superior resistance to UV light, abrasion, heat, improved dimensional stability, and toughness. In addition, excellent adhesion to a variety of substrate surfaces including metal, glass and fiber is likely to fuel demand. Increased demand for VOC free powder and fusion bonded epoxy coatings from industries including household appliances and pipeline construction on account of superior sealing, and corrosion prevention is expected to propel the market over the next eight years. Rising demand for energy efficient green buildings coupled with growing emphasis on improving the indoor air quality and occupant health in these buildings are expected to augment demand for low VOC waterborne epoxy coating over the forecast period. However, volatile price of epoxy resins owing to fluctuating raw material prices is expected to restrain the growth in the near future.
Rising R&D activities coupled with growing investments to develop environment-friendly bio- based epoxy resins are expected to augment market growth over the next eight years.
Application Insights
Construction was the dominant application segment and accounted for a share of over 28.0% in 2015. The increase in usage of epoxy coatings in residential, industrial and commercial construction is expected to drive the market demand over the forecast period. Inherent characteristics such as chemical resistance, corrosion resistance, and adhesion to substrates including concrete and metal surfaces are anticipated to impact demand in the construction sector. In addition, growing urbanization in the emerging economies of Asia-Pacific and the Middle East coupled with low-interest rates for housing loans are expected to drive the market for epoxy coatings over next eight years. Furthermore, a surge in investments to expand the manufacturing capacities is expected to augment market growth.
Transportation segment accounted for over 29% of the overall market volume in 2015 and is projected to grow at an estimated CAGR of 8.0% from 2016 to 2024. Rising demand for vehicles owing to growing middle-class population and increasing disposable income is expected to fuel epoxy coatings demand over the forecast period. They act as corrosion inhibitors and help in preventing rust from automotive body parts and other such metal components. Evolving automotive industry in developed regions like North America owing to technological advancements and economic recovery post-recession is further slated to stimulate epoxy coatings to demand as a primer for paint adhesion.
Rising use of epoxy coatings in industries including marine and electronics owing to superior properties such as resistance to chemicals, heat and UV light coupled with durability, strength and flexibility is expected to drive the market growth over the next eight years. Epoxy coatings are used extensively in industrial manufacturing plants owing to the aforementioned factors, eventually stimulating demand.
Product Insights
Solvent borne emerged as the leading product segment valued at over USD 5,500 million in 2015. Solvent-borne coatings have historically been used for diverse applications such as automotive, industrial and printing inks owing to its viscosity and comparative ease of use over the counterparts. Growing industrialization coupled with the increase in the use of steel in industrial plant structure fabrication will be the key drivers for the growth of solvent borne coatings. Solvent based coatings contain a higher level of organic compounds in stark contrast to water based coatings facilitating application and formulation of a durable thin film. Solvents allow easy applicability of coatings on films without causing any surface tension. Such factors are expected to boost demand over the forecast period.
Waterborne coatings segment accounted for over 25.0% of the overall market volume in 2015. Conventionally, they were used for moisture barrier applications and are characterized by a smooth and creamy texture. Stringent environmental regulations directing the reduction of VOC content in paints & coatings are expected to drive waterborne epoxy coatings demand over the forecast period. Government regulations to meet clean air standards have provided an impetus for coating formulators to increase waterborne coatings usage. Widening application scope in all sorts of industrial applications such as maintenance coatings for concrete and steel is anticipated to positively impact demand.
Solid epoxies are highly versatile across a wide range of epoxy applications such as commercial, industrial, decorative, flooring, non-slip and heavy industrial. These coatings are preferred over concrete floors for a wide variety of commercial and industrial applications including retail stores, manufacturing & industrial plants, showrooms, garages, hospitals, and warehouses. They result in a glossy and long-lasting flooring solution.
Regional Insights
Asia Pacific was the largest regional market accounting for almost half of the global volume in 2015 with growth driven by rising demand from industries including manufacturing, automotive and construction. Increasing construction activities in China, India and Southeast Asian countries such as Indonesia, Malaysia and Thailand is expected to drive epoxy coatings demand over the forecast period. Automobile manufacturers are shifting their manufacturing base to these countries owing to government incentives and availability of low-cost skilled labor. Rising disposable income coupled with population expansion are anticipated to drive transportation sector in these economies eventually stimulating epoxy coatings demand. Growth observed in end-use industries such as shipbuilding & repair, petrochemicals, and steel in China has resulted in a surge in epoxy surface coatings demand. Some countries in the region such as Indonesia and Thailand are key automobile manufacturers and shipbuilding participants utilizing these coatings.
Europe is expected to witness significant growth owing to growing investments by the paints & coatings companies in expanding & improving their manufacturing facilities. Growing automotive and construction industry coupled with rising demand for improving aesthetic looks of the buildings are expected to propel the market demand for epoxy coatings in the region. Environment- friendly characteristic of epoxy coatings is projected to augment growth in the region. In addition, stringent regulations about clean air and emission reduction are expected to boost epoxy coatings growth in the region over the forecast period.
North America is a highly penetrated and mature market for epoxy coatings growing at an estimated CAGR of 7.1% from 2016 to 2024. Growth in the region is expected to be driven by increasing awareness among consumers regarding benefits of environment-friendly products providing desired characteristics such as durability, strength, flexibility and resistance. Rising construction activities on account of low interest on housing loans coupled with the desire to improve public infrastructure to attract tourism are expected to drive epoxy coatings demand in the region.
Competitive Market Share Insights
Key market participants include AkzoNobel N.V., BASF, Nippon Paint Company Limited, Berger Paints India Limited, PPG Industries Inc., The SherwinWilliams Company, and RPM International Inc. AkzoNobel N.V. is involved in the production of performance coatings and specialty chemicals. BASF is involved in manufacturing chemicals, plastics, performance products and coatings.The BASF group operates in over 80 countries.